The top team would have been a real-life combo as Luzzi/Hushion combined for a longshot 16-1 winner in the 5th on Monday -- but no contestants teamed those two. There were plenty of contest players that used Prado as their jockey -- and his five wins was the best amongst the jocks, but his win total only ranked him fifth, so players needed to hook him up with a "live" trainer. Many had a Prado/Contessa combo -- but Contessa was blanked during the two-day run.
Our winner this week did, in fact, use Contessa as the trainer. With that conditioner firing blanks for the purpose of the contest, the winning player had to come up with a solid jock play -- and none was more "live" than Luzzi.
Jockeys... [wins]... $2 win-bet total
Luzzi [1] $35.40
Gomez [2] $32.20
Coa [3] $27.70
Desormeaux [2] $26.30
Prado [5] $25.60
Leparoux [2] $21.60
Migliore [2] $13.60
Castellano [2] $12.80

Trainers... [wins]... $2 win-bet total
Hushion [1] $35.40
Stoklosa [1] $21.20
Motion [1] $19.20
Kimmel [2] $15.70
Araya [1] $15.00
Zito [1] $13.80
Tagg [2] $13.60
Jerkens [1] $13.00
Dutrow [2] $7.30
McGaughey [1] $7.20
Ritvo [1] $7.20
Reynolds [1] $6.40
Levine [1] $6.20
Klesaris [1] $5.40
O'Brien [1] $5.10
Wilkes [1] $3.30
See complete rules below, under "THE RULES"
---
How to play this week's game...
Pick one trainer and one jockey to make up your "team" for Sunday and Monday.
The contest winner will be the person selecting the trainer and jock "team" with the highest combined $2 WIN payoff total on the Sunday and Monday cards (8/20 - 8/21) at Saratoga.
So, each entry needs to include the name of one trainer AND one jockey. That's it. The trainer you think will accumulate the highest total WIN payoffs over the two days. And the jockey you think will accumulate the highest total WIN payoffs over the two days.
We'll add up all the $2 WIN totals for each trainer and each jockey during the two-day period and the contest winner will be that entry which has created the trainer/jock "team" with the highest combined total. In the event of a tie a random drawing will be held among the winning entrants to pick one winner.
This week's winner will receive an autographed copy of The Best of the Saratoga Special by Sean and Joe Clancy. Also, a Saratoga T-shirt and a Saratoga cap.

---
FUN PRIZE PACKAGE!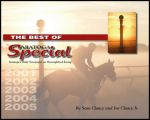 An autographed copy of The Best of the Saratoga Special by Sean and Joe Clancy -- PLUS a Saratoga T-shirt and a Saratoga cap!

Daily Racing Form's Jay Hovdey wrote, "The Best of the Saratoga Special" is a handsome, flip-and-scan, pause-and-savor, bedside table kind of book that will far outlast the narrow confines of its stated mandate. More than just the highlights from the first five years of the little newspaper that could, this volume comes fully equipped with an old soul, steeped in racing's richest lore, thanks to the words of Sean Clancy and his brother Joe (or is it Joe Clancy and his brother Sean?) and the images of Barbara Livingston, Dave Harmon, and Tod Marks.

Click on the image above to learn more about The Best of the Saratoga Special.

---
Week Three Results
---
Week Three Contest
Deadline: Noon EDT, Monday, 8/14
---
The Week Three game was to predict the total payoff for a $2 WIN bet on every winner on the Monday 8/14 Saratoga card.

What a difference a day makes -- while Sunday's card featured $67 and $95 winners among the ten races, Monday's results were much tamer with only two double-digit winners, neither of which topped the $13-mark.

In the end the $2 win bet total for all nine winners on Monday's card came to a mere $73.30.

Players entered this week's contest from far and wide. Kentucky, Wisconsin, Oregon, and Canada were among the locations of those making guesses. But none made a guess below the actual amount. All guesses were too high -- with the topper coming from Washington State at an eye-popping, longshot-loving $449.20.

Edging closer were guesses from Arkansas [$88.00], Ohio [$86.20], Pennsylvania [$85.50], and Massachusetts [$84.00]. But our winner was a home-state'r from right here in New York...

Congratulations to Week Three Contest winner Tom R from Dewitt, NY with a guess of $78.40!

---
The Rules
---
Pretty Simple:
All entries must include contest guess and entrant's mailing address to be eligible.
If you would like to be eligible to win just drop us an e-mail

with your name and mailing address.
Include your guess for this week.
IMPORTANT: Please note "prize" or "giveaway drawing"--or some such thing--on the SUBJECT line of your e-mail...It's easier for us to sort them out that way.
Please, only one entry per household per week.
As usual, ties will be decided by random drawing.
Entries that don't include all the required information [guess, name, address] will be disqualified.
Entries close at noon (EDT) Sunday, 8/20/06.
Winners will be announced on the Tuesday Best Bets site each week.
Previous 2006 winners not eligible for prize participation. Of course, previous winners may submit a guess and will be noted on this page should their guess win -- but it's solely for bragging purposes.

---
---
equidaily.com

Best Bets Homepage

Today's picks

The Challenge

Calendar

Track Info

Weather
---
| | |
| --- | --- |
| | Note: Pages on this site are labelled with the equidaily.com logo. Some links are for information only and lead to pages at other sites. equidaily.com is responsible only for the pages on this site. equidaily.com assumes no responsibility for errors or omissions. Always check with official sources to verify info. |
E-mail any questions, comments, or suggestions:

Copyright 2006 equidaily.com
---