Sat results: Talamo gets perfect trips to sweep G2 $150K Everett Hcp, $100K Fran's Valentine
---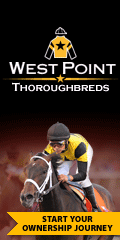 ---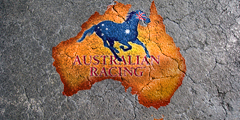 ---
Sat results: Beaten Up victorious in G1 Doomben Cup
Singapore International Cup/Sprint website
Sun preview: G1 International Cup in Singapore
Sun preview: G1 International Sprint in Singapore
Prize money increases for South Australian thoroughbred racing
---
Current forecasts for N American tracks
---
Racetrack abbreviation codes
---
[AUS] FOXSPORTS.AU
[AUS] RACING AND SPORTS
[AUS] SMH.COM.AU
[AUS/NZ] THOROUGHBRED NEWS
[AUS] VIRTUAL FORM GUIDE
[ASIA] S CHINA MORNING POST
BALTIMORE SUN
BLOOD HORSE
CBS.SPORTSLINE
CHICAGO SUN-TIMES
DAILY RACING FORM
ESPN
FOX SPORTS
FRANCE GALOP
[JAPAN] HORSERACING IN JAPAN
KENTUCKY.COM
LA TIMES
LOUISVILLE COURIER JOURNAL
MIAMI HERALD
MSNBC
NY DAILY NEWS
NY POST
NY TIMES
SEATTLE TIMES
SIGNONSANDIEGO.COM
SOUTH AFRICAN HORSERACING
THISISHORSERACING.COM
TIMES PICAYUNE
[U.K.] BBC
[U.K.] GUARDIAN
[U.K.] RACING POST
[U.K.] SPORTINGLIFE.COM
[U.K.] TELEGRAPH
[U.K.] TIMES
USA TODAY
WASHINGTON POST

Balt Sun op-ed: The newest thing in Maryland horse racing: optimism... State's racing industry is more stable and confident than it's been in years.
---
LA Times: "It is difficult to be at the Preakness this year without feeling a tinge of jealousy. That is especially true if you are just a few days removed from a visit to the current dungeon of California racing, a.k.a. Hollywood Park."
---
Stonestreet's Barbara Banke says racing not about making money
---
Balt Sun: Fun-loving Team O'Neill experiencing a 'different vibe' at this year's Preakness
---
Maryland Jockey Club handicapper Frank Carulli taking his dream to Vegas
---
Cummings: Post position will be "the greatest likely impediment to Orb winning the Preakness."
---
Why horse racing's Triple Crown is so hard to achieve
---
Agriss: "This is the year that the Triple Crown should finally be swept..."
---
Orb's Triple Crown odds in Vegas trending up
---
If Orb is to be defeated it will be Departing that outduels him to the wire
---
Beyer: "If Orb is going to win, I want like to see him deliver a truly great effort."
---
Jerardi: "Orb is the safe choice."
---
Orb karma? McGaughey, "I believe in karma in some ways."
---
The Orb story: " Please, let's not dwell in fairy tales here. Let's not drown in mush. Let's keep this straightforward."
---
Maserati in deal with connections of Derby winner Orb... Sponsorship will benefit Grayson-Jockey Club Research Foundation and The Jockey Club Safety Net Foundation
---
Preakness Diaries: Orb from dawn to dusk
---
Balt Sun: Screening horses for ailments, doping ahead of Preakness a 'sophisticated' task... Spate of deaths, ongoing doping concerns prompt complex security response at Pimlico
---
CNN: A different ball game for superstar jockey Joel Rosario
---
NY Times: Joel Rosario is atop the favorite, and all of racing
---
Saratoga 150 celebration launched
---
History-chasing Krigger all about pleasing fans
---
ABR weekly notebook: News, videos, pics, more...
---
---
VIDEO: Bloodhorse's And They're Off with Shulman and Haskin
---
VIDEO: Interview with Frankie Dettori on the eve of his return to racing... Speaks frankly about his suspension and future in horse racing and says trainer Mahmood al-Zarooni - banned for doping horses - 'ruined' his career
The 'Welcome Back Frankie [Dettori] Maiden Stakes' at Leicester on Monday evokes a returning war hero rather than a rider who says he used recreational drugs to cope with the stress of losing his job with the Godolphin stable

---
Montana: Four-day meet OK'd for July at ExpoPark
---
West: "I expect Orb to sweep the Triple Crown ... Orb has two things going for him..."
---
White: "I think Orb has a very good chance to follow his Kentucky Derby victory with a win in the Preakness for these 10 reasons..." BUT, "I also have these five reasons why I am concerned he will lose..."
---
Balt Sun: Triple Crown harder to achieve as game has changed
---
For a while there, it looked as if the Preakness was shaping up to be a runaway victory for Kentucky Derby winner Orb. Then came the post-position draw. Suddenly things got very interesting.
---
Horse trainers hail rail as road to ruin... Shug shrugs about Orb's starting position
---
Trickle down effect: Upstate NY sulky track mgt hopes for Orb victory at Pimlico
---
Top Euro jock Dettori says cocaine led to suspension
---
Can Maryland racing draw women to the track?... NASCAR has grown its female fan base, why not horse racing?
---
Graham Motion praises Animal Kingdom's versatility
---
Ontario lays out framework for future of horse racing
---
Jenny Craig's SoCal horse facility to close, "I tried to make it work."
---
Hovdey: In Beadle, NBC has something for the new fan
---
"He liked this big old track better": Shug McGaughey on Easy Goer, and Derbies past and present
---
Fri preview: Female jocks set for fourth running of the Lady Legends for the Cure at PIM
---
ESPN's latest 3YO poll: Orb unanimous at #1
---
Handle way up for Monmouth opener, "To post a 30 percent gain in handle is incredibly positive..."
---
Hegarty: NYRA numbers up for the year
---
Ontario has asked the Horse Racing Industry Transition Panel to bring forward a long-term plan to implement recommendations from its final report
---
Moran: Crown defines the Sport of Kings... The difficulty of winning the Triple Crown is a large part of the sport's appeal
---
Down Under: Singleton v Waterhouse: Five things we learned
---
Hong Kong scribe opines on synthetic surfaces: "...all-weather track, awful weather track or all-wet track, call it what you will ... not that we were ever fans of the AWT - and it has become unreadable, a lottery."
---
John Oxx is looking forward to seeing the offspring of his brilliant 6-times G1 winner Sea The Stars in action later in the season
---
Balt Sun: Jockeying for position... Women rising through racing's ranks
---
VIDEO: Women riding into horse racing spotlight
---
Grening: Joel Rosario back on top of his game
---
Rosario's Kentucky Derby win bittersweet for ex-agent Ron Ebanks, "I don't wish Rosario any bad luck, but it wasn't nice what he did to me."
---
Western Kentucky Univ works to improve rider safety by developing a stronger industry standard for reins
---
Jerardi: Opening day at Delaware Park hard to beat for atmosphere
---
Watchmaker: Freedom Child, Preakness thoughts
---
DeRosa: Making a line on the Preakness exacta
---
VIDEO: Preakness security and anti-doping procedures
---
Miller: My Monday with Orb - from BEL workout to arrival at PIM [with photos]
---
Kentucky Oaks/Derby iPhoto Essay
---
VIDEO: HA! Shug McGaughey - superstar! Young fan commits chance encounter with trainer to video so friends, "will believe me that I did meet him..."
---
Um, uh... White House petitioned to stop tweeting by racehorses?!?
---
WooOoOoooo -- oh, wait a minute, not so much 'wooOoOo'.... As Preakness 2013 arrives, infield shows identity shift from drink-a-thon to music festival
---
Latest NTRA polls [pdf]
---
NTRA polls by voter [pdf]
---
Beyer: "The most famous names in American thoroughbred racing used to be those of dynasties possessing fabulous wealth ... when Orb won the Kentucky Derby ... [it] was a reminder of what the dynasties contributed to the breed."
---
Sports Illustrated: McGaughey's throwback mindset may be key to winning Triple Crown
---
Top names charged in Australian racing scandal... War of words after Australian trainer Gai Waterhouse and owner John Singleton are charged in inquiry over a horse that flopped
---
It's different over there!... Hong Kong - Under the current criteria, trainers are subject to a 'three strikes' policy, requiring them to train at least 13 winners per season and that number is about to go to 15
---
Frank Stronach still mulling over changes at Pimlico as Preakness looms
---
Jicha: Calder-Gulfstream conflict turns ugly early
---
Jockeys call for increased disability insurance... Racetracks don't provide long-term care, they say, and many can't afford it on their own
---
Departing's trainer has played role of spoiler before... Blame vs Zenyatta
---
Plonk: Reviewing my Derby top picks going back to 1987...
---
Ehalt: Calumet Farm: Alive and well
---
AUDIO: ESPN's Inside the Gates... Pro and College Football Hall of Famer Paul Hornung discusses Titletown Five's Preakness chances
---
Simon: Kentucky Derby recap / Triple Crown preview... "My bathrobe betting approach to the Preakness and Belmont Stakes..."
---
Balt Sun: 22YO Gabby Gaudet drew on horse sense to become new handicapper at Pimlico, Laurel Park
---
Blog profile: 'Antebellum Turf Times'
---
---
Sat results: Glorious View digs in to win G2 $200K Vagrancy Hcp
---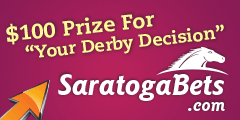 ---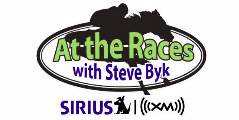 ---
Sat results: Farhh flies home in G1 Lockinge a Newbury
---
MISCELLANEOUS INDEX:
Where we put things that don't fit into any of the other index categories
---
Track visit/reviews
---
THE FANS SPEAK:
Where we occasionally search the web to explore various discussions and topics
---
OPINION:
equidaily.com's occasional thoughts on various topics regarding the horse racing game

---
equidaily.com's Coast-to-coast
---
Saratoga's Best Bets
---
Click here to e-mail any questions, comments, or suggestions to equidaily.com
---
AQUEDUCT, Jamaica, NY
ARAPAHOE PARK, Aurora, CO
ARLINGTON PARK, Arlington Heights, IL
ASSINIBOIA DOWNS, Winnipeg, Manitoba
BELMONT, Elmont, NY
BEULAH PARK, Grove City, OH
CALDER, Miami, FL
CALIFORNIA FAIRS, CA
CANTERBURY PARK, Shakopee, MN
CHARLES TOWN, Charles Town, WV
CHURCHILL DOWNS, Louisville, KY
COLONIAL DOWNS, New Kent, VA
DELAWARE PARK, Wilmington, DE
DEL MAR, Del Mar, CA
DELTA DOWNS, Vinton, LA
DOWNS AT ALBUQUERQUE, Albuquerque, NM
ELLIS PARK, Henderson, KY
EMERALD DOWNS, Auburn, WA
EVANGELINE DOWNS, Opelousas, LA
FAIR GROUNDS, New Orleans, LA
FAIR MEADOWS, Tulsa, OK
FAIRMOUNT PARK, Collinsville, IL
FAIRPLEX, Pomona, CA
FINGER LAKES, Farmington, NY
FORT ERIE, Fort Erie, Ontario
GOLDEN GATE, Albany, CA
GREAT LAKES DOWNS, Muskegon, MI
GULFSTREAM PARK, Hallandale, FL
HASTINGS PARK, Vancouver, BC
HIALEAH PARK, Hialeah, FL
HAWTHORNE RACE COURSE, Cicero, IL
HOLLYWOOD PARK, Inglewood, CA
HOOSIER PARK, Anderson, IN
INDIANA DOWNS, Shelbyville, IN
KEENELAND, Lexington, KY
KENTUCKY DOWNS, Franklin, KY
LAUREL PARK, Laurel, MD
LONE STAR PARK, Grand Prairie, TX
LOUISIANA DOWNS, Bossier City, LA
MARQUIS DOWNS, Saskatoon, Saskatchewan
MEADOWLANDS, E Rutherford, NJ
MONMOUTH PARK, Oceanport, NJ
MOUNTAINEER, Chester, WV
NORTHLANDS PARK, Edmonton, Alberta
OAKLAWN PARK, Hot Springs, AR
PENN NATIONAL, Grantville, PA
PARX, Bensalem, PA
PIMLICO, Baltimore, MD
PINNACLE RACE COURSE, New Boston, MI
PORTLAND MEADOWS, Portland, OR
PRAIRIE MEADOWS, Des Moines, IA
PRESQUE ISLE DOWNS, Erie, PA
REMINGTON PARK, Oklahoma City, OK
RETAMA PARK, San Antonio, TX
RIVER DOWNS, Cincinnati, OH
ROCKINGHAM PARK, Salem, NH
RUIDOSO DOWNS, Ruidoso Downs, NM
SAM HOUSTON, Houston, TX
SANTA ANITA, Arcadia, CA
SARATOGA, Saratoga Springs, NY
STAMPEDE PARK, Calgary, Alberta
SUFFOLK DOWNS, Boston, MA
SUNLAND PARK, Sunland Park, NM
SUNRAY PARK, Farmington, NM
TAMPA BAY DOWNS, Tampa, FL
THISTLEDOWN, Cleveland, OH
TURF PARADISE, Phoenix, AZ
TURFWAY PARK, Florence, KY
WILL ROGERS DOWNS, Claremore, Oklahoma
WOODBINE, Rexdale, Ontario
WOODLANDS, Kansas City, KS
YAVAPAI DOWNS, Prescott Valley, AZ
---


Note: Pages on this site are labelled with the equidaily.com logo. Some links lead to pages at other sites. equidaily.com is responsible only for the pages on this site. equidaily.com assumes no responsibility for errors or omissions. Always check with official sources to verify info.

---
Copyright 2013 equidaily.com

---