Sun results: Shared Belief wins sixth straight with big score in G1 $1mil PacClassic
Sun results: Goldencents finds winning form in G2 $250K Pat O'Brien

---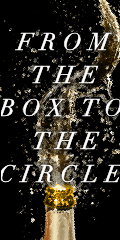 ---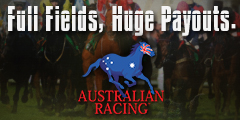 ---
Sat preview: Boban new fave in Memsie betting
---
Current forecasts for N American tracks
---
Racetrack abbreviation codes
---
[AUS] FOXSPORTS.AU
[AUS] RACING AND SPORTS
[AUS] SMH.COM.AU
[AUS/NZ] THOROUGHBRED NEWS
[AUS] VIRTUAL FORM GUIDE
[ASIA] S CHINA MORNING POST
BALTIMORE SUN
BLOOD HORSE
CBS.SPORTSLINE
CHICAGO SUN-TIMES
DAILY RACING FORM
ESPN
FOX SPORTS
FRANCE GALOP
[JAPAN] HORSERACING IN JAPAN
KENTUCKY.COM
LA TIMES
LOUISVILLE COURIER JOURNAL
MIAMI HERALD
MSNBC
NY DAILY NEWS
NY POST
NY TIMES
THE RACING BIZ [Mid-Atlantic region]
SEATTLE TIMES
SIGNONSANDIEGO.COM
SOUTH AFRICAN HORSERACING
THISISHORSERACING.COM
ThoroughbredRacing.com
TIMES PICAYUNE
[U.K.] BBC
[U.K.] GUARDIAN
[U.K.] RACING POST
[U.K.] SPORTINGLIFE.COM
[U.K.] TELEGRAPH
[U.K.] TIMES
USA TODAY
WASHINGTON POST

Latest NTRA poll: Shared Belief zooms to #2
---
Watchmaker Watch: Weekly divisional ratings
---
Sun results: Shared Belief remains unbeaten with gigantic run in G` $1mil PacClassic
---
Sports talker Jim Rome now 'hooked' on horse racing
---
Del Mar's inaugural Bing Crosby season debuts Nov 7
---
SoCal female jock agents working hard, "There are lots of women working on the track now. There are women working in the barns, racing office, training and jockey agents. It's not a man's world at all."
---
>>> "A stroke of genius, Sir."... The boldest betting scam ever? Story behind a plot to trick Brit bookies 40 years ago
---
Canada: Marriage between the horse racing industry and the Ontario Lottery and Gaming Commission is 'on' again
---
Haskin's top sprinters of the last 50 years
---
UK's The Telegraph wonders: Is horse racing entering the final furlong?... Bookies' cash helps to support racing, but betting on the horses is becoming less popular, according to Ladbrokes and Gala Coral
---
Comment: Travers Day equine fatality reminds - "Racing's greatest celebrations aren't immune to its most devastating possibilities."
---
Belterra Park planning 20% purse reduction
---
Fair Grounds to update video boards
---
Watchmaker: Strange strategy by Travers jockeys
---
Fasig-Tipton Saratoga fall mixed sale expands to two days
---
Jock Watch: 46YO GR Carter has been steady in q-horse riding career and hopes to win All American Futurity
---
Sun results: Stryker Phd closes to win G3 $200K Longacres Mile at Emerald Downs
---
---
>>> VIDEO: Bloodhorse's "And They're Off" with Shulman and Haskin... The Final Farewell
---
>>> NY: Inspector general report cites 'missed opportunities' in NYRA takeout error
>>> Report: "Investigation into the Improper Takeout Rate Charged by the New York Racing Association, Inc." [pdf]
>>> Statement From Dr. David J Skorton Chairperson, Board of Directors The New York Racing Assoc, "We thank the Inspector General for her professionalism and guidance."
---
Travers/The Mid-Summer Derby: Historic meeting ground for top 3-year-old
---
West: Bayern to Travers - "fireworks are imminent."
---
Powell: "Can Bayern go to the front and never look back in a 10-furlong race?"
---
California Chrome to Pa Derby at PRX on 9/20
---
Tom Durkin: Erudite influences behind a celebrated voice
---
Game On Dude nearing end of storied career
---
Mike Smith could cap big meet with Pacific Classic win
---
NYRA honors Jerkens, Lukas, Durkin in red jacket ceremony on Fri
---
Europe: Jamie Spencer - two-time champion jockey to retire
---
Ehalt: The Mid-Summer Derbies are at hand
---
Irish horse racing industry is expected to double in value to $2bn over the next five years and add thousands of new jobs
---
Saratoga trainers talk Lasix
---
Alan Landsburg dies at 81; Emmy-winning producer and leading horseman
---
Oz: Tinkler dispersal largest of its kind in Australian turf history
---
Ohio: Dayton, Mahoning Valley ready to open racinos, live horse racing to follow
---
Nebraska: Group will push for horse-racing ballot measure to allow Instant Racing machines
---
Nebraska: Lincoln Race Course one-race meet approved for Sept 4
---
New HD live streaming app for NYRA Rewards unveiled on Travers eve
---
Duo given long BHA bans... Ex-trainer Elliott Cooper and former jockey Steven Gagan have both been warned off for 14 years following a British Horseracing Authority disciplinary panel hearing.
---
Latest NTRA poll: Slight tweaks in the Top Ten
---
Watchmaker Watch: Weekly divisional ratings
---
SoCal: Los Al - will track owner Ed Allred's risky gamble on the future of California thoroughbred racing pay off?
---
Racing and technology: Aussie scribe critical of Racing Victoria's half mil purchase of racing.com domain name... "Silly."
---
Crist: Racing needs to improve its product and change with the times
---
HBPA horsemen reaffirm support of Lasix
---
3YO Watch: Mr Speaker gets green light for Travers
---
Tonalist all set for Travers, Clement says
---
California Chrome owners recognize in Cal state capitol on Thurs
---
Wed preview: Timeform have Aidan O'Brien's Australia rated only narrowly ahead of Mukhadram and Telescope in the Juddmonte International Stakes at York
---
"We are a little bit worried about his fitness."... Aidan O'Brien as talented 3YO Australia gets ready for Wed's G1 International at York
---
Thurs preview: Aidan O'Brien plans to take on the brilliant Taghrooda, with both Venus De Milo and Tapestry in G1 Yorkshire Oaks
---
Kingman impresses win G1 Prix Jacques le Marois at Deauville on Sunday
---
VIDEO: Kingman wins G1 Prix Jacques le Marois at Deauville
---
History: The day US-based jockey Braulio Baeza produced one of the biggest shocks in British racing
---
NY Times: Scrutiny circles track at Del Mar
---
Sport Illustrated: How baseball Hall of Famer Joe Torre fell hard for horse racing
---
Cronley: "Here are 57 good things about horse racing..."
---
NBC: In Mexico, female jockeys work to break into horse racing
---
Motion: Animal Kingdom helped make Main Sequence connection
---
West: Europeans continue to show their dominance in turf races
---
Robin Williams as Popeye offered horse racing moment
---
Q-horse jockey Raul Valenzuela suspended for allegedly possessing buzzer
---
Why the owner experience at York should become an industry model
---
California Chrome goes slowly in half-mile workout on Fri
---
VIDEO: Calif Chrome work
---
LoPresti leans to Woodbine Mile for Wise Dan
---
Mountaineer OK'd to cut races but not dates
---
Stevens walking again after knee replacement
---
Haskin: The girls who lost Curlin
---
Fans can vote for Mike Venezia Award winner
---
Powell: First-crop sires - Sea the Stars, Super Saver, Warrior's Reward
---
White: Congrats to HOF class of 2014... Wild '33 Derby... Rags to Riches missing from HOF ballet... more
---
Bredar: "And so it goes, that I am older -- hopefully a little wiser -- yet with child-like wonder still awestruck, at how magical Saratoga Racetrack is and how quickly the time there seems to fly."
---
Sat results: Edison best in G3 Canadian Derby at Northlands
---
Trainer Chuck Spina wins Buddy Raines Award
---
Jockeys Nakatani, Trujillo taking part in charity boxing match at Del Mar
---
Durkin's greatest hits
---
The late Vic Zast remembered at Saratoga morning gathering
---
Saratoga: Local man makes public proposal during Fabulous Fillies Day
---
Photo gallery: Fabulous Fillies Day at Saratoga Race Course
---
Photo gallery: The Sizzling Hot Pink Saratoga Hat Luncheon
---
Ellis cancels Sunday card
---
Wed preview: Woodbine to host apprentice jocks competition
---
Thurs preview: $36K P6 carryover
---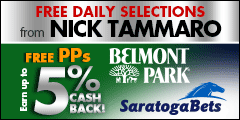 ---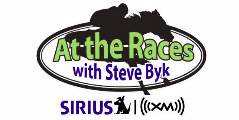 ---
Leading Light takes key step to another St Leger
---
MISCELLANEOUS INDEX:
Where we put things that don't fit into any of the other index categories
---
Track visit/reviews
---
THE FANS SPEAK:
Where we occasionally search the web to explore various discussions and topics
---
OPINION:
equidaily.com's occasional thoughts on various topics regarding the horse racing game

---
equidaily.com's Coast-to-coast
---
Saratoga's Best Bets
---
Click here to e-mail any questions, comments, or suggestions to equidaily.com
---
AQUEDUCT, Jamaica, NY
ARAPAHOE PARK, Aurora, CO
ARLINGTON PARK, Arlington Heights, IL
ASSINIBOIA DOWNS, Winnipeg, Manitoba
BELMONT, Elmont, NY
BEULAH PARK, Grove City, OH
CALDER, Miami, FL
CALIFORNIA FAIRS, CA
CANTERBURY PARK, Shakopee, MN
CHARLES TOWN, Charles Town, WV
CHURCHILL DOWNS, Louisville, KY
COLONIAL DOWNS, New Kent, VA
DELAWARE PARK, Wilmington, DE
DEL MAR, Del Mar, CA
DELTA DOWNS, Vinton, LA
DOWNS AT ALBUQUERQUE, Albuquerque, NM
ELLIS PARK, Henderson, KY
EMERALD DOWNS, Auburn, WA
EVANGELINE DOWNS, Opelousas, LA
FAIR GROUNDS, New Orleans, LA
FAIR MEADOWS, Tulsa, OK
FAIRMOUNT PARK, Collinsville, IL
FAIRPLEX, Pomona, CA
FINGER LAKES, Farmington, NY
FORT ERIE, Fort Erie, Ontario
GOLDEN GATE, Albany, CA
GREAT LAKES DOWNS, Muskegon, MI
GULFSTREAM PARK, Hallandale, FL
HASTINGS PARK, Vancouver, BC
HIALEAH PARK, Hialeah, FL
HAWTHORNE RACE COURSE, Cicero, IL
HOLLYWOOD PARK, Inglewood, CA
HOOSIER PARK, Anderson, IN
INDIANA DOWNS, Shelbyville, IN
KEENELAND, Lexington, KY
KENTUCKY DOWNS, Franklin, KY
LAUREL PARK, Laurel, MD
LONE STAR PARK, Grand Prairie, TX
LOUISIANA DOWNS, Bossier City, LA
Los Alamitos, Los Alamitos, CA
MARQUIS DOWNS, Saskatoon, Saskatchewan
MEADOWLANDS, E Rutherford, NJ
MONMOUTH PARK, Oceanport, NJ
MOUNTAINEER, Chester, WV
NORTHLANDS PARK, Edmonton, Alberta
OAKLAWN PARK, Hot Springs, AR
PENN NATIONAL, Grantville, PA
PARX, Bensalem, PA
PIMLICO, Baltimore, MD
PINNACLE RACE COURSE, New Boston, MI
PORTLAND MEADOWS, Portland, OR
PRAIRIE MEADOWS, Des Moines, IA
PRESQUE ISLE DOWNS, Erie, PA
REMINGTON PARK, Oklahoma City, OK
RETAMA PARK, San Antonio, TX
RIVER DOWNS, Cincinnati, OH
ROCKINGHAM PARK, Salem, NH
RUIDOSO DOWNS, Ruidoso Downs, NM
SAM HOUSTON, Houston, TX
SANTA ANITA, Arcadia, CA
SARATOGA, Saratoga Springs, NY
STAMPEDE PARK, Calgary, Alberta
SUFFOLK DOWNS, Boston, MA
SUNLAND PARK, Sunland Park, NM
SUNRAY PARK, Farmington, NM
TAMPA BAY DOWNS, Tampa, FL
THISTLEDOWN, Cleveland, OH
TURF PARADISE, Phoenix, AZ
TURFWAY PARK, Florence, KY
WILL ROGERS DOWNS, Claremore, Oklahoma
WOODBINE, Rexdale, Ontario
WOODLANDS, Kansas City, KS
YAVAPAI DOWNS, Prescott Valley, AZ
---


Note: Pages on this site are labelled with the equidaily.com logo. Some links lead to pages at other sites. equidaily.com is responsible only for the pages on this site. equidaily.com assumes no responsibility for errors or omissions. Always check with official sources to verify info.

---
Copyright 2014 equidaily.com

---