Sun results: Itsinthepost breaks through in G2 $200K San Luis Rey
---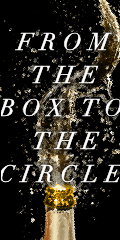 ---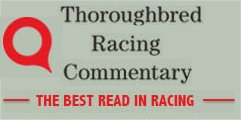 ---
Oz: Reflections on The BMW Day
Sat preview: Decisive win for Jameka in G1 The BMW at Rosehill
International stars set to race in Hong Kong's spring majors
No Dubai joy for Hong Kong's horses but Moreira raises a smile

---
Current forecasts for N American tracks
---
Racetrack abbreviation codes
---
[AUS] FOXSPORTS.AU
[AUS] RACING AND SPORTS
[AUS] SMH.COM.AU
[AUS/NZ] THOROUGHBRED NEWS
[AUS] VIRTUAL FORM GUIDE
[ASIA] S CHINA MORNING POST
BALTIMORE SUN
BLOOD HORSE
CBS.SPORTSLINE
CHICAGO SUN-TIMES
DAILY RACING FORM
ESPN
FOX SPORTS
FRANCE GALOP
[JAPAN] HORSERACING IN JAPAN
KENTUCKY.COM
LA TIMES
LOUISVILLE COURIER JOURNAL
MIAMI HERALD
MSNBC
NY DAILY NEWS
NY POST
NY TIMES
THE RACING BIZ [Mid-Atlantic region]
SEATTLE TIMES
SIGNONSANDIEGO.COM
SINGAPORE TURF CLUB
SOUTH AFRICAN HORSERACING
THISISHORSERACING.COM
ThoroughbredRacing.com
TIMES PICAYUNE
[U.K.] BBC
[U.K.] GUARDIAN
[U.K.] RACING POST
[U.K.] SPORTINGLIFE.COM
[U.K.] TELEGRAPH
[U.K.] TIMES
USA TODAY
WASHINGTON POST

Watchmaker: Would a Kentucky Derby contender please impress me?
---
Breeders' Cup prez impressed with Laurel visit, "If enthusiasm is currency, we'd be here tomorrow."
---
Commentary: This simple initiative in transparency can help win back a skeptical racing public... "I'm proposing an initiative that ... can be called 'The Trainer's Testing History'"
---
The History of horse racing
---
The unforgettable legacy of 'The Chief' - Allen Jerkens
---
Reflections on the 2017 Cheltenham Festival
---
It's a cruel blow that Mastery may not get to fulfill his racetrack destiny
---
Jock Watch: A week after scary spill, jock Katie Davis earns first stake win
---
Sat results: Malagacy handles first route in G2 $900K Rebel at Oaklawn
---
With effort to build track at Morven Park over, Virginia racing interests regroup
---
Ariz: Rillito racing season ends as president praises stability
---
3YO Watch: Florida Derby contenders breeze
---
Shaman Ghost, Tapwrit jump in latest NTRA polls
---
NBC expands global commitment to covering horse racing
---
NYRA expands partnership with FOX Sports for live racing coverage in 2017
---
Europe: Racing industry fears that Brexit could impact freedom of movement for horses
---
Mastery suffers fracture in San Felipe win
---
Down Under: Okay, Winx is incredible - but is she really better than 'the mare of the world' - Sunline?
---
Europe: Why this is the week that counts the most for Joseph O'Brien
---
Racing in Italy in 2017: a (true) story to make you laugh - or cry
---
3YO Watch: Why runner-up Cloud Computing looks a horse to follow
---
Florida-bred racing positioned to rise again
---
UPI weekend stakes recaps
---
Life on the Farm: Breeding season underway
---
Ben's Cat posts first work of 2017
---
Equine Injury Database: Rate of fatal injuries declines for fourth consecutive year
---
Trainer Mark Casse works Classic Empire, bides time with Tepin
---
3YO Watch: Tapwrit 'bright and alert' after Tampa Bay Derby win... "Most likely, we're looking at another prep race..."
---
They're tough over there! Aussie apprentice fined $2000 for using sauna without having completed 'the sauna seminar'
---
Haskin's Derby Dozen: Gunnevera #1
---
Oaklawn Park increases purses
---
Strong demand fuels record OBS March Sale
---
Cheltenham Festival 2017: The best pics from day one/Tues
---
North Dakota could owe horse-betting firm up to $25 million for improper taxes
---
Arrogate, Winx ties atop latest 'World's Best Thoroughbred Rankings'
---
List: 'World's Best Thoroughbred Rankings'
---
National Museum of Racing announces 2017 Hall of Fame finalists
---
Commentary: Racing's integrity? Some officials just don't give a damn... "In the aftermath of the Jamie Ness suspension, the horse racing industry shoots itself in the foot - again."
---
Angst: Too many holes in racing's rule net
---
Jock Watch/international: Why Joao Moreira is racing's closest thing to Frankie Dettori since Frankie Dettori
---
Hong Kong: Moreira rides eight winners on Sha Tin program
---
VIDEO: Watch again Joao Moreira and his record eight wins at Sha Tin
---
The Pegasus, the 'blockbuster effect' and the 'super user'
---
Wow! 18YO apprentice Carlos Carrasco wins his first two races!
---
Interest brewing for 'The Everest' - Australia's $10mil turf sprint in Oct
---
Racing and technology: Shot down? Brit bookmaker hoped save bettors from long lines by delivering winnings -- via drone!
---
Shulman: "How am I supposed to know my Derby horse when they don't show up under silks?"
---
White: "Confusing is a good word to describe what the Kentucky Derby picture is following recent developments."
---
Nadeau: What we learned from the Fountain of Youth
---
Powell: Spotlight on Mastery in San Felipe... Arrogate training splendidly toward Dubai
---
Not bad! Pensioner turns 20p [about $US.25] into almost 458-thousand pounds [over half a million US dollars)
---
Amazing trainer tale: Kidnapped for 36 days in his native Venezuela, trainer Antonio Sano continues remarkable journey with Fountain of Youth winner Gunnevera
---
Serendipity: Steve Wigmore went to the Keeneland September Sale on vacation, no really, and became a racehorse owner
---
Soccer player set to ride in charity horse race... "It has been a long-term ambition of mine to learn how to ride and race."
---
Ugh! College newspaper column - 'Uncovering the horrors of horse racing'... "There is no denying that horse racing is a form of animal torture."
---
Derby Watch: Shirreffs having double the fun this year
---
Dandelion leaves and Derby preps: that's life with John Shirreffs for two live Kentucky hopes
---
3YO Watch: Girvin is improving, but it's a big step up to contend at Churchill Downs
---
History: The day a colt supplemented for $40,000 yet scorned by the experts won the Big Cap at 50-1
---
Gary Stevens returns to riding after hip surgery
---
Gary Stevens hopeful for Del Mar Breeders' Cup ride
---
Retired jock Larry Melancon making progress in recovery from stroke
---
TVG increases Australian racing coverage
---
2016 2YO filly champ Champagne Room recovering from surgery, no training until June
---
No intentional wrongdoing found in case of swapped horse identities in La
---
Mohaymen prepping for 4YO debut
---
'Voice of Meadowlands' Sam McKee passes away
---
Slots bonanza/Sulky side: Plainridge will hold the richest harness race in state history July 28 - the $250K Spirit of Massachusetts Trot
---
Saratoga season tickets go on sale Mar 15
---
Pair say Suffolk Downs sale reached
---
Ouch! G1 winner taken from trainer over silks mix-up!... "It's a pretty heartless thing to do."
---
Ortiz, Jr closes out Big A inner-track meet with five-win day... Rodriguez, Jacobson take trainer/owner titles
---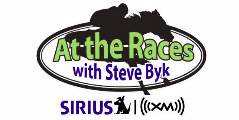 ---
Solow sets sights on return
Aidan O'Brien looks at Epsom for Seventh Heaven
British Horseracing Authority sets new rules for apprentices and conditionals

---
MISCELLANEOUS INDEX:
Where we put things that don't fit into any of the other index categories
---
Track visit/reviews
---
THE FANS SPEAK:
Where we occasionally search the web to explore various discussions and topics
---
OPINION:
equidaily.com's occasional thoughts on various topics regarding the horse racing game

---
equidaily.com's Coast-to-coast
---
Saratoga's Best Bets
---
Click here to e-mail any questions, comments, or suggestions to equidaily.com
---
AQUEDUCT, Jamaica, NY
ARAPAHOE PARK, Aurora, CO
ARLINGTON PARK, Arlington Heights, IL
ASSINIBOIA DOWNS, Winnipeg, Manitoba
BELMONT, Elmont, NY
BELTERRA PARK, Cincinnati, OH
BEULAH PARK, Grove City, OH
CALDER, Miami, FL
CALIFORNIA FAIRS, CA
CANTERBURY PARK, Shakopee, MN
CHARLES TOWN, Charles Town, WV
CHURCHILL DOWNS, Louisville, KY
COLONIAL DOWNS, New Kent, VA
DELAWARE PARK, Wilmington, DE
DEL MAR, Del Mar, CA
DELTA DOWNS, Vinton, LA
DOWNS AT ALBUQUERQUE, Albuquerque, NM
ELLIS PARK, Henderson, KY
EMERALD DOWNS, Auburn, WA
EVANGELINE DOWNS, Opelousas, LA
FAIR GROUNDS, New Orleans, LA
FAIR MEADOWS, Tulsa, OK
FAIRMOUNT PARK, Collinsville, IL
FAIRPLEX, Pomona, CA
FINGER LAKES, Farmington, NY
FORT ERIE, Fort Erie, Ontario
GOLDEN GATE, Albany, CA
GREAT LAKES DOWNS, Muskegon, MI
GULFSTREAM PARK, Hallandale, FL
HASTINGS PARK, Vancouver, BC
HIALEAH PARK, Hialeah, FL
HAWTHORNE RACE COURSE, Cicero, IL
HOLLYWOOD PARK, Inglewood, CA
HOOSIER PARK, Anderson, IN
INDIANA DOWNS, Shelbyville, IN
KEENELAND, Lexington, KY
KENTUCKY DOWNS, Franklin, KY
LAUREL PARK, Laurel, MD
LONE STAR PARK, Grand Prairie, TX
LOUISIANA DOWNS, Bossier City, LA
Los Alamitos, Los Alamitos, CA
MAHONING VALLEY, Youngstown, OH
MARQUIS DOWNS, Saskatoon, Saskatchewan
MEADOWLANDS, E Rutherford, NJ
MONMOUTH PARK, Oceanport, NJ
MOUNTAINEER, Chester, WV
NORTHLANDS PARK, Edmonton, Alberta
OAKLAWN PARK, Hot Springs, AR
PENN NATIONAL, Grantville, PA
PARX, Bensalem, PA
PIMLICO, Baltimore, MD
PINNACLE RACE COURSE, New Boston, MI
PORTLAND MEADOWS, Portland, OR
PRAIRIE MEADOWS, Des Moines, IA
PRESQUE ISLE DOWNS, Erie, PA
REMINGTON PARK, Oklahoma City, OK
RETAMA PARK, San Antonio, TX
RIVER DOWNS, Cincinnati, OH
ROCKINGHAM PARK, Salem, NH
RUIDOSO DOWNS, Ruidoso Downs, NM
SAM HOUSTON, Houston, TX
SANTA ANITA, Arcadia, CA
SARATOGA, Saratoga Springs, NY
STAMPEDE PARK, Calgary, Alberta
SUFFOLK DOWNS, Boston, MA
SUNLAND PARK, Sunland Park, NM
SUNRAY PARK, Farmington, NM
TAMPA BAY DOWNS, Tampa, FL
THISTLEDOWN, Cleveland, OH
TURF PARADISE, Phoenix, AZ
TURFWAY PARK, Florence, KY
WILL ROGERS DOWNS, Claremore, Oklahoma
WOODBINE, Rexdale, Ontario
WOODLANDS, Kansas City, KS
YAVAPAI DOWNS, Prescott Valley, AZ
ZIA PARK, Hobbs, NM

---


Note: Pages on this site are labelled with the equidaily.com logo. Some links lead to pages at other sites. equidaily.com is responsible only for the pages on this site. equidaily.com assumes no responsibility for errors or omissions. Always check with official sources to verify info.

---
Copyright 2016 equidaily.com

---