Sat results: Recaps of Gold Rush Day stakes
---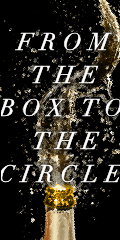 ---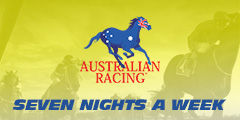 ---
Sat results: Boban takes G1 Doomben 10,000
---
Current forecasts for N American tracks
---
Racetrack abbreviation codes
---
[AUS] FOXSPORTS.AU
[AUS] RACING AND SPORTS
[AUS] SMH.COM.AU
[AUS/NZ] THOROUGHBRED NEWS
[AUS] VIRTUAL FORM GUIDE
[ASIA] S CHINA MORNING POST
BALTIMORE SUN
BLOOD HORSE
CBS.SPORTSLINE
CHICAGO SUN-TIMES
DAILY RACING FORM
ESPN
FOX SPORTS
FRANCE GALOP
[JAPAN] HORSERACING IN JAPAN
KENTUCKY.COM
LA TIMES
LOUISVILLE COURIER JOURNAL
MIAMI HERALD
MSNBC
NY DAILY NEWS
NY POST
NY TIMES
THE RACING BIZ [Mid-Atlantic region]
SEATTLE TIMES
SIGNONSANDIEGO.COM
SINGAPORE TURF CLUB
SOUTH AFRICAN HORSERACING
THISISHORSERACING.COM
ThoroughbredRacing.com
TIMES PICAYUNE
[U.K.] BBC
[U.K.] GUARDIAN
[U.K.] RACING POST
[U.K.] SPORTINGLIFE.COM
[U.K.] TELEGRAPH
[U.K.] TIMES
USA TODAY
WASHINGTON POST

Latest NTRA polls [pdf]... American Pharoah unanimous #1 on 3YO poll - #2 overall, but outpolls Shared Belief for first-place votes
---
Why American Pharoah could be a special case in the annals of Triple Crown history
---
Opinion: Don't tinker with the Triple Crown
---
Wall Street Journal: The Triple Crown: We want answers... A roundtable discussion about American Pharoah's chances at the Belmont Stakes; will Charlie Brown finally kick the ball?
---
NJ newspaper: Triple Crown great for racing, but maybe not the Haskell
---
Balt Sun: What really caused the bathroom issues at Saturday's Preakness... City public works spokesman, "There wasn't any kind of exterior problem."
---
Interesting: Last year's Hong Kong-invader/Santa Anita Sprint Championship winner deterred from return trip by tax bite to winning purse! Hong Kong scribe's comment, "...any future American trips are unlikely after the IRS went to town on the earnings from the Grade One win - the local press say Chang barely won enough to buy one of his precious cigars."
---
Mitchell/Bloodhorse: "Can we worry later about how American Pharoah's final times may affect his place in history? ... For now, let's enjoy the ride."
---
NY sports columnist comment: Horce racing needs an American Pharoah win at Belmont
---
TV: Preakness rating down 8% from 2014... Also, top local markets for broadcast
---
NY Times/TV Sports: With Triple Crown possible, Belmont can expect a big draw
---
Closer look: NYRA Saratoga Race Course Redevelopment Plan
---
Frank Mirahmadi living dream at Monmouth
---
VIDEO: Local Fox affiliate reports on opening day at Presque Isle downs
---
Zenyatta offspring Ziconic, Cozmic One at Belmont
---
Canada: Assiniboia Downs cancels Mon racing due to -- wait for it -- snow!
---
Weather forces Les Bois to cancel opening day
---
HA! Final 'Mad Men' scene a hidden tribute to t-bred breeder and former ad man Bill Backer
---
...Real Coca-Cola ad writer a racehorse breeder
---
Average, median rise as F-T Midlantic opens
---
Fasig-Tipton Mid-Atlantic sale: Consignors hope for improved mid-market
---
Hong Kong Jockey Club chief wants to keep on track... When the going gets tough, Hong Kong must retain its famous 'can-do spirit', says the man overseeing its famous betting institution
---
Women hold their own as jockeys at Hazel Park
---
Stud farms competing for Triple Crown contender... Offers of more than $20mil have already been made to Zayat Stables for the breeding rights to TC hope American Pharoah
---
Suffolk requests three days of live racing
---
Ellis Park renames G3 Gardenia for champ Groupie Doll
---
Keeneland set for induction into Kentucky Athletic Hall of Fame
---
For Teaneck NJ - home of owner Zayat - American Pharoah's Triple Crown quest is personal... Mayor, "It's definitely a lot of buzz locally."
---
Houston weekly touts a trip to the local track - Sam Houston Park... "You could say we were balling out-of-control."
---
10YO millionaire Be Bullish claimed by Repole, retired to Old Friends Cabin Creek after winning career finale at BEL
---
Churchill Downs claims in lawsuit Daily Racing Form took illegal bets on Kentucky Derby
---
Top Ten reasons it's been 37 years since the last Triple Crown
---
Hialeah Park's $60mil expansion project moves forward
---
>>> Satish Sanan used to be big into horse racing. But the entrepreneur said he sold his horses and is devoting himself to his new medical startup, Inspirata Inc
---
VIDEO: Victor Espinoza poses for photos and signs for fans outside of the 'TODAY' show on Monday
---
Photos: Ubiquitous superfan Marlins Man was everywhere at the Preakness
---
>>> Preakness may move to Laurel... After 140 years at Pimlico, Stronach Group looking to move middle jewel of Triple Crown
>>> Balt Sun: Is sun setting on Preakness at Pimlico?
>>> Moving Preakness would require change in state law, officials say
---
>>> Belmont Stakes reserved seating sold out... General admission still available exclusively through Ticketmaster
>>> Q&A with new NYRA board chair Anthony Bonomo, "The overall thought of making a track a destination spot where there's a lot more to do between races plays an important role ... there's nothing more exciting than racing. But we also have to find something that excites you between races."
>>> MTA and NYRA must make sure a Belmont mess doesn't play out again
---
TCA to benefit from fantasy racing game
---
Latest 'World's Best Racehorse' rankings... Shared Belief tied at #1, American Pharoah jumps to #3
---
Pimlico attendance, handle take significant jumps on Black-Eyed Susan day
---
Will American Pharoah run in the Belmont? All depends on the Preakness, says trainer Bob Baffert
---
Jockey barred from Parx after illegal electrical device is found
---
Follow-up: Parx jockey Angel Castillo granted a stay
---
Canterbury stewards to interact with public... Will respond to questions on racetrack website's blog
---
Sporting News tabs best moments in Preakness history
---
After 30 years, a forgotten Preakness worth remembering... Derby winner Spend a Buck avoids
---
Powell: "In April of 2014, I wrote a scathing column in this space ridiculing the Jockey Club's announcement that a bunch of owners and trainers were going to voluntary submit veterinary records..."... Also, NBC's Derby Day feature on California Chrome was lacking
---
HOF Jockey Randy Romero has stomach tumor
---
Old Friends' farm office robbed and trashed
---
Rees: Why Pharoah will/won't sweep Triple Crown
---
Preakness could move to Sundays in future
---
USA Today: Preakness' future at Pimlico is called into question
---
LA Times: Bob Baffert is calmer after a stressful Kentucky Derby
---
San Diego Union-Trib: New Bob Baffert seeks Triple Crown... At 62 and after 13 years between Kentucky Derby wins, trainer savors the moments more now
---
Miller: Preakness Diaries - Draw Day [with PHOTOS]
---
Balt Sun: Promoters hope events like Black-Eyed Susan Stakes can increase horse racing's popularity
---
Preakness Alibi Breakfast message one of thankfulness
---
Bloodhorse: MJC's Sinatra prepares for Preakness 140
---
Del Mar dirt track getting tested... Environmentally-friendly Del Mar welcomes horses to its new dirt track for first time
---
Great debate: Did Victor Espinoza whip American Pharoah too many times?
---
LA Times: Even after Triple Crown run, Art Sherman still definitely in the game
---
Trainer Watch: Mac Robertson goes all in for 81-day Delaware Park meet
---
D Wayne Lukas - mentor... On the cadre of Lukas assistants that went on to train on their own, "I do teach them about a lot more than horses. I want complete guys working for me. I tell them to keep their shoes shined. I show them how to tie a tie and sometimes I pick those ties out."
---
Canterbury opens live-racing season Friday night
---
Idaho: Les Bois Park's live horse racing season, once in doubt, opens Sat
---
UK's The Guardian: Horse racing taking steps to combat domestic violence among jockeys
---
NY: Slight drop in 2014 racino revenues
---
NY: Western Region Off-Track Betting says regional economic impact is nearly $50 million
---
Q&A with NBC Sports horse racing commentator Laffit Pincay III, "I absolutely feel that horse racing is gaining back its fans, and even growing a different type of casual fan."
---
California Chrome pre-entered in Coral Eclipse Stakes on July 4
---
Kansas senators pass bill to resurge Woodlands racetrack - with slots
---
Beholder back on track after illness
---
Baffert's training brings classic success
---
MarketWatch: Ken Ramsey talks Kitten's Joy
---
2-time Arc winner Treve readies for seasonal debut later this month - and Oct shot at the three-peat
---
WaPo: Lawsuit involving paralyzed rider Jimmy Rivera aims to clean up horse racing... The suit is perhaps the first in the country to link two clouds that have long hung over horse racing: the use of performance enhancing drugs and the on-track breakdowns
---
Monmouth draws 25K fans for opening weekend of horse racing
---
Monmouth Park officials bet on turning a profit
---
Powell: "So what did we learn about American Pharoah from his win in the Kentucky Derby? Was it good, very good or great?"
---
Annual Saratoga Institute on Equine, Racing, and Gaming Law conference announces discussion topics
---
Jock Watch: Emma-Jayne Wilson and Steve Bahen recovering after spill on Sunday at Woodbine
---
DRF's McGee recounts remarkable catch of loose horse by Churchill outrider
---
Photo: Happy West Point teams leads Twilight Eclipse into the Belmont winner's circle after scoring his elusive G1 victory in the Man o War
---
American Pharoah's story: How a champ is made
---
Mitchell/Bloodhorse: Nurturing transparency
---
Stewardship the focus as Malones expand racing interests to Ireland and beyond
---
Oz: Racing NSW secures state-of-the-art drug detection equipment
---
From post to picket line: Retired African racehorses on safari
---
The Jockey Club's Thoroughbred Incentive Program: The program putting the spotlight back on thoroughbreds in the show ring
---
NY Times: Thrill of big races returns Gary Stevens to the saddle
---
For Page McKenney's owner, Pimlico Special's 'one I really want'
---
The ghost of Chris Antley still haunts Pimlico
---
Fornatale: Deciding the horseplayers' Eclipse Award
---
Indiana gov vetoes online horse wagering bill
---
Share in 2007 Preakness champ Curlin being sold
---
Finley: Will Bob Baffert cost himself the Triple Crown?
---
Wilkin: Baffert's biggest road block to a Triple Crown may be himself
---
SacBee: Bob Baffert still relishing 'greatest day' at Derby
---
Virginia Racing Commission favors return of horse racing this summer
---
Racing Hall of Fame: Jockey Vincent Powers and gelding Billy Kelly elected by Historic Review Committee
---
Six from US among Darley Flying Start trainees for 2015-17 program
---
BC Classic runner-up Toast Of New York is unlikely to be seen on a racecourse this year with next year's Dubai World Cup his long-term aim
---
Eddie Olczyk has NHL lineups in one hand, Racing Form in the other
---
California Chrome update from UK trainer, "...doing everything right ..."
---
Stories from Cot Campbell: A good buy (bye)
---
Jockeys to address Pan Am Conference
---
Cinema: NBC affiliate's website suggest five racing-themed movies to get you into the mood for the middle jewel of the Triple Crown
---
VIDEO: Local NBC affiliate previews Midlantic Fasig-Tipton Sales at Timonium
---
Latest NTRA polls... Little change from last week
---
Woodbine Racetrack employees say 'get the shovel in the ground' on casino expansion
---
Fri preview: Ageless Ben's Cat guns for third straight McKay victory
---
AUDIO: NPR's 'Only a Game'... Catching up with a lovable loser - Zippy Chippy
---
VIDEO: ABR releases "All Aboard: Road to the Triple Crown, No. 2"
---
Sat results: A Lot wins $100K Paradise Creek
---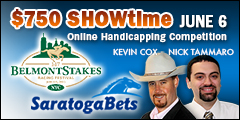 ---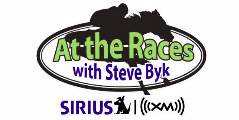 ---
Sat results: Class sees Gleneagles complete Guineas double
Derby 2015: Sixteen horses go forward for Epsom feature after scratchings deadline

---
MISCELLANEOUS INDEX:
Where we put things that don't fit into any of the other index categories
---
Track visit/reviews
---
THE FANS SPEAK:
Where we occasionally search the web to explore various discussions and topics
---
OPINION:
equidaily.com's occasional thoughts on various topics regarding the horse racing game

---
equidaily.com's Coast-to-coast
---
Saratoga's Best Bets
---
Click here to e-mail any questions, comments, or suggestions to equidaily.com
---
AQUEDUCT, Jamaica, NY
ARAPAHOE PARK, Aurora, CO
ARLINGTON PARK, Arlington Heights, IL
ASSINIBOIA DOWNS, Winnipeg, Manitoba
BELMONT, Elmont, NY
BELTERRA PARK, Cincinnati, OH
BEULAH PARK, Grove City, OH
CALDER, Miami, FL
CALIFORNIA FAIRS, CA
CANTERBURY PARK, Shakopee, MN
CHARLES TOWN, Charles Town, WV
CHURCHILL DOWNS, Louisville, KY
COLONIAL DOWNS, New Kent, VA
DELAWARE PARK, Wilmington, DE
DEL MAR, Del Mar, CA
DELTA DOWNS, Vinton, LA
DOWNS AT ALBUQUERQUE, Albuquerque, NM
ELLIS PARK, Henderson, KY
EMERALD DOWNS, Auburn, WA
EVANGELINE DOWNS, Opelousas, LA
FAIR GROUNDS, New Orleans, LA
FAIR MEADOWS, Tulsa, OK
FAIRMOUNT PARK, Collinsville, IL
FAIRPLEX, Pomona, CA
FINGER LAKES, Farmington, NY
FORT ERIE, Fort Erie, Ontario
GOLDEN GATE, Albany, CA
GREAT LAKES DOWNS, Muskegon, MI
GULFSTREAM PARK, Hallandale, FL
HASTINGS PARK, Vancouver, BC
HIALEAH PARK, Hialeah, FL
HAWTHORNE RACE COURSE, Cicero, IL
HOLLYWOOD PARK, Inglewood, CA
HOOSIER PARK, Anderson, IN
INDIANA DOWNS, Shelbyville, IN
KEENELAND, Lexington, KY
KENTUCKY DOWNS, Franklin, KY
LAUREL PARK, Laurel, MD
LONE STAR PARK, Grand Prairie, TX
LOUISIANA DOWNS, Bossier City, LA
Los Alamitos, Los Alamitos, CA
MAHONING VALLEY, Youngstown, OH
MARQUIS DOWNS, Saskatoon, Saskatchewan
MEADOWLANDS, E Rutherford, NJ
MONMOUTH PARK, Oceanport, NJ
MOUNTAINEER, Chester, WV
NORTHLANDS PARK, Edmonton, Alberta
OAKLAWN PARK, Hot Springs, AR
PENN NATIONAL, Grantville, PA
PARX, Bensalem, PA
PIMLICO, Baltimore, MD
PINNACLE RACE COURSE, New Boston, MI
PORTLAND MEADOWS, Portland, OR
PRAIRIE MEADOWS, Des Moines, IA
PRESQUE ISLE DOWNS, Erie, PA
REMINGTON PARK, Oklahoma City, OK
RETAMA PARK, San Antonio, TX
RIVER DOWNS, Cincinnati, OH
ROCKINGHAM PARK, Salem, NH
RUIDOSO DOWNS, Ruidoso Downs, NM
SAM HOUSTON, Houston, TX
SANTA ANITA, Arcadia, CA
SARATOGA, Saratoga Springs, NY
STAMPEDE PARK, Calgary, Alberta
SUFFOLK DOWNS, Boston, MA
SUNLAND PARK, Sunland Park, NM
SUNRAY PARK, Farmington, NM
TAMPA BAY DOWNS, Tampa, FL
THISTLEDOWN, Cleveland, OH
TURF PARADISE, Phoenix, AZ
TURFWAY PARK, Florence, KY
WILL ROGERS DOWNS, Claremore, Oklahoma
WOODBINE, Rexdale, Ontario
WOODLANDS, Kansas City, KS
YAVAPAI DOWNS, Prescott Valley, AZ
ZIA PARK, Hobbs, NM

---


Note: Pages on this site are labelled with the equidaily.com logo. Some links lead to pages at other sites. equidaily.com is responsible only for the pages on this site. equidaily.com assumes no responsibility for errors or omissions. Always check with official sources to verify info.

---
Copyright 2015 equidaily.com

---