Sun results: Wake Up Nick's unbeaten streak hits five in $100K Barretts Juvenile
---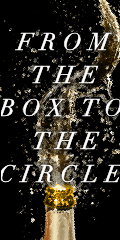 ---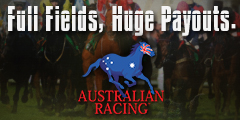 ---
Sat results: Dissident wins Makybe Diva Stakes
Sat results: Hallowed Crown wins 2014 Golden Rose Stakes
Hong Kong Jockey Club seeks higher returns from alternative investments

---
Current forecasts for N American tracks
---
Racetrack abbreviation codes
---
[AUS] FOXSPORTS.AU
[AUS] RACING AND SPORTS
[AUS] SMH.COM.AU
[AUS/NZ] THOROUGHBRED NEWS
[AUS] VIRTUAL FORM GUIDE
[ASIA] S CHINA MORNING POST
BALTIMORE SUN
BLOOD HORSE
CBS.SPORTSLINE
CHICAGO SUN-TIMES
DAILY RACING FORM
ESPN
FOX SPORTS
FRANCE GALOP
[JAPAN] HORSERACING IN JAPAN
KENTUCKY.COM
LA TIMES
LOUISVILLE COURIER JOURNAL
MIAMI HERALD
MSNBC
NY DAILY NEWS
NY POST
NY TIMES
THE RACING BIZ [Mid-Atlantic region]
SEATTLE TIMES
SIGNONSANDIEGO.COM
SOUTH AFRICAN HORSERACING
THISISHORSERACING.COM
ThoroughbredRacing.com
TIMES PICAYUNE
[U.K.] BBC
[U.K.] GUARDIAN
[U.K.] RACING POST
[U.K.] SPORTINGLIFE.COM
[U.K.] TELEGRAPH
[U.K.] TIMES
USA TODAY
WASHINGTON POST

Some are already calling it the biggest day in the history of Pennsylvania horse racing... Horse racing's biggest star, California Chrome, to race at Philly track
---
Powell: "Would we do it all over? If we knew how the Breeders' Cup was going to destroy historic, championship racing in the fall, would the industry embrace an event that has sucked the life out of two months of racing for two big days at the start of November?"
---
Eng: Horse racing can't smirk at NFL's troubles
---
Plonk: Is the burgeoning popularity of handicapping contest good for racing? "The raised eyebrow here comes by way that fantasy games do nothing for the business model of pari-mutuel horse racing."
---
White: Joan Rivers' Visit to Louisiana Downs... Also, remembering the first Super Derby
---
Meadowlands to offer Super Hi-5 jackpot with 8% takeout
---
Jicha: 3YOs in HOTY race for a change
---
Veitch: Scenes of the 2014 Saratoga meet
---
Cozmic One, Zenyatta's first foal, puts in timed work
---
Buyers, sellers assess Keeneland Book 1
---
Yearling market maintains strong momentum as buyers out in force at Keeneland
---
NTRA awaits consensus on medication issue
---
Apprentice Watch: 20YO Michael Ritvo wins fist LRL mount after shifting tack northward
---
Haskin: View from the Verrazano
---
Weekend preview/international: Treve tries to return to winning ways in G1 Prix Vermeille at Longchamp
---
Sat preview/international: O'Brien's Australia set for Irish Champion Stakes for an eighth time at Leopardstown
---
Europe: A tale of two St Legers - on the same weekend and better for it
---
Sat previdew: Kingston Hill the St Leger favorite
---
Oz: Cairns Amateurs - It's a fusion of sport, fashion and celebrity, with visitors from all around the country arriving with myriad connections to the races and events at the four-day carnival
---
Stopshoppingdebbie aims to join short list of Emerald Downs-based horses to have run in Breeders' Cup
---
Saratoga: New park will recognize 100-year anniversary of the incorporation of city, and feature a statue of the legendary Native Dancer
---
Will Take Charge has flashy Churchill breeze
---
Latest NTRA poll: Wise Dan, Shared Belief 1-2
---
Haskin: Early lowdown on the BC Classic
---
Angst: Keeping eye on Lea, Will Take Charge
---
"Five years, a graded stake every year. I can't believe it."... Trainer Lopresti on his Saratoga good fortune after Wise Dan's recent comeback victory
---
Changing business requires trainers to improvise, adapt... Two cases in point are John Rigattieri and Jamie Ness...
---
Spa Diary/final installment: This year, and next
---
In the wake of unrest and upheaval, Woodbine moving forward
---
Massachusetts: Suffolk's future in the balance - Gambling panel weighs Wynn, Mohegan Sun casino proposals
---
NJ: Monmouth Park cheers Christie move to allow sports betting
---
Md: New MTHA officers promise 'new direction'
---
Md: 'Quiet' Bowie Training Center sputters back to life, again
---
Watchmaker: Time right for NYRA to reassess fall meet
---
Haskin: Abby Adsit a rising star in New York
---
Jock Watch/International: Dettori replaced on Treve
---
Oz: Dissident chasing more G1 glory in Sat's Makybe Diva Stakes at Flemington
---
History: The race that sealed Nijinsky's greatness
---
Veitch: Criticisms of Saratoga 2014
---
Ireland: Champions Weekend looks set to give Irish season the crescendo it's been missing
---
The remarkable story of Germany's Sea The Moon, Europe's newest superstar
---
Oz: It's 'the race that stops a nation' - but how does one get in?
---
Weekend recap/LRL: First stake wins 'special' for trainers Dylan Smith, Niall Saville
---
Maryland: Georganne Hale and her Laurel team, ready to race
---
Acosta, McMahon take Timonium titles
---
NY: State officials are continuing their investigation into the increased number of equine fatalities during the 2014 Saratoga Race Course meet
---
Palace Malice retired
---
Britain's The Guardian: Lasix - the drug debate which is bleeding US horse racing dry
---
CHRB Chairman Winner advocating consensus for racing
---
Daily Beast: How Kentucky will save horse racing from itself... In recent months, some of the horse world's most prominent players have placed a bet on animal welfare as a means to save the long-venerated sport
---
San Diego Union-Trib recaps Del Mar 2014: "Del Mar's recently concluded summer racing season really was a tale of two meetings."
---
Crist: Spa had quality over quantity
---
Saratoga meet leaders/final: Pletcher, Castellano repeat... Dubb top owner
---
Del Mar meet leaders/final: Bejarano Top Jockey; Hollendorfer/Miller Tie
---
NYRA/Saratoga press release: Enhanced guest experience, improved quality of racing highlight 2014 meet at Saratoga Race Course
---
Del Mar press release: 75th Del Mar Season Closes; Purses, Field Size Strong Again
---
White: Wise Dan's turf record "is by far the longest winning streak of this type in North American racing history."
---
Eng: Who will take Horse of the Year?
---
Nadeau: Belmont - What to look for
---
Incredible journey not over for broadcaster/retired jock Richard Migliore
---
The Big Beast to miss two months with bone chip
---
Germany: Spectacular racing festival attracts thousands to the edge of the Black Forest
---
Nebraska: State Supreme Court removes Instant Racing issue from Nov ballot
---
Nebraska: Atokad owners react to Nebraska Supreme Court ruling on electronic horse betting measure
---
Johnny D: Four days of golf and horse-playing in Saratoga -- with Del Mar simulcast action too!
---
Powell: Saratoga jocks recap, "Javier Castellano has taken his game to a whole new level and is one of the great riders in the sport."
---
Plonk: A strange and profitable August - betting away from the two summer racing behemoths
---
Kentucky Downs' upcoming handicapping contest offers great value
---
Exercise rider dies after being thrown over rail during training at Belmont Park
---
Hovdey: The racetrack loses a family member... The passing of Sandy Lovato
---
VIDEO: Saratoga season recap - including Tom Durkin's farewell to the fans
---
VIDEO: Saratoga season recap - including Tom Durkin's farewell to the fans
>>> NY Times: And He's Off: A Track Legend Calls It a Career... Tom Durkin, the Voice of New York Horse Racing, Retires
>>> VIDEO: Tom Durkin farewell ceremony
>>> VIDEO Tom Durkin's last call - live in the booth
---
Sun results: Lubash ends drought with $125K Ashley T. Cole win
Sun preview: $25K P6 carryover
Sat results: Annecdote turns it on late to win G3 $200K Noble Damsel
Sat results: Ball Dancing takes G2 $500K Sands Point

---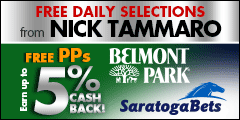 ---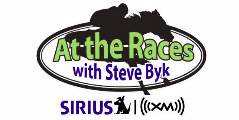 ---
Sat results: Kingston Hill wins G1 St Leger at Doncaster
Sun results: Brown Panther wins G1 Irish St Leger at the Curragh

---
MISCELLANEOUS INDEX:
Where we put things that don't fit into any of the other index categories
---
Track visit/reviews
---
THE FANS SPEAK:
Where we occasionally search the web to explore various discussions and topics
---
OPINION:
equidaily.com's occasional thoughts on various topics regarding the horse racing game

---
equidaily.com's Coast-to-coast
---
Saratoga's Best Bets
---
Click here to e-mail any questions, comments, or suggestions to equidaily.com
---
AQUEDUCT, Jamaica, NY
ARAPAHOE PARK, Aurora, CO
ARLINGTON PARK, Arlington Heights, IL
ASSINIBOIA DOWNS, Winnipeg, Manitoba
BELMONT, Elmont, NY
BEULAH PARK, Grove City, OH
CALDER, Miami, FL
CALIFORNIA FAIRS, CA
CANTERBURY PARK, Shakopee, MN
CHARLES TOWN, Charles Town, WV
CHURCHILL DOWNS, Louisville, KY
COLONIAL DOWNS, New Kent, VA
DELAWARE PARK, Wilmington, DE
DEL MAR, Del Mar, CA
DELTA DOWNS, Vinton, LA
DOWNS AT ALBUQUERQUE, Albuquerque, NM
ELLIS PARK, Henderson, KY
EMERALD DOWNS, Auburn, WA
EVANGELINE DOWNS, Opelousas, LA
FAIR GROUNDS, New Orleans, LA
FAIR MEADOWS, Tulsa, OK
FAIRMOUNT PARK, Collinsville, IL
FAIRPLEX, Pomona, CA
FINGER LAKES, Farmington, NY
FORT ERIE, Fort Erie, Ontario
GOLDEN GATE, Albany, CA
GREAT LAKES DOWNS, Muskegon, MI
GULFSTREAM PARK, Hallandale, FL
HASTINGS PARK, Vancouver, BC
HIALEAH PARK, Hialeah, FL
HAWTHORNE RACE COURSE, Cicero, IL
HOLLYWOOD PARK, Inglewood, CA
HOOSIER PARK, Anderson, IN
INDIANA DOWNS, Shelbyville, IN
KEENELAND, Lexington, KY
KENTUCKY DOWNS, Franklin, KY
LAUREL PARK, Laurel, MD
LONE STAR PARK, Grand Prairie, TX
LOUISIANA DOWNS, Bossier City, LA
Los Alamitos, Los Alamitos, CA
MARQUIS DOWNS, Saskatoon, Saskatchewan
MEADOWLANDS, E Rutherford, NJ
MONMOUTH PARK, Oceanport, NJ
MOUNTAINEER, Chester, WV
NORTHLANDS PARK, Edmonton, Alberta
OAKLAWN PARK, Hot Springs, AR
PENN NATIONAL, Grantville, PA
PARX, Bensalem, PA
PIMLICO, Baltimore, MD
PINNACLE RACE COURSE, New Boston, MI
PORTLAND MEADOWS, Portland, OR
PRAIRIE MEADOWS, Des Moines, IA
PRESQUE ISLE DOWNS, Erie, PA
REMINGTON PARK, Oklahoma City, OK
RETAMA PARK, San Antonio, TX
RIVER DOWNS, Cincinnati, OH
ROCKINGHAM PARK, Salem, NH
RUIDOSO DOWNS, Ruidoso Downs, NM
SAM HOUSTON, Houston, TX
SANTA ANITA, Arcadia, CA
SARATOGA, Saratoga Springs, NY
STAMPEDE PARK, Calgary, Alberta
SUFFOLK DOWNS, Boston, MA
SUNLAND PARK, Sunland Park, NM
SUNRAY PARK, Farmington, NM
TAMPA BAY DOWNS, Tampa, FL
THISTLEDOWN, Cleveland, OH
TURF PARADISE, Phoenix, AZ
TURFWAY PARK, Florence, KY
WILL ROGERS DOWNS, Claremore, Oklahoma
WOODBINE, Rexdale, Ontario
WOODLANDS, Kansas City, KS
YAVAPAI DOWNS, Prescott Valley, AZ

ZIA PARK, Hobbs, NM

---


Note: Pages on this site are labelled with the equidaily.com logo. Some links lead to pages at other sites. equidaily.com is responsible only for the pages on this site. equidaily.com assumes no responsibility for errors or omissions. Always check with official sources to verify info.

---
Copyright 2014 equidaily.com

---