Sat preview: five set for G2 $200K Pat O'Brien
Bejarano travel helps Prat in standings... Youngster from France going for his first riding championship
Sat results: Dominant Chrome shines in G1 $1mil PacClassic

---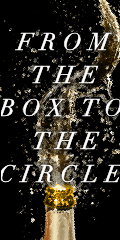 ---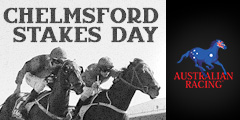 ---
Sat preview: The Run To The Rose a contest of the brightest
Winx to be aimed at Queen Elizabeth Stakes in the autumn
Winx wins NSW racehorse of the year

---
Current forecasts for N American tracks
---
Racetrack abbreviation codes
---
[AUS] FOXSPORTS.AU
[AUS] RACING AND SPORTS
[AUS] SMH.COM.AU
[AUS/NZ] THOROUGHBRED NEWS
[AUS] VIRTUAL FORM GUIDE
[ASIA] S CHINA MORNING POST
BALTIMORE SUN
BLOOD HORSE
CBS.SPORTSLINE
CHICAGO SUN-TIMES
DAILY RACING FORM
ESPN
FOX SPORTS
FRANCE GALOP
[JAPAN] HORSERACING IN JAPAN
KENTUCKY.COM
LA TIMES
LOUISVILLE COURIER JOURNAL
MIAMI HERALD
MSNBC
NY DAILY NEWS
NY POST
NY TIMES
THE RACING BIZ [Mid-Atlantic region]
SEATTLE TIMES
SIGNONSANDIEGO.COM
SINGAPORE TURF CLUB
SOUTH AFRICAN HORSERACING
THISISHORSERACING.COM
ThoroughbredRacing.com
TIMES PICAYUNE
[U.K.] BBC
[U.K.] GUARDIAN
[U.K.] RACING POST
[U.K.] SPORTINGLIFE.COM
[U.K.] TELEGRAPH
[U.K.] TIMES
USA TODAY
WASHINGTON POST

San Diego Union-Trbi: Nyquist getting back in shape
---
The story of Spanish Riddle: Longtime Saratoga record holder went on to stud career with an artificial leg
---
Jockey Club Roundtable preview: Putting American racing 'in a slightly better place' year after year
---
Hong Kong Jockey Club CEO to speak at NY racing conference
---
Jock Watch/international: Dettori vows to keep riding after reaching 3000-win milestone
---
Hudak the morning-line man at Del Mar... "It's an inexact science... But that doesn't mean that I don't try to be as conscientious as I can be when I put out the numbers."
---
Trainer Watch: D'Amato follows in Mitchell's footsteps
---
Sulky side: Wiggle It Jiggleit scores over Always B Miki in $325K Dan Patch
---
Buy in Europe, win in America: how an owner's simple plan became a huge success story
---
Fasig Tipton Saratoga sales numbers dip
---
Saratoga sales special: the winning formula at the farm that bred Tepin
---
Owner Cot Campbell and trainer Bill Mott to be inducted into Saratoga Walk of Fame during Red Jacket Ceremony on New York Showcase Day
---
Binghamton nnewspaper profiles: Saratoga blends traditional, modern
---
Racing history: The owner of the unlikely 1918 Derby winner Exterminator had grown rich selling a snake oil called Swamp-Root
---
BBC examines: How do the bookies make sure they beat us?
---
Behind the scenes: Dr. Dana Stead, Del Mars racing veterinarian... Spends race-day mornings making sure the horses scheduled to run that afternoon are fit and ready to do so
---
Jock Watch: Flavien Prat no overnight success story
---
Wilson: Here's hoping I can cross some items off my horse racing wish list
---
Track surface expert examines Del Mar - gives thumbs up
---
Chris McCarron Named Pincay Award Recipient for 2016
---
Behind the scenes: Kenny Wilson, track superintendent at Delaware Park
---
Illinois: Court voids large part of multimillion-dollar Balmoral judgment tied to Blagojevich
---
Spa Diary: For Lacey Gaudet, 'dreams come true' in Spa debut
---
Pa. Gov: Legislative fix needed for breeding snafu
---
Scherf, executive director of Thoroughbred Racing Associations, to retire
---
Jamaica: Labor issues shut down horse racing
---
Sat preview: Large partnership group running 2YO filly in Saratoga's G2 Adirondack
---
National handle numbers jump in July
---
When Saratoga linemaker Travis Stone does a good job, no one notices
---
Australia: Wagering exec says he would be 'very surprised' if the NSW ban on greyhound racing spread to horse racing
---
VIDEO: Songbird on track Thurs morning at SAR
---
Parx jockey's license revocation upheld
---
NYRA salutes military on Wednesday at Saratoga
---
Jock Watch: Victor Carrasco continues to thrive in Maryland
---
Jock Watch/international: Ryan Moore takes a break to recup from wear and tear
---
2YO Watch: American Pharoah's sis wins in Del Mar debut
---
Irish regulators examine betting coup said to have resulted in score 'well into seven figures'
---
Jock Watch: Retired Ramon Dominguez now active in advocacy, assistance
---
Sun results: Lady Shipman gets graded win in G3 $150K Royal North at Woodbine
---
Pennsylvania sanctions trainer Ramon Preciado
---
Suffolk Downs set for live racing Aug 6-7
---
Monmouth, Suffolk battle over entries
---
Songbird drills 5F in 1:00 3/5 at SAR on Thurs
---
Hollendorfer pleased with Songbird audible
---
Photo gallery: Bloodhorse covers over the years
---
Trainer Dale Romans won't have Travers entry
---
The tale of Zenyatta is worth hearing again and again
---
Steve Haskin's 15 favorite blogs
---
Ocean Downs sold to two venerable horse-racing firms
---
CDI reports 27% increase in net income
---
Bloodhorse/Hammonds: In just the span of 100 years, the Bloodhorse print edition has gone from...
---
Daryl Wells inducted into Canadian Horse Racing Hall of Fame
---
Steven Crist, advocate for horseplayer, retires
---
"Television is a powerful platform and everyone in the industry can benefit from what NYRA is doing."... The new TV show that will broadcast racing from Saratoga live across America
---
Q&A with NYRA TV exec producer Tony Allevato
---
NYRA again pushing for privatization ahead of Saratoga meet
---
California Chrome, Dortmund face off in G2 $200K San Diego Hcp at DMR
---
Del Mar setting stage for Chrome
---
Dortmund returns in new role: spoiler... Facing California Chrome in Saturday stake at DMR
---
Mazur: Analysis/selections G1 Diana, G2 Sanford at SAR
---
Stewards say they began Del Cap inquiry prior to jockey's objection
---
No appeal of Delaware Handicap outcome
---
Jock Watch: PVal denied jockey's license by California Horse Racing Board
---
Will Nyquist be one of the top 10 Haskell horses ever?
---
Philosophy of a master trainer: special Saratoga Q&A with Todd Pletcher
---
Gulfstream names Aiello Championship Meet announcer
---
Oaklawn Park begins search for new announcer
---
White: Winning streaks abound... Beholder, Songbird, Catch a Glimpse and Tepin are four nationally ranked female Thoroughbreds who have gone on winning binges
---
Plonk/handicapping: How long do you stick with your opinion?
---
Children of Secretariat: the $1.8 million yearling who developed a passion for Coors beer
---
N Dakota: Dolphus horse racing taking success into NDHP
---
VIDEO: Local TV news - Racing returns to North Dakota Horse Park
---
Right-o, mate! "There is a lot more that racing could do to tell a better story."... Brit scribe opines on racing's media coverage: "It could help invigorate punters and fascinate racing enthusiasts at the same time."
---
Champion Beholder drills 7F in 1:27 at Del Mar on Sunday
---
VIDEO: Trainer Chuck Simon - Gulfstream summer success story
---
Sun results: Time and Motion nip Catch a Glimpse in G2 $300K Lake Placid
---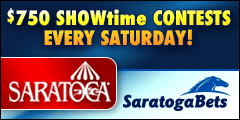 ---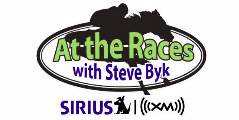 ---
Integrity director Brickell to leave BHA
Fri results: Mecca's Angel storms clear to retain G1 Nunthorpe crown at York
Thurs results: Seventh Heaven scores for O'Brien in G1 Oaks at York

---
MISCELLANEOUS INDEX:
Where we put things that don't fit into any of the other index categories
---
Track visit/reviews
---
THE FANS SPEAK:
Where we occasionally search the web to explore various discussions and topics
---
OPINION:
equidaily.com's occasional thoughts on various topics regarding the horse racing game

---
equidaily.com's Coast-to-coast
---
Saratoga's Best Bets
---
Click here to e-mail any questions, comments, or suggestions to equidaily.com
---
AQUEDUCT, Jamaica, NY
ARAPAHOE PARK, Aurora, CO
ARLINGTON PARK, Arlington Heights, IL
ASSINIBOIA DOWNS, Winnipeg, Manitoba
BELMONT, Elmont, NY
BELTERRA PARK, Cincinnati, OH
BEULAH PARK, Grove City, OH
CALDER, Miami, FL
CALIFORNIA FAIRS, CA
CANTERBURY PARK, Shakopee, MN
CHARLES TOWN, Charles Town, WV
CHURCHILL DOWNS, Louisville, KY
COLONIAL DOWNS, New Kent, VA
DELAWARE PARK, Wilmington, DE
DEL MAR, Del Mar, CA
DELTA DOWNS, Vinton, LA
DOWNS AT ALBUQUERQUE, Albuquerque, NM
ELLIS PARK, Henderson, KY
EMERALD DOWNS, Auburn, WA
EVANGELINE DOWNS, Opelousas, LA
FAIR GROUNDS, New Orleans, LA
FAIR MEADOWS, Tulsa, OK
FAIRMOUNT PARK, Collinsville, IL
FAIRPLEX, Pomona, CA
FINGER LAKES, Farmington, NY
FORT ERIE, Fort Erie, Ontario
GOLDEN GATE, Albany, CA
GREAT LAKES DOWNS, Muskegon, MI
GULFSTREAM PARK, Hallandale, FL
HASTINGS PARK, Vancouver, BC
HIALEAH PARK, Hialeah, FL
HAWTHORNE RACE COURSE, Cicero, IL
HOLLYWOOD PARK, Inglewood, CA
HOOSIER PARK, Anderson, IN
INDIANA DOWNS, Shelbyville, IN
KEENELAND, Lexington, KY
KENTUCKY DOWNS, Franklin, KY
LAUREL PARK, Laurel, MD
LONE STAR PARK, Grand Prairie, TX
LOUISIANA DOWNS, Bossier City, LA
Los Alamitos, Los Alamitos, CA
MAHONING VALLEY, Youngstown, OH
MARQUIS DOWNS, Saskatoon, Saskatchewan
MEADOWLANDS, E Rutherford, NJ
MONMOUTH PARK, Oceanport, NJ
MOUNTAINEER, Chester, WV
NORTHLANDS PARK, Edmonton, Alberta
OAKLAWN PARK, Hot Springs, AR
PENN NATIONAL, Grantville, PA
PARX, Bensalem, PA
PIMLICO, Baltimore, MD
PINNACLE RACE COURSE, New Boston, MI
PORTLAND MEADOWS, Portland, OR
PRAIRIE MEADOWS, Des Moines, IA
PRESQUE ISLE DOWNS, Erie, PA
REMINGTON PARK, Oklahoma City, OK
RETAMA PARK, San Antonio, TX
RIVER DOWNS, Cincinnati, OH
ROCKINGHAM PARK, Salem, NH
RUIDOSO DOWNS, Ruidoso Downs, NM
SAM HOUSTON, Houston, TX
SANTA ANITA, Arcadia, CA
SARATOGA, Saratoga Springs, NY
STAMPEDE PARK, Calgary, Alberta
SUFFOLK DOWNS, Boston, MA
SUNLAND PARK, Sunland Park, NM
SUNRAY PARK, Farmington, NM
TAMPA BAY DOWNS, Tampa, FL
THISTLEDOWN, Cleveland, OH
TURF PARADISE, Phoenix, AZ
TURFWAY PARK, Florence, KY
WILL ROGERS DOWNS, Claremore, Oklahoma
WOODBINE, Rexdale, Ontario
WOODLANDS, Kansas City, KS
YAVAPAI DOWNS, Prescott Valley, AZ
ZIA PARK, Hobbs, NM

---


Note: Pages on this site are labelled with the equidaily.com logo. Some links lead to pages at other sites. equidaily.com is responsible only for the pages on this site. equidaily.com assumes no responsibility for errors or omissions. Always check with official sources to verify info.

---
Copyright 2015 equidaily.com

---