Sun results: Midnight Storm takes G2 Eddie Read
---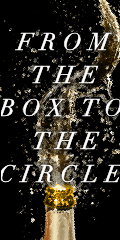 ---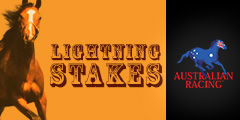 ---
Trainer Chris Waller keen to pick up the pace in race to break record for most Sydney wins in a season
Racing chief steward furious over comments by Peter Moody, Melbourne Racing Club chief Brodie Arnhold

---
Current forecasts for N American tracks
---
Racetrack abbreviation codes
---
[AUS] FOXSPORTS.AU
[AUS] RACING AND SPORTS
[AUS] SMH.COM.AU
[AUS/NZ] THOROUGHBRED NEWS
[AUS] VIRTUAL FORM GUIDE
[ASIA] S CHINA MORNING POST
BALTIMORE SUN
BLOOD HORSE
CBS.SPORTSLINE
CHICAGO SUN-TIMES
DAILY RACING FORM
ESPN
FOX SPORTS
FRANCE GALOP
[JAPAN] HORSERACING IN JAPAN
KENTUCKY.COM
LA TIMES
LOUISVILLE COURIER JOURNAL
MIAMI HERALD
MSNBC
NY DAILY NEWS
NY POST
NY TIMES
THE RACING BIZ [Mid-Atlantic region]
SEATTLE TIMES
SIGNONSANDIEGO.COM
SINGAPORE TURF CLUB
SOUTH AFRICAN HORSERACING
THISISHORSERACING.COM
ThoroughbredRacing.com
TIMES PICAYUNE
[U.K.] BBC
[U.K.] GUARDIAN
[U.K.] RACING POST
[U.K.] SPORTINGLIFE.COM
[U.K.] TELEGRAPH
[U.K.] TIMES
USA TODAY
WASHINGTON POST

Fresh and fit, Trevor Denman ready for a Del Mar return
---
Drone use for capturing race video under scrutiny after incident at Newmarket
---
Haskell needs Nyquist badly
---
Nyquist, Exaggerator among invitees to Haskell
---
Horse racing a life where everything is at stake... Trainer faces long recovery after suffering multiple injures when horse comes over rail
---
Watchmaker: Catch a Glimpse was highlight of Stars and Stripes Festival
---
"Either you get me a win at Royal Ascot, or you can find your happiness someplace else."... Ken Ramsey's ultimatum to his trainers over Royal Ascot
---
VIDEO: Local TV news profiles trainer Todd Pletcher prepping for Saratoga
---
SoCal announcer Mchael Wrona's dream job turns dark after learning of death threats
---
Massachusetts takes step toward new track
---
Hong Kong racing shows 'tremendous resilience' as 2015/16 season closes on a high
---
Four great stud farms that have stood the test of time
---
Frankel as a first-season sire: how's he doing so far?
---
Trainer Watch: 43YO Ted West retires... Meanwhile, Ron McAnally celebrates 84th b-day, "I enjoy training horses and have been doing it all my life."
---
Why it's a near miracle when twin Thoroughbreds both reach the track
---
Officials are named for 2016 summer race meet at Del Mar
---
Wide range of options available again on 2016 Del Mar bet menu
---
Longtime track bugler Les Kepics adds sound to Del Mar's scene... Versatile local trumpet player enters 32nd year at racetrack as opening day looms
---
Heads up P6 bettors: NoCal's Gold Rush Pick Six does NOT mandatory at each fair meet - rather, the mandatory comes on Oct 16 at the Big Fresno Fair
---
Zenyatta in foal to Medaglia d'Oro
---
Songbird's appearance would push Coaching Club American Oaks purse to $500K
---
Suffused scratched from Delaware's G3 RG Dick due to Lasix error
---
In face of WV floods, horsemen pitch in to help 'any way we could'/A>

---
Montana: Improvements to track await horse racing fans
---
Davidowitz: Who is, or was, the best jockey I've ever seen; the best trainer and the best racehorse?
---
Jock Watch: Tyler Gaffalione wins five at GP on Sat
---
Beholder, Songbird breeze at Santa Anita
---
California Chrome goes in company at Los Al
---
Sat results: Recaps of Arlington's Millions Preview Day card stakes
---
Sat results: Dark Nile takes Delaware Oaks in the slop
---
Sat results: Pure Sensation best in G3 $200K Parx Dash... Ben's Cat 3rd
---
Sat results/sulky side: Wiggle It Jiggleit gets the better of Freaky Feet Pete in Graduate Pace at the Meadowlands
---
---
Two Vegas casinos begin to offer betting on virtual horse racing - calling it a 'filler product' to pass time between 'fewer and fewer' live horse races being run during the week
---
Illinois: State incentive cut leaves county fair horse racing in jeopardy
---
Europe: Hawkbill near top of 3YO pecking order with win in G1 Coral-Eclipse
---
Woodbine Mile up next for star mare Tepin
---
Jamaica: Scribe laments country's high takeout - "Currently, Jamaica ensures losses by withholding an unbearable 30 per cent on win/place and 40 per cent on exotics."
---
2YO Watch: Classic Empire takes G3 $100K Bashford Manor at CD on Sat
---
Handle jumps on Gulfstream's Summit of Speed card
---
Stakes results: Recaps from Summit of Speed card
---
Life's good for Funny Cide, still cranky - but still adored by fans
---
Haskin: Scrapbooks from the past
---
Oz: It's one conflict after another as Racing Victoria remains under constant fire
---
Jock watch: 31YO Sheena Ryan excied for Queen's Plate opportunity, "It's awesome."
---
Virginia to offer owner bonus for mid-Atlantic victories
---
Photo gallery: Life at Fair Hill
---
Photoblog: Pimlico scenes
---
Happy, valued - and back home: why life is good once again for Kieren Fallon
---
International: The Conglomerate takes G1 Durban July in S Africa
---
3YO Watch: American Freedom clear winner in G3 $250K Iowa Derby
---
Jock Watch: Fergal Lynch finding new life in Maryland... Comeback from race-fix ban in England
---
Monmouth Park and the revolution that's set to be a wagering game-changer
---
Pimlico meet leaders/final: McCarthy, Magee
---
Mid-Atlantic: Virginia OTBs and Pimlico parking lots
---
Why international buyers are finding it hard to resist South African bloodstock
---
How Montjeu's mighty legacy is continuing to grow in the Southern Hemisphere
---
The unconventional training regime that helps Beholder to flourish
---
Seven key points to take away from Royal Ascot
---
Brexit and horse racing: Now what?
---
Apprentice Watch: Q&A with 19YO Ashley Castrenze, "When I first started, I would get run off with all the time. I could not hold anything..."
---
"It's good for the family."... Local owners and trainer/Dad upset two stakes at PIM on Sat
---
Churchill calls off race for only 21st time... Cancels Thurs nightcap due to lightning
---
Jock Watch/Europe: Silvestre De Sousa handed 12-day whip ban
---
Sat results: Mo Tom outclasses rivals in $500K Ohio Derby at Thistledown
---
Sun results: Firster Miss Freeze takes $125K Lynbrook
---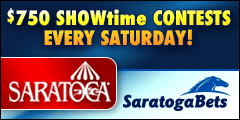 ---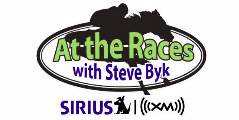 ---
Sat preview: Field for G1 King George VI & Queen Elizabeth at Ascot
---
MISCELLANEOUS INDEX:
Where we put things that don't fit into any of the other index categories
---
Track visit/reviews
---
THE FANS SPEAK:
Where we occasionally search the web to explore various discussions and topics
---
OPINION:
equidaily.com's occasional thoughts on various topics regarding the horse racing game

---
equidaily.com's Coast-to-coast
---
Saratoga's Best Bets
---
Click here to e-mail any questions, comments, or suggestions to equidaily.com
---
AQUEDUCT, Jamaica, NY
ARAPAHOE PARK, Aurora, CO
ARLINGTON PARK, Arlington Heights, IL
ASSINIBOIA DOWNS, Winnipeg, Manitoba
BELMONT, Elmont, NY
BELTERRA PARK, Cincinnati, OH
BEULAH PARK, Grove City, OH
CALDER, Miami, FL
CALIFORNIA FAIRS, CA
CANTERBURY PARK, Shakopee, MN
CHARLES TOWN, Charles Town, WV
CHURCHILL DOWNS, Louisville, KY
COLONIAL DOWNS, New Kent, VA
DELAWARE PARK, Wilmington, DE
DEL MAR, Del Mar, CA
DELTA DOWNS, Vinton, LA
DOWNS AT ALBUQUERQUE, Albuquerque, NM
ELLIS PARK, Henderson, KY
EMERALD DOWNS, Auburn, WA
EVANGELINE DOWNS, Opelousas, LA
FAIR GROUNDS, New Orleans, LA
FAIR MEADOWS, Tulsa, OK
FAIRMOUNT PARK, Collinsville, IL
FAIRPLEX, Pomona, CA
FINGER LAKES, Farmington, NY
FORT ERIE, Fort Erie, Ontario
GOLDEN GATE, Albany, CA
GREAT LAKES DOWNS, Muskegon, MI
GULFSTREAM PARK, Hallandale, FL
HASTINGS PARK, Vancouver, BC
HIALEAH PARK, Hialeah, FL
HAWTHORNE RACE COURSE, Cicero, IL
HOLLYWOOD PARK, Inglewood, CA
HOOSIER PARK, Anderson, IN
INDIANA DOWNS, Shelbyville, IN
KEENELAND, Lexington, KY
KENTUCKY DOWNS, Franklin, KY
LAUREL PARK, Laurel, MD
LONE STAR PARK, Grand Prairie, TX
LOUISIANA DOWNS, Bossier City, LA
Los Alamitos, Los Alamitos, CA
MAHONING VALLEY, Youngstown, OH
MARQUIS DOWNS, Saskatoon, Saskatchewan
MEADOWLANDS, E Rutherford, NJ
MONMOUTH PARK, Oceanport, NJ
MOUNTAINEER, Chester, WV
NORTHLANDS PARK, Edmonton, Alberta
OAKLAWN PARK, Hot Springs, AR
PENN NATIONAL, Grantville, PA
PARX, Bensalem, PA
PIMLICO, Baltimore, MD
PINNACLE RACE COURSE, New Boston, MI
PORTLAND MEADOWS, Portland, OR
PRAIRIE MEADOWS, Des Moines, IA
PRESQUE ISLE DOWNS, Erie, PA
REMINGTON PARK, Oklahoma City, OK
RETAMA PARK, San Antonio, TX
RIVER DOWNS, Cincinnati, OH
ROCKINGHAM PARK, Salem, NH
RUIDOSO DOWNS, Ruidoso Downs, NM
SAM HOUSTON, Houston, TX
SANTA ANITA, Arcadia, CA
SARATOGA, Saratoga Springs, NY
STAMPEDE PARK, Calgary, Alberta
SUFFOLK DOWNS, Boston, MA
SUNLAND PARK, Sunland Park, NM
SUNRAY PARK, Farmington, NM
TAMPA BAY DOWNS, Tampa, FL
THISTLEDOWN, Cleveland, OH
TURF PARADISE, Phoenix, AZ
TURFWAY PARK, Florence, KY
WILL ROGERS DOWNS, Claremore, Oklahoma
WOODBINE, Rexdale, Ontario
WOODLANDS, Kansas City, KS
YAVAPAI DOWNS, Prescott Valley, AZ
ZIA PARK, Hobbs, NM

---


Note: Pages on this site are labelled with the equidaily.com logo. Some links lead to pages at other sites. equidaily.com is responsible only for the pages on this site. equidaily.com assumes no responsibility for errors or omissions. Always check with official sources to verify info.

---
Copyright 2015 equidaily.com

---