Sat preview: 3YO fillies set to square off in G3 $100K Santa Ysabel
---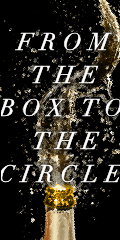 ---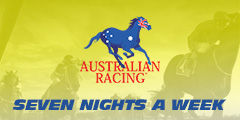 ---
Golden Slipper Carnival coverage - Feb 28 - Apr 18
---
Current forecasts for N American tracks
---
Racetrack abbreviation codes
---
[AUS] FOXSPORTS.AU
[AUS] RACING AND SPORTS
[AUS] SMH.COM.AU
[AUS/NZ] THOROUGHBRED NEWS
[AUS] VIRTUAL FORM GUIDE
[ASIA] S CHINA MORNING POST
BALTIMORE SUN
BLOOD HORSE
CBS.SPORTSLINE
CHICAGO SUN-TIMES
DAILY RACING FORM
ESPN
FOX SPORTS
FRANCE GALOP
[JAPAN] HORSERACING IN JAPAN
KENTUCKY.COM
LA TIMES
LOUISVILLE COURIER JOURNAL
MIAMI HERALD
MSNBC
NY DAILY NEWS
NY POST
NY TIMES
THE RACING BIZ [Mid-Atlantic region]
SEATTLE TIMES
SIGNONSANDIEGO.COM
SINGAPORE TURF CLUB
SOUTH AFRICAN HORSERACING
THISISHORSERACING.COM
ThoroughbredRacing.com
TIMES PICAYUNE
[U.K.] BBC
[U.K.] GUARDIAN
[U.K.] RACING POST
[U.K.] SPORTINGLIFE.COM
[U.K.] TELEGRAPH
[U.K.] TIMES
USA TODAY
WASHINGTON POST

Emerald Downs stakes will total $1.62mil
---
Former jockey Jerry Lambert, rider of Native Diver, dies at 74
---
West: Will the sport of kings learn any lessons from Saturday at Gulfstream?... More transparency needed. Stewards should explain their rulings and their decisions
---
Cronley: "Horse race stewards are more protected than the bettors who keep the tracks open, which isn't fair."
---
Pricci: "But, even if stewards are incompetent, there is no excuse ... the process, no matter how many times head-on and pan replays are shown, is still not transparent."
---
Rees: Another look at Fountain of Youth
---
Roedemeier, Fountain of Youth - "It was disappointing. It was perplexing. But it was mostly... SLOW!"
---
Sun results: Far Right scores in G3 $300K Southwest
---
Privman: Road to the Derby analysis - Southwest Stakes
---
Derby Trail: Florida Derby next after Khozan crushes allowance foes
---
Sulky side: Harness racing's best honored at Dan Patch Awards... JK She'salady, becomes first 2YO female pacer in harness racing history to be named HOTY by the US Harness Writers Assoc
---
Timeform blog: Betting on longshots - what you see is not all there is
---
CHRB rule would void claim if horse bleeds
---
Jail time: Trainer David Wells sent to prison in Penn National racehorse doping case
---
NJ: Oceanport urges revenue sharing for Monmouth Park, state casinos
---
Md: Tim Ritvo Q&A -- three keys to state's racing success
---
Fog may be lifting in Virginia racing dispute
---
Watchmaker Watch: Weekly divisional ratings
---
Haskin's Derby Dozen: Upstart #4, "I lowered him a couple of slots only because..."
---
Va: Both chambers approve horse racing bill
---
BBC: Singapore's bid to create a global horse race
---
Irish comment: Making the rich richer is not the answer to racing's ills
---
Saratoga racing coverage wins sportswriter Tim Wilkin recognition in the annual Associated Press Sports Editors contest
---
US racing: From the 'sport of kings' to the 'sport of partnerships'?
---
Turfway Park increases purses
---
Illinois: Slots at Fairmount? State lawmaker will try again for gaming expansion
---
Breeding: Do the best racehorses make the best sires?
---
NYRA's 15-day entry rule rescinded
---
Mike Luzzi named winner of Woolf Award resented by Santa Anita to a rider who has conducted himself in exemplary manner both on and off the track
---
NY: Jock Junior Alvarado enjoys seven-win, two-stakes weekend
---
Book Excerpt: The Prince Of Jockeys: The Life of Isaac Burns Murphy by Pellom McDaniels III
---
HuffPost tabs 'Seabiscuit' as horse-racing entrant among list of sports movies: "Seabiscuit is perhaps the greatest underdog story this world has ever seen (certainly the best I have ever seen)."
---
Brit woman rescues horse from slaughterhouse -- wins first race back
---
Trainer Gene DeRoin passes away at age 72... Made his mark on race tracks around Nebraska
---
Whoops! Jump jock in UK gets 14-day ban for gentle ride to finish line, "I thought there was another circuit to go... What an idiot I've been."
---
AUS: Lawyer for trainer Darren Smith has argued the absence of a cobalt threshold at the time stewards found high levels of the substance in his horses means his client has no case to answer
---
Bergman: Are weather cancellations justified?
---
Ky: Pending racing legislation you haven't heard (enough) about
---
Breeding: Examining the mares behind Tapit's record-breaking year
---
Australian Racing Board is considering a major review of the number of times a jockey is allowed to strike a horse with his/her whip during a race
---
Woodbine schedules 102 Stakes for 2015 meet
---
Bullet work at Golden Gate for Shared Belief on Tues
---
HA! Larry Collmus grabs a laugh with a tweet
---
A Trakus closer look at Main Sequence's Mac Diarmida win
---
Seabiscuit anniversary celebration planned... Mar 7 at SA
---
Starlight names Paquette new communications director
---
Monmouth plans to offer fantasy sports game
---
NY report on Asmussen probe still incomplete
---
Handle-wise, Gulfstream had one of its best days on Sat
---
>>> "I compare normal feed to McDonald's, and this is more Whole Foods." ... Trainer Phil Schoenthal seeing benefits from producing his own feed
>>> VIDEO: Closer look at Schoenthal's growing process
---
British Horseracing Authority issues new anti-doping rules
Group of North American thoroughbred stakeholders Iissues statement on BHA's new anti-doping rules

---
Courier-Journal Ky Derby Media Poll: Weekend action see Itsaknockout at #7, International Star #9
---
Ky Derby points leaderboard
---
San Diego Union-Trib inaugural 2015 Derby Watch: Dortmund #1
---
Betfair jumping for joy after $UK47mil acquisition of HRTV network
---
>>> WOW! Handicapper played $9.60 ticket to win $363,424 in Golden Pick 6 at Golden Gate on Fri
---
Oaklawn purses get a second boost
---
TVG deal could lead to coordinated post times
---
America's forgotten black horsemen: Finding new audiences
---
Hovdey: "Three and a half months after Bayern's number was left up in the Classic following an agonizing stewards' inquiry ... the California Horse Racing Board spent the better part of an hour Wednesday publicly debating the need for a change in the rules of racing that would ... well, that's not exactly clear."
---
Beyer: Chad Brown's patient approach both an asset, hindrance
---
LaMarra/Bloodhorse: Is growing this business really a priority?
---
Md: Tim Ritvo - Man in a methodical hurry... Exploring the Stronach Group s vision, goals and strategy with horse racing and the Maryland Jockey Club
---
Va: Pair of bills could breathe new life into Colonial Downs
---
Eleven lady jockeys will get to test their riding skills on the frozen lake in St Moritz in Switzerland Sunday when they compete in Shaikha Fatima Bint Mubarak Ladies World Championship
---
West: Eclipse Award changes... "This is wise and good and, most of all, auspicious..."
---
Frankie Dettori set for Toast Of New York in Dubai World Cup
---
Cinema: 'Seabiscuit' among sports movies that haven't fared well in Academy Awards' Best Picture race
---
Laminitis treatment advancements from an unlikely source - a zebra
---
Nebraska: Fonner Park provides strong economic benefits to Grand Island area
---
Four appointed to Maryland Racing Commission
---
Blind police horse finds new purpose at riding center
---
Jock Watch: Oft-injured Sheldon Russell nears riding milestone
---
Jocks Q&A: SoCal regulars Smith and Talamo...Q: Name five things you cannot live without... A: SMITH: My lord and savior, a good woman, a good glass of wine, a really fast horse, and a little money doesn't hurt. Not necessarily in that order!
---
3YO Filly Watch: Take Charge Brandi works at OP on Sat morn
---
NY: Legislators petition state to up Vernon Downs' cut of video lottery profits
---
S Africa: Legendary Horse Chestnut dies aged 19
---
Study: Genetic differences in racing, cutting quarter horses
---
Older Male and Older Female Eclipse Awards categories renamed Older Dirt Male and Older Dirt Female
---
Former jockey Rosie Napravnik enjoying retirement, life as expectant mother
---
Hayward: "Horse racing industry [still] suffering from widespread cheating"
---
Va: Legislation aims to restore racing to Colonial Downs
---
Horsemen close to reopening Suffolk Downs
---
Jock Watch: Kieren Fallon happy with move to SoCal, "The sun is shining on you here, you know. That's the difference."
---
Hovdey: Main Sequence gets back in the picture
---
Officials discuss TVG purchase of HRTV
---
Eng: TVG/HRTV merger good for racing fans
---
Florida Senate approves bill for uniform drug rules
---
California board moves closer to third-party Lasix administration
---
Canada begins testing for high cobalt levels
---
Who is the most valuable racehorse in Australia? Closer look...
---
Pimlico unveils $4.2mil stakes schedule
---
Ky: $10mil in incentives awarded to state's thoroughbred breeders
---
Arizona: Upgrades at Rillito Park drawing fans
---
Crist: Fountain of Youth's past has classic look
---
Haskin's Derby Dozen: American Pharoah #1
---
White: Latest Derby Twenty... Keeping Texas Red at #1 despite ding, "I was not as pessimistic about Texas Red's situation after I read what Desormeaux had to say to Ed Golden in last Friday's Santa Anita stable notes."
---
Plonk: "Forget about the points talk. Texas Red with no preps has no chance in Louisville. And I'm his biggest fan."
---
DRF's Derby Watch: Dortmund, Upstart 1-2
---
Kentucky Derby: Who's hot, who's not for Feb. 18
---
Trainer Watch: Kiaran McLaughlin on Derby Trail with four contenders
---
Davidowitz: "Through most of Pletcher's remarkable career, he has won far too many major [Derby] prep races only to reach Churchill Downs with his best horses on a downward cycle."
---
Trainer Watch: Larry Jones shrugs off near-tragedy to resume winning ways
---
International Jock Watch: Andrea Atzeni - How a Sardinian farmer's son became one of the world's hottest jockeys
---
Mitchell/Bloodhorse: An election mulligan - The New York Thoroughbred Horsemen's Assoc must hold another election
---
Leading trainers continue support for TAA
---
California betting increases for January, board reports
---
Portland Meadows 2014-15 meet sees average daily handle increases
---
Mahoning Valley overnight purses get 5 percent boost
---
Fonner launches 62nd season with eight-race card Friday
---
Small purses offered at 31-date Hawthorne meet opening Fri
---
Arapahoe Park to give bonuses for large fields
---
Magna 5 wager to return with a few tweaks
---
Sulky side: USTA Broadcast Committee met to consider future television and other broadcast options for the harness racing industry
---
Sulky side: Tim Tetrick ready for World Driving Championship
---
Track announcer Dan Jukich is in his 25th year of calling the races at Hastings Racecourse, "After calling three races, I told my father that I didn't feel comfortable and didn't want to do it any more. But as dads will do, he told me to persevere."
---
Near-tragedy at Charles Town yields 'good start' for safety
---
Cobalt: Eroding the integrity of racing in Australia
---
Pimlico to host 'Ultimate Girls Day Out' on Fri May 15
---
Greyhound rescuer teams with Baptists, Humane Society to fight dog racing in Alabama
---
Florida offers ... SHARK RACING!!! Yeah. Sharks. Racing.
---
Live money handicapping contest to be eld Gotham Day
---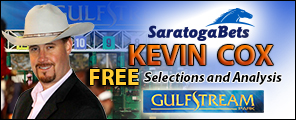 ---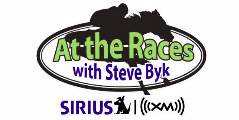 ---
Goodwood part of new Arabian Triple Crown
---
MISCELLANEOUS INDEX:
Where we put things that don't fit into any of the other index categories
---
Track visit/reviews
---
THE FANS SPEAK:
Where we occasionally search the web to explore various discussions and topics
---
OPINION:
equidaily.com's occasional thoughts on various topics regarding the horse racing game

---
equidaily.com's Coast-to-coast
---
Saratoga's Best Bets
---
Click here to e-mail any questions, comments, or suggestions to equidaily.com
---
AQUEDUCT, Jamaica, NY
ARAPAHOE PARK, Aurora, CO
ARLINGTON PARK, Arlington Heights, IL
ASSINIBOIA DOWNS, Winnipeg, Manitoba
BELMONT, Elmont, NY
BEULAH PARK, Grove City, OH
CALDER, Miami, FL
CALIFORNIA FAIRS, CA
CANTERBURY PARK, Shakopee, MN
CHARLES TOWN, Charles Town, WV
CHURCHILL DOWNS, Louisville, KY
COLONIAL DOWNS, New Kent, VA
DELAWARE PARK, Wilmington, DE
DEL MAR, Del Mar, CA
DELTA DOWNS, Vinton, LA
DOWNS AT ALBUQUERQUE, Albuquerque, NM
ELLIS PARK, Henderson, KY
EMERALD DOWNS, Auburn, WA
EVANGELINE DOWNS, Opelousas, LA
FAIR GROUNDS, New Orleans, LA
FAIR MEADOWS, Tulsa, OK
FAIRMOUNT PARK, Collinsville, IL
FAIRPLEX, Pomona, CA
FINGER LAKES, Farmington, NY
FORT ERIE, Fort Erie, Ontario
GOLDEN GATE, Albany, CA
GREAT LAKES DOWNS, Muskegon, MI
GULFSTREAM PARK, Hallandale, FL
HASTINGS PARK, Vancouver, BC
HIALEAH PARK, Hialeah, FL
HAWTHORNE RACE COURSE, Cicero, IL
HOLLYWOOD PARK, Inglewood, CA
HOOSIER PARK, Anderson, IN
INDIANA DOWNS, Shelbyville, IN
KEENELAND, Lexington, KY
KENTUCKY DOWNS, Franklin, KY
LAUREL PARK, Laurel, MD
LONE STAR PARK, Grand Prairie, TX
LOUISIANA DOWNS, Bossier City, LA
Los Alamitos, Los Alamitos, CA
MARQUIS DOWNS, Saskatoon, Saskatchewan
MEADOWLANDS, E Rutherford, NJ
MONMOUTH PARK, Oceanport, NJ
MOUNTAINEER, Chester, WV
NORTHLANDS PARK, Edmonton, Alberta
OAKLAWN PARK, Hot Springs, AR
PENN NATIONAL, Grantville, PA
PARX, Bensalem, PA
PIMLICO, Baltimore, MD
PINNACLE RACE COURSE, New Boston, MI
PORTLAND MEADOWS, Portland, OR
PRAIRIE MEADOWS, Des Moines, IA
PRESQUE ISLE DOWNS, Erie, PA
REMINGTON PARK, Oklahoma City, OK
RETAMA PARK, San Antonio, TX
RIVER DOWNS, Cincinnati, OH
ROCKINGHAM PARK, Salem, NH
RUIDOSO DOWNS, Ruidoso Downs, NM
SAM HOUSTON, Houston, TX
SANTA ANITA, Arcadia, CA
SARATOGA, Saratoga Springs, NY
STAMPEDE PARK, Calgary, Alberta
SUFFOLK DOWNS, Boston, MA
SUNLAND PARK, Sunland Park, NM
SUNRAY PARK, Farmington, NM
TAMPA BAY DOWNS, Tampa, FL
THISTLEDOWN, Cleveland, OH
TURF PARADISE, Phoenix, AZ
TURFWAY PARK, Florence, KY
WILL ROGERS DOWNS, Claremore, Oklahoma
WOODBINE, Rexdale, Ontario
WOODLANDS, Kansas City, KS
YAVAPAI DOWNS, Prescott Valley, AZ
ZIA PARK, Hobbs, NM

---


Note: Pages on this site are labelled with the equidaily.com logo. Some links lead to pages at other sites. equidaily.com is responsible only for the pages on this site. equidaily.com assumes no responsibility for errors or omissions. Always check with official sources to verify info.

---
Copyright 2015 equidaily.com

---