---
Today's Best Bets
by Seth Merrow
www.equidaily.com
---
Saratoga Race Course
Tuesday, September 4, 2012
THE DAY AFTER
Meet Total ... 115-417
---
Stop by the equidaily.com HOME PAGE for all the day's racing headlines from across the country and around the globe. Bookmark it and stop by regularly!
---
Don't forget to check out the Challenge page where we started the month with a mythical $1200 bankroll and attempt to increase that amount as the Saratoga season continues.
---
2012 Final Saratoga Handicappers Scorecard
The list below includes virtually all of the public handicappers available in newspapers in the Saratoga region as well as the NYC tabloids which are available upstate.

The King is crowned!
Daily Racing Form's Dave Litfin tops the 2012 Saratoga public handicappers scorecard.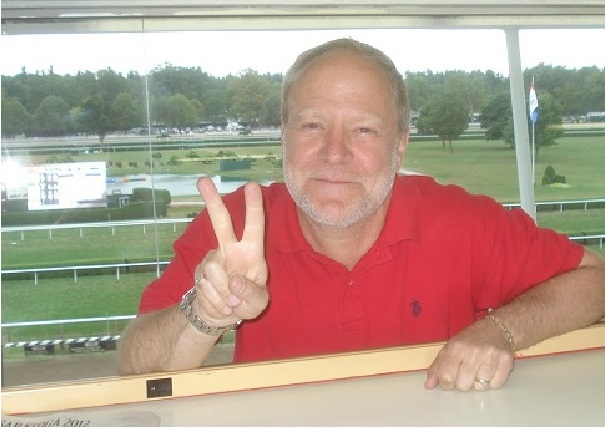 Above, Litfin in the Saratoga press box after sealing the victory on Monday, 9/3/12.
It was a horse race! Entering the final day: DRF's Dave Litfin had a slim one-race margin on the NY Daily News' sulky guy Dave Little - our half-time leader.
Both handicappers scratched out of the season's final race - but both had three winners on the card going into the penultimate event, so Litfin was maintaining his one-win advantage - with both having picked different horses in their last shot, R10. And did we see Dave Litfin head to the press box mutuel machine to place a bet on Little's horse? The strategy being a) to act as the 'mush', or b) to have 'win-either-way' ticket?... No matter, neither player scored in the race and Litfin took the crown - a post he's familiar with having topped the scorecard previously in 2007.
A couple of other notable stalkers were certainly live to the top spot through the closing weekend: At #3 this season was 2010/2009 champ Bill Taylor of The Saratogian. And coming in at #4 was 2006 champ Kyle Brownell of the Glens Fall Post-Star. Brownell was not only vying for the top spot - but had a positive ROI going into the last week. His number in that category tops this year's list of those that compile that figure - although he's just short of the break-even point. We'll have to find out if the bratwurst affected his play as he was handicapping during the last few days from Germany due to a business commitment.
Also notable was Gaile Fitzgerald of the Saratoga Special. Her win total sticks out because the publishing schedule of the Special meant she handicapped a significantly fewer number of races - and still put up a solid win total.

---
Our Best Bets numbers were a little bit disappointing - particularly since we sat a solid third at the halfway mark. As noted on the scorecard below, a number of the handicappers put together remarkably improved second halves - but our numbers stayed steady. The real disappointment came in the last week and a half when we struggled a little bit with winners-on-top. We hit the 100 win mark on Travers day and felt that a 120-win season was therefore well within reach with eight days remaining. Instead we could only eek out an anemic 15 winners over that time. That said, there were plenty of opportunities to make money with the selections during that stretch - we just weren't able to hit the mark with the winners-on-top scorecard requirement.

---
Final numbers for previous seasons can be found here: 2011, 2010, 2009, 2008, 2007, 2006, 2005, 2004 and 2003.

Mid-season scorecards are here: 2012, 2011, 2010, 2009, 2008, 2007, 2006, 2005 and 2004.

Note: Discrepancies in total number of races played is due to some handicappers losing races due to scratches. And note that the Saratoga Special doesn't publish on Mondays - hence the significantly lower races-played total for their handicappers.

Numbers below are per what is printed in the appropriate editions of the newspapers or are provided by the handicappers themselves. We do not independently audit the figures.
Handicapper
Publication
Final - Races played ... $2 win total
Mid-season
Dave Litfin
Daily Racing Form
134-413 ... $750.00
55-205
Dave Little
NY Daily News
133-413 ... $774.40
65-205
Bill Taylor
Saratogian
130-413
56-205
Kyle Brownell
Post-Star [Glens Fall, NY]
128-416 ... $810.40
51-206
Liam Durbin
Saratogian
122-412
52-204
Gaile Fitzgerald
Saratoga Special
121-355
59-187
Tom Law
Saratogian
120-412
56-205
Matt Graves
Albany Times Union
120-415 ... $629.60
56-206
Bill Heller
Daily [Schenectady] Gazette
120-417
53-207
John Shapazian
Saratoga Special
118-355
55-187
Debbie L
NY Post
118-411 ... $697.40
50-204
Jerry Bossert
NY Daily News
118-412 ... $666.80
50-204
Nick Kling
Troy Record/Saratogian
117-417 ... $711.40
50-207
Ed Fountaine
NY Post
116-414 ... $688.80
43-205
Seth Merrow
Best Bets - equidaily.com
115-417 ... $721.20
57-207
Mike Jarboe
Albany Times Union
113 -416 ... $690.90
50-207
Tim Wilkin
Albany Times Union
112-417 ... $697.90
53-207
Vic C
NY Post
108-411 ... $771.10
43-205
Daniel Feiss
Saratogian
107-412
47-203
John DaSilva
NY Post
104-414 ... $704.50
54-206
Mark Hoffman
The Recorder [Amsterdam, NY]
102-416 ... $623.00
Affrunti
NY Post
98-413 ... $627.20
44-204
Joe Lods
NY Daily News
98-415 ... $577.30
44-207
Mike Lipack
NY Daily News
97-417 ... $657.70
46-207
Erin Finley
Saratoga Special
91-355
50-187
Dean Keppler
Saratoga Special
84-355
39-187
Trackman
NY Daily News
84-414 ... $647.30
33-205
Charles Bedard
Saratoga Special
77-355
38-187
---
Yesterday
2-11. Winners in R4 [$5.80] and R8 [$3.70]. Dipping a little bit deep in R2 would have resulted in a decent C-D exacta [$162.00/$2]. R3 had a C-B exacta [$48.60]. Another C-D exacta in R7 [$97.50]. An A-C-B finish in R8 for the exacta [$14.80] and tri [$32.40]. In R9 a B-C exacta [$27.60].
21,272 attended closing day and enjoyed yet one more nice day weather-wise.

---
Today
See you next year...
RACE ONE
RACE TWO
RACE THREE
RACE FOUR
RACE FIVE
RACE SIX
RACE SEVEN
RACE EIGHT
RACE NINE

---
If we are interested in both halves of an entry -- in event of a scratch -- it is noted that way [in other words, both halves are named]. If only one-half of the entry is named, then we prefer that half and will move to our next pick listed [rather than the other half of the entry] in event of a scratch.

---
Archives of daily Best Bets picks and plays pages: 2011 ... 2010... 2009 ...2008 ... 2007 ... 2006 ... 2005 ... 2004 ... 2003

---
NOTE: If you feel you're experiencing problems receiving this page in a timely fashion each morning, please bookmark, the Best Bets archive page. Your ISP might be caching pages - meaning you're not receiving the most timely information. But the archive pages are unique, by date, and should always give you the most up-to-date info.

---
equidaily.com

Best Bets Homepage

Today's picks

The Challenge

Calendar

Track Info

Weather
---
| | |
| --- | --- |
| | Note: Pages on this site are labelled with the equidaily.com logo. Some links are for information only and lead to pages at other sites. equidaily.com is responsible only for the pages on this site. equidaily.com assumes no responsibility for errors or omissions. Always check with official sources to verify info. |
E-mail any questions, comments, or suggestions:

Copyright 2012 equidaily.com
---