Horse racing headlines from across the country and around the world
---
2009 International Simulcast Conference
Saratoga Springs, NY ... Oct 12 -14, 2009
Conference coverage:
>>> Lamarra: "Racing needs to change, contract, streamline, reinvent - take your pick - but it doesn't appear near death to me."
>>> Pricci: "It wasn't long before the wags were calling the recently concluded 3-day simulcasting confab... the 'Doom and Gloom Conference.'... not so fast my friends. There are plenty of well minded people in this industry who remain all in, willing to pursue any feasible solution to turn this game right side up."
>>> TTimes: Social networking helps tracks market product
>>> Status quo, 'welfare' mentality big threats
>>> Wagering security dealt with in depth
>>> Are the voices of horseplayers being heard?
>>> Tues: Panel on change -- Horse racing is doomed
>>> Tues: Panel says hi-def TV is wave of the future, "You have to go to this standard or you're going to get left behind."
>>> Bloodhorse: Panel -- Racing not capitalizing on advantages
>>> Bloodhorse Day One recap: Perception, not integrity, called major issue

---
DAY TWO: Tuesday
Day Two Panels... A few quick hits on some of the comments made Tuesday
MORNING
High Definition Television
Todd Roberts, President, Roberts Communications Network
Bob Ehalt, Writer, Thoroughbred Times
Ted Bradley, Chief Sale Officer, TelePhoto Technologies
David Loignon, GM, Churchill Downs Simulcast Productions
Apologies to the hi-def panel -- unforseen circumstance kept us from attending, but Paul Post of The Saratogian put together some of the thoughts that were conveyed.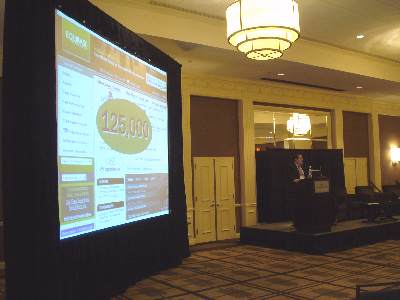 Equibase Online Scratches
Victor Espinosa Jr, VP-Sales, Equibase Company LLC
Mr Espinosa outlined the new Equibase scratches and changes feature -- which was prompted in part by input from HANA, the Horseplayers Association of North America.

He suggested that having this information available to bettors in a more timely fashion would "hopefully... help drive handle."

However, the information does still come from the traditional sources at the racetracks and some tracks have been reluctant to break out of their set routines in order to get this information posted at the earliest possible opportunity. Espinosa prompted all in attendance to recognize the importance of this information to the bettors and, therefore, do what needs to be done in order to post it in the timeliest fashion possible.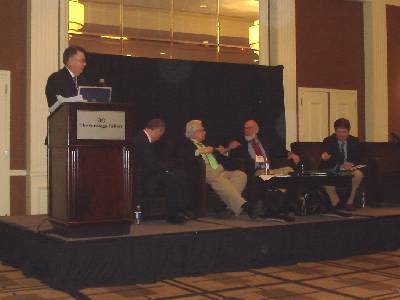 When Simulcasting Hits Home
Moderator, Mark Loewe, GM Orlando-Sanford Kennel Club
John Pricci, Executive Editor, HorseRaceInsider.com
Mike Dorr, Sr Mgr, Program Management Analytics, Asurion Inc
Michael Amo, Co-Founder, THOROFAN
Pricci: "We're in the gambling business and we have to stop apologizing for that."

The lottery can offer life-changing scores -- but at near-impossible odds, "Why don't we go after the lottery?" The racetrack can also offer life-changing scores -- but in a way that is probably more realistically attainable by the everyday bettor.

Dorr: A quality signal presents a better perception of the track.

Pricci: "You need [Hi-def] now because you can't afford to fall off of the face of the sports earth."

Amo: DRIP = Data rich, information poor. The racing game is "dripping". We need to work to educate new fans who can be easily intimidated by the racing game.

Pricci: Trakus best thing since sliced bread, "More of that, please."

Feedback given at Horseraceinsider.com indicates fans want the simulcast signal to include accurate and permanently posted track and turf information. Also, post payoffs faster. Standardize the payoffs -- don't leave the bettor wondering, "Is that a $1 or a $2 payout?" And delineate entries on the TV signal [ie, show odds for the 1 AND 1A, not just the 1, so bettors can know which part of an entry scratched if that comes into play].

Pricci provides more coverage of his panel at the links below:
Panel recap
More on what the customer wants form the simo signal

---
LUNCH
[Equidaily note-to-self: In the future mail those letters earlier!!! I skipped out on the lunch to head to the post office -- I'm not a big breakfast or lunch-eater -- and wound up in a rather long line there. I quickly ran a few more errands and grabbed a convenience-store slice of pizza before heading back to the Conference, arriving just in time for the first afternoon panel. It wasn't until the next day that I found out that the good folks at Robert Communications had handed out some nice "door prizes" to lunch attendees. Doh! I gotta get those postal chores done early -- or save them for the end of the day!]

---
AFTERNOON
2009 International Simulcast Award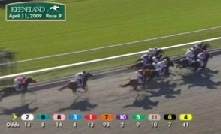 The afternoon program began with the naming of the 2009 International Simulcast Award winner:
---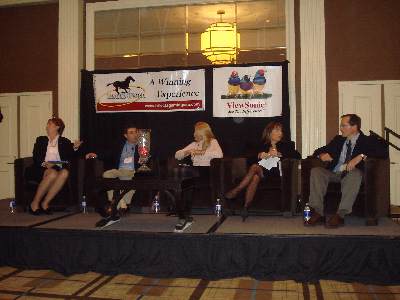 Looming Horse Shortages
Moderator, Jane Murray, TRA
Pat Placito, Dir of Racing & Simulcasting, Finger Lakes
Janet Terhune, Registrar, US Trotting Assoc
Mary Forney, Dir of Operations, Thoroughbred Owners of California
Andrew Schweigardt, Dir of Industry Relations & Development, TOBA
Schweigardt: Recent yearling sales might indicate there's an over-supply which might take 3-4 year to work through.

Forney: Population growth in California has affected land use and closed down breeding facilities.

Terhune: It's a "strange time to be producing fewer horses -- when they're racing for more money."

Placito: The horse shortage hasn't really affected us. Finger Lakes pays special attention to the "little guys" and those are the hungry trainers who will give that sixth, seventh or eighth horse in a race.

Forney: Make it more affordable to own horses. And make the game more affordable and appealing to the bettors. There is a lot of work that can be done in marketing.
Simulcast Settlements
Mark Thurman, CEO/CFO, CHRIMS

Thurman: Would you loan someone money without a credit check? In other businesses - no. In racing - everyday.

Should the industry create a safety-net pool?

Should there be a national clearinghouse?

Bankruptcies break the proper settlement chain. But, "If we don't pay money out to our winning patron we lose all credibility."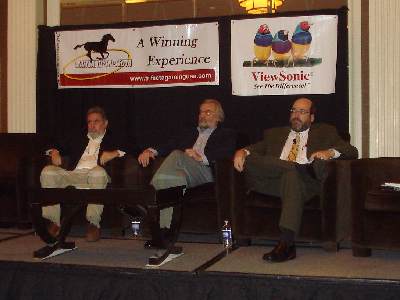 Change -- You Can Run But You Can't Hide
Eugene Christiansen, Chairman, Christiansen Capital Advisors
Eric Johnston, VP of Racing, Sam Houston
Jeff Gural, Owner, Vernon Downs, Tioga Downs
Subtitle this one: The Gloom-and-Doom panel
Gural: The industry is dominated by the breeders -- I don't get it. Track owners are intimidated by the breeders."
Mr Gural recounted his attempts on the harness side of the game to gather support among racetracks to put severe restrictions on horses sired by horses under five years of age [with the hoped for outcome being that star 3YOs would continue to run at 4].
"I convinced the Meadowlands -- but that was it. I couldn't get anyone to return my phone call."
"I think it's very unlikely you're going to see change unless the breeding industry collapses."
Christiansen: Racing is very resistant to change. Market forces will create involuntary changes -- perhaps fewer racetracks.
"The underlying problem is falling demand."
"The salient point here is consumer pricing."
Johnston: The biggest voluntary change? -- "Everybody's volunteering to get slot machines through the door."
Christiansen: "Betfair is a very good example of voluntary change." The consumer price if you're betting on Betfair is something like 9% of handle. Betfair proves you can create a new audience for racing -- but it's hard to do if you have to charge twice what the next guy does.
Gural: "To me it's so logical that the sport's going to die." Foresees the day when racino owners will be happy and willing to get rid of the racing part of their product.
Christiansen: "The problem that needs to be addressed is how to recruit new customers..."
price competitive
new forms of betting
new forms of reaching the bettor
it's going to mean pain for a lot of people
Gural: Not sure that takeout reduction would prove to be a big boost -- at least for smaller tracks. Mr Gural contends that his slots money could allow him to drop takeout significantly -- but his pools are so small that if a large bettor then played his track because of that price reduction his money would, in turn, drastically affect the pools, effectively negating the edge given by the low takeout. Plus, off-track wagering outlets would drop his signal because of the low takeout.
Mr Gural and Mr Chirstiansen then brought the room to a brief standstill as they paused, nodded, and agreed that "The business model is doomed." The audience responded with some nervous whistling-through-the-graveyard laughter.
Christiansen: Governors and legislators no longer react with horror to the possibility of a track in their state closing -- they're open to it.
There's more reluctance of governments to subsidize racing.
Slots are an "unstable foundation."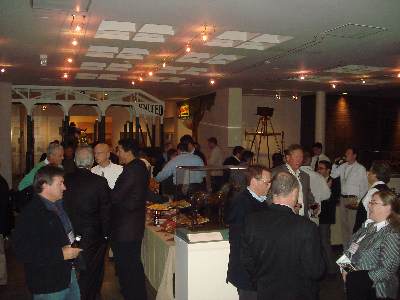 Tuesday wrapped with a conference reception at the National Museum of Racing and Hall of Fame.

---
---
DAY THREE: Wednesday
Day Three Panels... A few quick hits on some of the comments made Wednesday
MORNING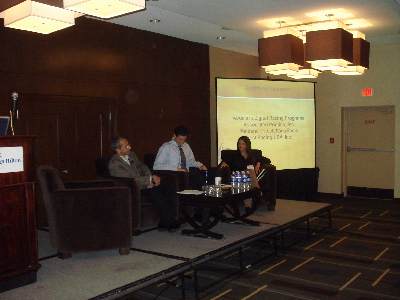 New Bettors: Raw vs Processed Data Steve Mancine, CEO, Compubet
Chris Stango, Marketing Mgr, Daily Racing Form
Andrea DeLong, Handicapper/Producer, Capital OTB
This panel discussed whether it's better to provide new customers with raw data re: PPs vs processed data re: taking that raw data and providing the customer with, for example, the top three picks, or the three that have done the best at today's distance, etc.
Mancine: "I think our fan-base is dying off."
"We can get people to come to the track, come we get them to come back a second time?"
Perhaps "simplified" processed data will help.
Stango: DRF does provide very basic "processed" data for beginners but they want them to eventually progress to the raw data.
DeLong: Gave a big-screen presentation demonstrating how "processed" information can, perhaps, give weight to factors that are not as important as others, or ignore significant points. This might leave the end user feeling dissatisfied.
"I'm a huge fan of raw data and give fans the tools to process it themselves."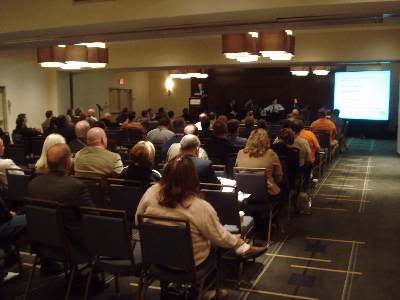 Mr Earle gave a quick overview of the new 1-2-3 wager that is quietly be rolled out in this country.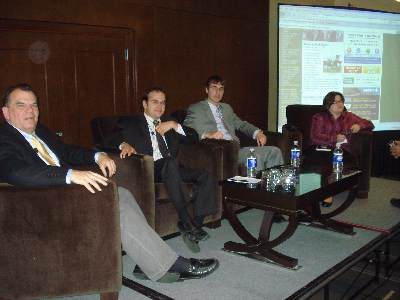 New and Social Media in Racing

Dan Silver, Director of Communications & Media Relations, NYRA
Seth Merrow, Publisher, Equidaily
Darryl Kaplan, Editor, Trot Magazine; Mgr of Industry Communications, Standardbred Canada
Jessica Chapel, Developer, BreedersCup360
Silver: Gave a big-screen presentation demonstrating the NYRA website's social-media features including Twitter, Facebook, Youtube and their own InsiderBlog.
Kaplan: Discussed using public relation volunteers that they recruited to use social media to go out and promote, when appropriate, interesting aspects of Canadian harness racing. For example, top racer Somebeachsomewhere was named after a country music song and the PR volunteers used social media to help promote his race to a country music audience in hopes of perhaps bringing some new fans -- or at least some new eyeballs that might become fans -- to the game.
Kaplan also told of the social media impact -- prompted mainly by a Facebook page -- that propelled Somebeachsomewhere into the discussion for being named Canada's Athlete of the Year.
Chapel gave an overview of BreedersCup360 including the use of blogs.
Merrow: Said Facebook and Twitter have F-A-D written all over them -- but gave the caveat that it was certainly worthwhile for racetracks and racing organizations to pursue both avenues since you can't know what the next "big thing" is until it actually becomes the next "big thing," and, as Silver had indicated earlier, it's a relatively inexpensive way to reach out to potential new fans.
Merrow recognized the Twittering efforts of NYRA's Andy Serling, paddock comments from Del Mar, and the group at PaceAdavantage.com's bridgejumper alerts as being interesting uses of that new medium -- they all showed interesting potential. But he recommended that those in attendance ask their employees and customers for suggestions on using Facebook and Twitter because the idea that might really turn these social media into racing tools could still be out there waiting to be discovered.
Chapel: Recognized blogs as an important part of the internet/racing scene and noted that there were over 200 racing-related bloggers.
Merrow: Agreed that bloggers were playing a significant role in promoting the sport on the internet. He pointed those administering racetrack websites towards Brooklyn Backstretch, Mary Forney's blog, and Triple Dead Heat as three good examples of blogs that are concentrating on particular racing venues or circuits and filling the void left by the traditional media in covering some of the racetrack stories that might otherwise be overlooked.
Merrow suggested tracks might cultivate relationships with such bloggers in their area. He also pointed to NYRA's Insider blog as an interesting use of the medium and a way to increase the interest and enjoyment of fans.
Chapel: Took exception to Merrow's contention that Facebook and Twitter are fads -- noting that while these two particular entities could perhaps change or disappear, the concept will remain as a strong method of communication for this generation.
Silver: Also felt that Facebook and Twitter were more than fads and reiterated that they could be cost-effective methods of promoting the racing game. Silver also commented that bloggers present something of a problem for racing -- and the sports world in general, citing an example of a hockey blogger. Because they lack any real oversight organizations need to keep this in mind and should tread lightly when dealing with or credentialing bloggers.
Merrow: Wrapped up by agreeing with Silver that racing organizations that are looking to use bloggers in some fashion need to properly vet them, for talent and responsibility.
He also noted the recent Horseplayerpro/Remington live handicapping chats as an interesting use of the internet.
Merrow told the conference attendees to keep their ears to the ground because although racing and the internet have been a great partnership the "killer app" that will be the perfect marriage of the internet and racing is still out there waiting to be discovered and everyone should remain open and receptive to new ideas that appear before them.
Again, these are just some "quick hit" impressions from Tuesday/Wednesday's presentations...

---
equidaily.com
| | |
| --- | --- |
| | Note: Pages on this site are labelled with the equidaily.com logo. Some links are for information only and lead to pages at other sites. equidaily.com is responsible only for the pages on this site. equidaily.com assumes no responsibility for errors or omissions. Always check with official sources to verify info. |
E-mail any questions, comments, or suggestions:

Copyright 2009 Equidaily.com
---