Horse racing headlines from across the country and around the world
---
2009 International Simulcast Conference
Saratoga Springs, NY ... Oct 12 -14, 2009
DAY ONE: Monday
Bloodhorse recap of Day One: Perception, not integrity, called major issue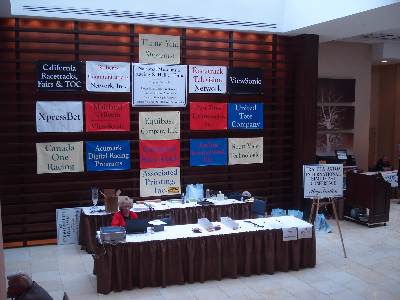 This year's International Simulcast Conference is taking place this week in Saratoga Springs, NY -- at the Saratoga Hilton located right on the city's main street, Broadway.
There was a full-house for Monday's opening sessions and TRA Veep Chris Scherf got the proceedings rolling with some good-natured kidding about the location -- reminding conference attendees that they were getting bargain rates in the hotel compared to the prices paid just a few short weeks ago during the racing season.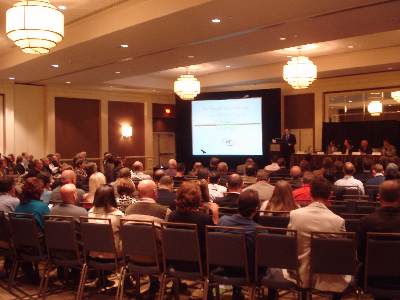 Day One Panels... A few quick hits on some of the comments made Monday afternoon
Close Betting Procedures and Safeguards
Jeff True, President, United Tote

True noted that tracks are still using manual systems to close betting and while the tote companies would be happy to go to an automatically-triggered close at zero minutes to post, most racetracks oppose that approach.

Stop Betting Failure Protocols
Chris Dobbins, Senior Wagering Analyst, TRPB

Dobbins said that for security and post-race analysis racetracks should move to time-stamp their video signals to coincide with their tote logs.

Parallel Networks: Data and Video
Joe Hill, VP, Roberts Communications Network

Hill: Some people point to the financial markets as a model for how racing should handle its data but "financial markets deal with one closing bell on a Thursday afternoon, we live with 400-500 closing bells on a Thursday afternoon."

Late Odds Shifts: TRPB Wagering Analysis
J Curtis Linnell, Director of Wagering Analysis, TRPB

Linnell believes that going to decimal odds would eliminate some of the perception problems. An odds shift from 7-2 to 3-1 on the tote board might actually reflect only a minor shift from 3.52 to 3.49.

Starting in November all win pools will be tracked and late odds shifts looked at in relation to percentage shifts pre-determined to be outside the norm.

Chris Scherf, Exec VP, TRA

Scherf wrapped the afternoon re-iterating some of the points made earlier and noting that there was a need for better synchronization between odds cycle and video feed odds displays.
Again, these are just some "quick hit" impressions from presentations that took up the better part of Monday afternoon...

---
equidaily.com
| | |
| --- | --- |
| | Note: Pages on this site are labelled with the equidaily.com logo. Some links are for information only and lead to pages at other sites. equidaily.com is responsible only for the pages on this site. equidaily.com assumes no responsibility for errors or omissions. Always check with official sources to verify info. |
E-mail any questions, comments, or suggestions:

Copyright 2009 Equidaily.com
---