---
equidaily.com: Opinion
www.equidaily.com
---
The 'Derby Photo' Incident: Rush to Judgment?
5/11/03
---
The story that emanated from the Miami-Herald on Saturday is disturbing on at least a couple of levels. One, of course, is if it proves to be true and the Kentucky Derby was tainted by chicanery it will be another black-mark on the sport that so recently took a serious hit with the Breeders' Cup Pick 6 scandal.

But perhaps more disturbing is the possibility that this story is the end result of rash journalism. A rush for the "exclusive". An end result that will have unfortunately, and unjustifiably tainted careers and reputations.

For those few people who were not "tuned in" on Saturday, the Miami Herald ran a story claiming that upon closer inspection a photo of Joses Santos aboard Funny Cide in the Kentucky Derby appeared to show Santos had something besides the whip in his right hand (For the original story and photo: Click here).

The article certainly raised suspicions of horseplayers. It's hard to ignore a racing official saying that the photo, "looks very suspicious."

But warning lights really set off when readers continued through the article to find that "Santos acknowledged Friday he carried an object in his hand during the race and described it as a " 'cue' ring to call the outriders"." What made this particularly suspicious is that the Miami-Herald article went on to quote a steward and a jockey as never having heard of such a thing as a "cue ring". As Saturday wore on other news sources picked up the story and new information was presented. Among the most interesting was a story from the Daily Racing Form: "Santos said Saturday at Belmont that he was misunderstood and that it was a 'Q-ray' bracelet that he regularly wears for arthritis." Also, an Associated Press spokesman commented, "An examination of images made by AP photographers showed only a whip visible." And a photo was released by AP that seems to have been taken at precisely the same moment, but from a different angle as the "incriminating" photo -- the AP photo seems to show nothing in the hand.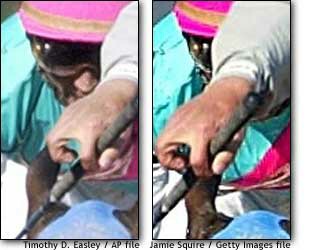 AP photo on left, 'incriminating" photo on right
All of this raises a number of questions:
Why did this investigation begin? From the Miami-Herald article: "Said Getty Images photographer Jamie Squire, who magnified his picture in order to examine it more closely: 'Now that I look at it, it's pretty interesting.' " The phrasing of that, "Now that I look at it..." seems to indicate that the original photographer was asked after the fact to take a look. So, if the photographer didn't notice anything on the image -- who did, and what possessed them to scrutize it that closely?
Certainly there's nothing wrong with that type of scrutiny if it's justified. That would be solid reporting. But that's the question here.
What was the actual conversation between the Miami-Herald reporter and Santos? It's understandable that there could be a misunderstanding between the reporter and Santos, who speaks with an accent. Even the reporter has admitted as much with a DRF story reporting, "Carlson issued a statement Saturday that said in part: 'It's quite possible that I misunderstood what he said and the language barrier could have been a problem.' "
What's strange about this is not that the reporter could mistake "Q-ray" for "cue ring" but that the original article states, "Santos said Friday he was carrying a 'cue ring' to alert an outrider to his presence." Why would Santos describe what a "cue ring" is used for if he said he was wearing a "Q-ray" bracelet for arthritis. In other words, did Santos actually give the description of a "cue ring", and if so, why? And if not, why is it written in the story as though he did?
(Or does this simply boil down to misunderstanding, "Q-Ray for arthritis," as "Cue ring to call outriders."?)
That raises the question of whether or not Santos said he was holding something. Presumably he wears a bracelet. And note that Santos isn't quoted as saying he was holding something, rather the article says, "Santos acknowledged Friday he carried an object in his hand during the race..." Did that fact also get misconstrued as it went from interview to print?
Was there a rush to judgement? Perhaps only time will really answer this question. Within the next few days more pictures will be scrutinized. Videotape will be looked at. And Mr Santos will have a chance to be clearly heard.
But it seems as though the story here might have moved forward too hastily -- particularly if it's based solely on one photo and an interview of questionable clarity.
If more "evidence" was looked at prior to going to print would the story have even gone forward? The AP comparison photo seems to indicate nothing is in the hand. NBC's video fotage shows Santos crossing the finish line and twirling the whip before grasping it in his hand tightly -- leaving what looks like little room for anything else. And even the original photographer says, "Personally, it looks like it could be something in his hand that he's kind of palming." But, he added, "From the subsequent frames, it doesn't look like there's anything in his hands."
At this point the "case against" raises suspicions but seems to be on shaky ground. Some further investigation might have been warranted before breaking the story.
As such, if the story turns out to be true it will be a sad day for horse-racing. If it turns out to be false it will be a sad day for journalism.
---
equidaily.com
| | |
| --- | --- |
| | Note: Pages on this site are labelled with the equidaily.com logo. Some links are for information only and lead to pages at other sites. equidaily.com is responsible only for the pages on this site. equidaily.com assumes no responsibility for errors or omissions. Always check with official sources to verify info. |
E-mail any questions, comments, or suggestions:

Copyright 2003 Twosprings Productions
---