2006
Lava Man... 8-7-0-0... $2,770,000
Invasor... 5-4-0-0... $3,790,000
Churchill... 11/04

| | | | | |
| --- | --- | --- | --- | --- |
| 7th | G1 | BC Classic | 10F | 126 |

| | | | | |
| --- | --- | --- | --- | --- |
| WON | G1 | BC Classic | 10F | 126 |

Santa Anita... 10/07

| | | | | |
| --- | --- | --- | --- | --- |
| WON | G2 | Goodwood BC Hcp | 9F | 126 |

Del Mar... 08/20

| | | | | |
| --- | --- | --- | --- | --- |
| WON | G1 | Pac Classic | 10F | 124 |

Saratoga... 08/05

| | | | | |
| --- | --- | --- | --- | --- |
| WON | G1 | Whitney Hcp | 9F | 120 |

Hollywood... 07/08

| | | | | |
| --- | --- | --- | --- | --- |
| WON | G1 | Hollywood Gold Cup | 10F | 124 |

Belmont... 07/01

| | | | | |
| --- | --- | --- | --- | --- |
| WON | G1 | Suburban Hcp | 10F | 118 |

Hollywood/TURF... 06/10

| | | | | |
| --- | --- | --- | --- | --- |
| WON | G1 | Whittingham Hcp | 10F | 122 |

Pimlico... 05/19

| | | | | |
| --- | --- | --- | --- | --- |
| WON | G1 | Pim Special Hcp | 9.5F | 116 |

Hollywood/TURF... 04/30

| | | | | |
| --- | --- | --- | --- | --- |
| WON [NTR] | Cal-bred | Khaled | 9F | 124 |

Dubai... 03/25

| | | | | |
| --- | --- | --- | --- | --- |
| 4th | G2/3YO | UAE Derby | 9F | 130 |

Santa Anita... 03/04

| | | | | |
| --- | --- | --- | --- | --- |
| WON | G1 | Santa Anita Hcp | 10F | 120 |

Santa Anita... 01/28

| | | | | |
| --- | --- | --- | --- | --- |
| WON | Restricted | Sun Mil Classic | 9F | 122 |
Think of this and answer honestly: Which of the two campaigns outlined above would you rather see contenders repeat in the future?
I'll admit I'd be happier with a nine-race minimum -- but in 2006 we have to take what we can get and eight races starting in January and continuing through November is reaching the appropriate level for what a champion should bring to the table. Oh sure, Invasor made that trip to Dubai -- which annually reduces the racing resume of those that travel there -- but don't forget that Lava Man's January start was only a couple of months after he returned from Japan.
And how about having our champions conquer the classic distance of a mile and a quarter? Lava Man took that trip five times in 2006 and won four of those -- in other words, he won at the distance more times than Invasor even tried it.
What about carrying weight? Well, I certainly wouldn't put Lava Man in Forego territory but he never carried less than 120 during the past calendar year and he toted at least 124 on five occasions -- winning four of those. Invasor carried that weight twice -- and lost one of the pair.
Graded races? Lava Man won four G1s. And he won all three times he stepped out of G1 company. Invasor also won four G1s -- but lost the only time he raced at a lesser level.
Let's take a closer look at the two non-graded races Lava Man won. In a head-to-head matchup between two similar schedules I'd probably give the edge to the runner with the graded tries -- but in this bout it's five starts vs eight starts, so I'll give the edge to the horse that was racing! And looking at the rich, restricted Sunshine Millions race that started Lava Man's year: Sure, it was ungraded but Lava Man had to face two G1 winners in that field -- and remember that Bernardini was being touted as a HOTY candidate prior to the BC Classic -- and he only faced four G1 winners in his entire career prior to BC day!
The state-bred Khaled is, admittedly, not a race that pops off the page as a champion-maker, but again, I'd rather see a champ on the track than in the barn. Add to that the fact that Lava Man scored the way he should in a race like that -- convincingly -- oh, and don't forget that he established a new track record! ...And it was on the turf.
Speaking of which, how many HOTY contenders have we had recently that had G1 wins on both dirt and turf?
So after adding up all the stats, what's the knock on Lava Man? Seems like there are a couple the critics are focusing on: The head-to-head matchup in the BC Classic, and the "California question".
As far as the head-to-head matchup, I'm happy to use almost any measuring stick to break a tie -- and head-to-head would be a pretty good barometer there. But one head-to-head hardly settles the score -- and if anyone really believes differently, well they haven't been paying attention to this game. So although I'd take the results of one face-off in a close contest for HOTY -- in this case, I don't think you can look at the stats above and really call this one close!
The "California question" is even less convincing. Since Horse of the Year is, theoretically, supposed to consider performances in a calendar year, it's kind of unfair for critics to label Lava Man a California-horse because of one out-of-state loss. The fact is, considering that the Hollywood turf course has to be thought of as a different surface than the dirt track, Lava Man ran over five different surfaces in 2006, and won on four of them. That's exactly the same as Invasor's road record for the year.
But if people are going to look into Lava Man's past and hold his out-of-town trips against him -- well, let's be fair, over his career Lava Man has won on seven different surfaces. On the other hand, Invasor has only ever raced on six different tracks. He's only won on five of those.
Again, it all comes down to that key question: Which of the two campaigns outlined above would you rather see contenders repeat in the future? January to November; seven wins, four G1s, one of those G1s on turf; a track record; carrying weight (at least what passes for "weight" these days); five times at a ten furlongs... Or, March to November; four wins, four G1s; only twice carrying more than 124?
I would have applauded Lava Man's connections had they gone for one more G1 win after the Breeders' Cup. Perhaps the Clark at Churchill, or the Citation or Turf Cup at Hollywood. But the sad reality is, many Eclipse voters go brain-numb after the Breeders' Cup as was demonstrated in 2002 when Vindication was awarded the 2YO Eclipse over Toccet. So I can't really knock the Lava Man folks for waiting until the rich Sunshine Millions in January series to reappear.
Ultimately though the extra G1 would have simply been frosting on the cake. The numbers don't lie. Lava Man put together a campaign the we should both applaud and reward. And four-win, five-race seasons should get what they deserve, a tip of the cap and some healthy appreciation -- but no Eclipse hardware for the trophy case.

---
And shame on... whoever edits the ESPN website for posting this poll just after the Breeders' Cup: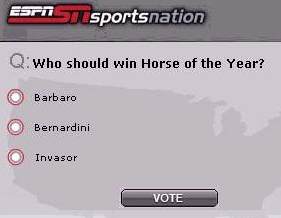 Not having Lava Man as a choice shows a disappointing lack of knowledge about the sport...

---
Other post-BC thoughts...
Discreet Cat... I strongly disagree with Daily Racing Form's Mike Watchmaker's recent assertion that Discreet Cat deserves Eclipse Sprint consideration.
Watchmaker wrote, "The question here is not whether Discreet Cat is talented enough to merit championship consideration... The real issue is, does Discreet Cat's 2006 campaign really fall into the sprint category, even if all three of his US starts this year were all around one turn?" But much like the HOTY debate above, in fact the real issue is whether Discreet Cat was campaigned in a way that deserves an Eclipse?
Don't get me wrong, Discreet Cat has been brilliant. I saw his win at Saratoga and wondered on TV the next morning whether we had seen the best 3YO on the prior afternoon, as opposed to later that day in the Travers. But we shouldn't base an Eclipse on speculation -- we should require these horses to step onto the racetrack and really prove themselves.
It can't be "he looked good enough to best...". It has to be "he looked good beating...".
Discreet Cat hooked some nice horses in the G1 Cigar Mile, gave weight and tied a track record. I heartily applaud that. But c'mon, let's require these guys to step up to the plate, not once, but enough times to really know their talent level, before we hand out the trophies.
It's hard to look at Discreet Cat's campaign and find any championship caliber races beyond the Cigar Mile. And it would be near impossible to promote him for any Eclipse -- but the Sprint award seems a particular stretch given the fact that he ran in no stakes at less than a mile. That means he never really squared off with the best sprinters in the land at a "true" sprint distance.
Let's see how bold the connections are next year and think about an Eclipse then...

---
Breeders' Cup TV coverage... Hey TV guys: Gambling isn't a dirty word, it's what makes the sport go! Stop shying away from showing the odds -- and get on the stick when it's time to show the payoffs!

For the most part I didn't have any major complaints with ESPN's BC program, but they held to the bizarre "party line" that has become the norm for network horse-racing coverage when it comes to odds and results. Typically the last full-field odds were shown 12-20 minutes prior to the horses breaking from the gate. Granted, ESPN was showing a scroll on the bottom of the screen with one-horse-at-a-time odds -- and that's great -- but most players would like to see the full-field odds two or three times in the last ten minutes (and especially as they head into the gate) in order to get a real feel for the odds and how they compare to one another.

And tracks feeds have included odds during the running of the races for years now -- at the bottom of the screen along with the display of the leading four runners. Why then do networks only show the graphic of the numbers of the runners and not their odds? C'mon guys, we want to know if that speedball out in front is 88-1 or the 7-5 choice.

Similarly there was no urgency to post results. The most egregious example of this was after the BC Distaff. We'll happily cut the network some slack there for taking time to cover the Pine Island and Fleet Indian incidents -- but certainly the results could have been displayed in a way that was neither crass nor intrusive. From the time the ladies crossed the finish line to the time ESPN posted the prices eighteen minutes had ticked off. Heck, they showed the winner's circle presentation before posting the results for viewers. That's inexcusable.

Folks, we're betting. We want to know these things and if you ignore or discount them you're insulting a large part of your audience.

---
Fans to Breeder's Cup: "Two words: Colored saddlecloths!"

Virtually every track in the country has gone to colored saddlecloths -- much to the delight of players who have found the gimmick easy on the eyes. It's easier to pick out your ponies on the backstretch and it's certainly easier to follow your picks on a simulcast TV monitor. Why oh why then does the Breeders' Cup insist on the one-color-fits-all purple saddlecloths?!?

Join us in the 21st century Breeders' Cup!

---
---
equidaily.com
| | |
| --- | --- |
| | Note: Pages on this site are labeled with the equidaily.com logo. Some links are for information only and lead to pages at other sites. equidaily.com is responsible only for the pages on this site. equidaily.com assumes no responsibility for errors or omissions. Always check with official sources to verify info. |
E-mail any questions, comments, or suggestions:

Copyright 2006 Equidaily.com
---