---
www.equidaily.com
---
Derby on Letterman
Monday night's Late Show with David Letterman featured some banter and a couple of comedy bits focusing on the 131st Kentucky Derby, won by 50-1 Giacomo
---
Monday 5/9/05 [equidaily.com]

Two days after Giacomo shocked the Kentucky Derby winning at odds of 50-1 -- upsetting 5-2 favorite Bellamy Road owned by George Steinbrenner -- The Late Show with David Letterman looked back at the race with a couple monologue jokes, some banter at the desk plus a comedic tape of the running, a pre-taped bit with stage manager Biff Henderson at the Derby, and finally, winning jockey Mike Smith reading the night's Top Ten list, Top Ten Tips For Winning The Kentucky Derby.

MONOLOGUE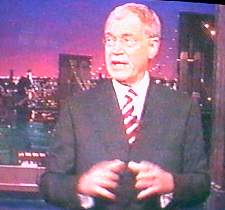 [Useful info for non-Letterman viewers: Hello Deli is a shop that is a neighbor to Letterman's theater and is occasionally used in Late Show skits.)

Letterman: By the way, do we have any folk visiting New York City?

[applause]

Letterman: Try if you can and get in on this: Today the Hello Deli had a special on a horse owned by George Steinbrenner!

[laughs]

Letterman: You folks see the Kentucky Derby? It was exciting. You know, George Steinbrenner, the man who owns the Yankees, also had a horse running in the Kentucky Derby, and the horse was heavily favored and actually ended up seventh. You know, and I don't want to say this, but I think it might have been George Steinbrenner's fault because halfway through the race he fired the jockey!

[laughs]

AT THE DESK
Letterman: I'm telling you, they're right about one thing: that Kentucky Derby is the most exciting two minutes in all of sports. And it was the 131st running of the Kentucky Derby. And Giacomo -- which is 50-1, that makes it a longshot, and it paid like the hugest payoff ever in the history of the Kentucky Derby.

For example, I don't know much about betting or anything but if you -- like $2, $2 on Giacomo, on the Kentucky Derby on Saturday, you would -- if you were holding the wining ticket -- you would have won a billion dollars! A billion dollars on a $2 investment.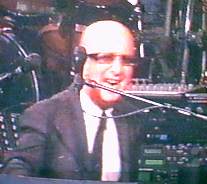 Paul Shaffer: Man! Wow!

Letterman: And I tell you ladies and gentlemen -- even after taxes, that's still serious money!

Paul: I would say.

Letterman: And people were saying, "Well, where, where did this horse come from?"

Take a look, if you didn't see it, here now the closing stages of Saturday's 131st running of the Kentucky Derby. And here's Giacomo winning the race. Take a look: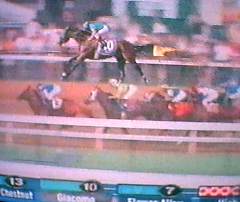 The tape shows the horses running down the backstretch when suddenly a cutout of Giacomo flies over the entire field and Tom Durkin emphatically calls Giacomo the winner.
Letterman: Did you see that? Immediately after a stewards' inquiry went up because they determined, and what it looked like for me on that tape, the horse had some kinda rocket-pack strapped to its' ass! It was cleared and he's the winner.
Paul: Oh, he was cleared? OK.
BIFF JOINS DAVE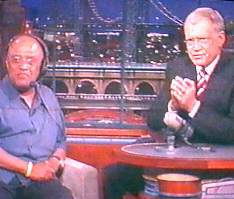 After more jokes and banter about other topics Dave calls stage manager Biff Henderson out to join him. Biff was at the Kentucky Derby on Saturday and they say some very brief, complimentary things about the event. Then they go to the tape, for a closer look at Biff's day at the races.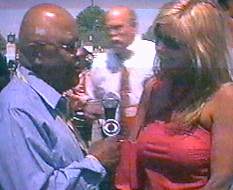 Biff has a Q&A with a young woman.

Biff: Did you know the Kentucky Derby is considered the most exciting two minutes in sports?

Woman: I did.

Biff: Did you know that the ladies consider me the most exciting two minutes in the bedroom?

Woman: I believe it.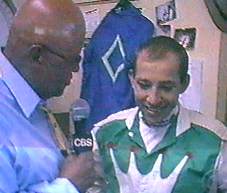 Biff meets Jeremy Rose in the jockeys' room.

Biff: Who's taller, you or Tom Cruise?

Rose: I'm gonna say me.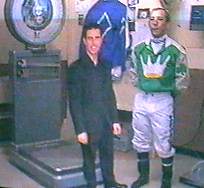 Jeremy Rose towers over a graphic of Tom Cruise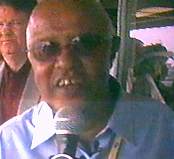 Biff: Let's see which jockey has the gay-est looking outfit.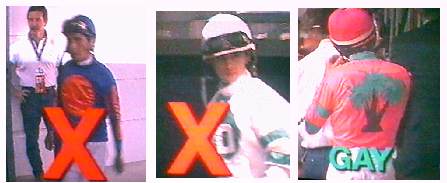 Biff asks fans if he can try on their Derby hats.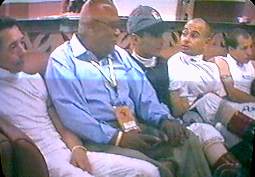 Biff sits in the jockey's room with [from left] Mark Guidry, Robby Albarado, Mike Smith, and Jeremy Rose.

Biff: You know, you guys are so cute I'd like to put you in my pocket and take you home.

[Jocks turn towards Biff in unison with looks of consternation.]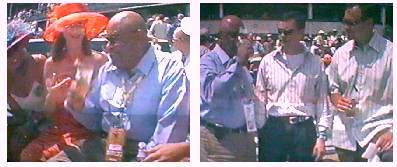 Biff enjoys some mint juleps.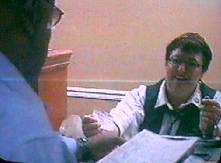 Biff places a large wager on Giacomo.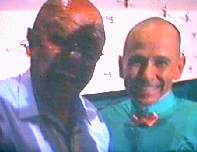 Biff meets Mike Smith after the race.

Biff: Thanks for the tip!

Smith: You got it.

Biff [turning to camera]: Letterman, you can kiss my ass!

TOP TEN

Letterman: Top Ten Tips For Winning The Kentucky Derby... It's such an exciting event and it kicks off the Triple Crown and it's so successful that they're talking about having it every Saturday...

And here now, presenting tonight's Top Ten list, your winning jockey from the 131st running of the Kentucky Derby, Mike Smith. Mike, c'mon out.

[Mike walks onstage to applause and reads the Top Ten.]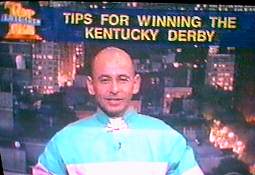 Top Ten Tips For Winning The Kentucky Derby
10. To make weight, I haven't eaten since June.
9. Promise horse, "If you win, I'll buy you 'Seabiscuit' on DVD."
8. Goodbye uncomfortable iron horse shoes--hello sensible Dr. Scholl's insole cushions.
7. Practice by riding a lot of merry-go-rounds.
6. Starter will let you out of gate early if you slip him a twenty.
5. Every few strides I lean into the horse's ear and I yell, "Giddyup!"
4. Two words: Vibrating saddle
3. Before race, I toss back a couple Mint Juleps.
2. To eliminate wind resistance, shave your horse.
1. It helps if your trainer is Jose Canseco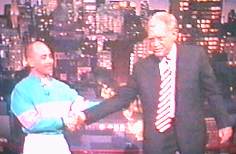 Letterman [back at desk]: Those guys -- those guys are tremendous athletes. Because you have these animals, they're like a ton and a half of just muscle -- and hair, and they're thundering down that track, nineteen other horses, shoulder-to-shoulder, going forty miles per hour, on a dirt track for god's sake!
Paul: Yeah, I don't know how they do it.
Letterman: I don't know how they do it either.
Paul: Well, now we know how -- they yell giddyup!
Letterman: Giddyup, yeah. But that giddyup only seems to make them go faster!

---
equidaily.com
| | |
| --- | --- |
| | Note: Pages on this site are labelled with the equidaily.com logo. Some links are for information only and lead to pages at other sites. equidaily.com is responsible only for the pages on this site. equidaily.com assumes no responsibility for errors or omissions. Always check with official sources to verify info. |
E-mail any questions, comments, or suggestions:

Copyright 2005 Equidaily.com
---