Racing news from across the USA and around the globe
---
equidaily.com: News
www.equidaily.com
---
Pat Day's retirement ceremony: Saratoga
NYRA, jocks, fans show appreciation to retiring Pat Day
---
8/8/05
Everything was put on hold after Monday's sixth race at Saratoga and all eyes' were focused on the winner's circle. It was there that NYRA brass and jockeys gathered to pay tribute to the career of Pat Day. The top jock announced his retirement last week after thirty-two years in the saddle. Being Kentucky-based it was appropriate that his initial press conference making the announcement was held at Churchill Downs, a track he won many titles at.
But with Churchill closed to racing the ceremony at Saratoga on Monday was the first chance many fans had to express their emotions and respond to the idea that we won't see Pat Day charging down the stretch anymore. And while Day was Ky-based, the Saratoga ceremony was certainly well-earned as the jockey was a regular summer presence and recorded many of his resume topping stats here. Upon his retirement last week he was third on the all-time win list at the Spa behind Jerry Bailey and Angel Cordero. Also, Day retires as the all-time purse-earner among jockeys -- a title he first grabbed with a win aboard With Anticipation in the 2002 Sword Dancer. And he leaves the game with 8803 wins -- getting milestone win #7000 right here at Saratoga.
So, even though Pat has always been a fixture on the Ky-circuit, he had a home-away-from-home in upstate NY and the fans were happy to have the chance to show their appreciation to him on Monday afternoon.
THE CEREMONY
After the 6th race was declared official, track announcer called the fans' attention to the winner's circle. The track's TV monitors carried the picture as the area filled with all the jocks from this season's Spa riding colony. Durkin then introduced NYRA VP Bill Nader.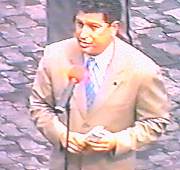 Bill Nader: Ladies and gentlemen we want to take a moment today to acknowledge one of the great careers in the history of thoroughbred racing.

Last week jockey Pat Day announced his retirement. He leaves the sport with over eighty-eight hundred victories, of which his 7000th was right here at Saratoga. He leaves as the leading jockey in the history of the sport in money-won -- establishing that record right here at Saratoga in 2002 in the Sword Dancer with With Anticipation, in just a great race.

And he leaves the sport as one of the classiest, one of the most popular, and one of the greatest jockeys of all-time. But even more so -- one of the great human beings. And he's been so great to thoroughbred racing, it's been a great partnership.

We wanted to acknowledge that here today. And before we move on I want to invite Robby Albarado -- one of the jockeys who are here today to show their appreciation and recognition, and their support -- to come up and say a few words about Pat Day.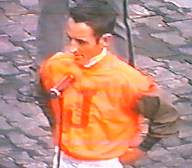 Robby Albarado, jockey: Patrick, on behalf of jockeys here at Saratoga, and me, representing the jockeys in Kentucky, we really appreciated your time here. Never appreciated you beating us at the wire -- waiting for us, to come back and get us!

But what you did for us -- not only did you make us better riders, you made us better people. We felt like, just having you around, whether you -- winning or not winning (you were always winning) -- we really appreciate it.

So on behalf of the jockeys here in NY and the jockeys in Kentucky, thank you. Thanks so much.

At that point in the ceremony a framed photo of With Anticipation was present to Pat Day by NYRA board co-chair Steve Dunker and NYRA prez Charlie Hayward. Pat Day was then introduced by Nader and came to the microphone to extended applause from the fans.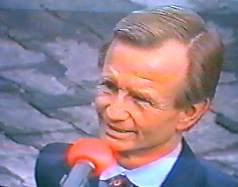 Pat Day: Thank you very, very much.

I really thought I was going to be able to get through this, and not cry, but I'm a notorious crybaby -- and a time like this I think deserves some tears.

It's with a heavy heart that I resign -- or retire, from the saddle. But it's with great enthusiasm that I look forward to what the Lord has in store for my future.

I know that I'm doing what god would have me to do. When I came to that decision on Sunday afternoon there was a tremendous peace that came over me that I hadn't enjoyed for awhile -- or I hadn't felt. And followed immediately by the joy and enthusiasm of looking forward to what God has in store for me.

I just wanted to thank you all very much -- the fans here in New york and everywhere.

My fellow riders: It's been a wonderful ride. And though I'm not here participating on a daily basis -- not putting the white pants on -- just know that i'll be praying for you, pulling for you, and certainly proud of you.

It's with a heavy heart that I retire from being a member of the active jockeys colony, part of my life -- a big part of my life, for the last 32 years. And you'll always have a near and dear place in my heart. God's blessing's on you. Be safe. Best of luck to you.

And to the fans: Thank you. Without the fans we don't have a game. Appreciate you so much.

[Applause]

One of the awesome things about Saratoga is the opportunity to play in front of a full-house. And there's no fans like the Kentucky-- like the Saratoga fans.

[At this point the Kentucky-based Day took some brief, good natured razzing from the fans at his slip-up.]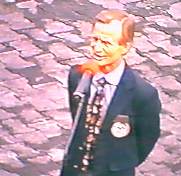 Well I wanted to say 'Keeneland and Saratoga', you know you're on a parallel. There's nothing like racing fans the world over. And it's been my pleasure for 32 years to participate and play in front of you. And I've enjoyed that immensely and I wish you the very best.

God bless you. Take care.

---
Again the fans broke into extended applause and Day accepted handshakes and appreciation from the jockeys gathered in the winner's circle.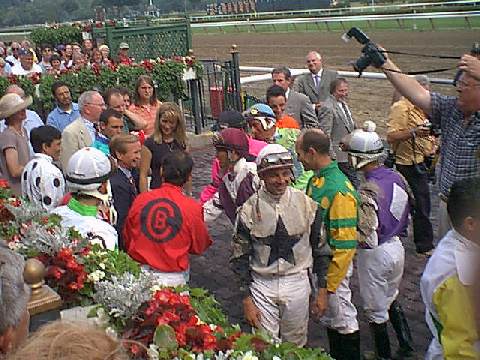 As the ceremony broke up and Day eventually left the winner's circle area he was surrounded by fans and the affable retired jockey was accommodating to his admirers, remaining for at least twenty minutes, signing autographs and posing for pictures.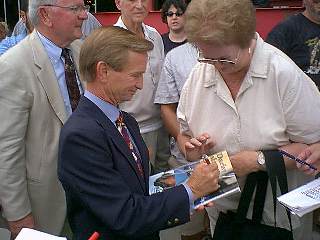 ---
equidaily.com
| | |
| --- | --- |
| | Note: Pages on this site are labeled with the equidaily.com logo. Some links are for information only and lead to pages at other sites. equidaily.com is responsible only for the pages on this site. equidaily.com assumes no responsibility for errors or omissions. Always check with official sources to verify info. |
E-mail any questions, comments, or suggestions:

Copyright 2005 Equidaily.com
---