---
equidaily.com:

Thoroughbred track visits and reviews
www.equidaily.com
---
Tampa Bay Downs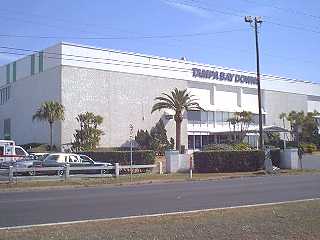 ---
Date of visit: Friday, January 31, 2003
---
OVERALL GRADE: B+

SUMMARY: Tampa Bay Downs is located on Florida's west coast and offers mostly winter time racing -- though their season also leaks over into early spring. Of course, winter in Florida typically means plenty of sunshine and pleasant temps and therefore the track is off to an automatic headstart for 'snowbirds' who transplant to the area to escape colder northern climes. But happily the weather isn't the only plus for this venue.

The facility itself is clean and fan-friendly. The racing is competitive, albeit a little cheaper than at the 'A-level' tracks. However, with its proximity to Gulfstream it's not unusual to see quality runners ship cross-state for some of the nicer daily and weekend purses.

So, add it up: Great weather, a comfortable setting, and good racing and what you wind up with is a very enjoyable race track experience.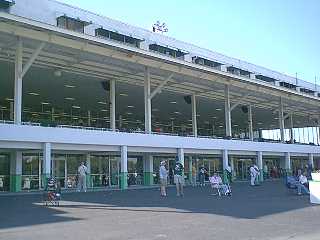 QUALITY OF RACING: B- ... Obviously Tampa Bay Downs is not an "A-level" venue, but the horse racing is fun and competitive. The ten race, Friday card we enjoyed offered purses ranging from $5700 for a $5K maiden claiming event, up to $15,300 for the alw-opt/clm feature.
Perusing the PP's for the lower priced events shows runners who had previously competed at tracks such as Aqueduct, Calder, Canterbury, Great Lakes Downs, Hoosier, Philadelphia, and Suffolk. The higher priced races on the card had thoroughbreds who, prior to arriving at Tampa, had run at Delaware, Fair Grounds, Santa Anita, and Saratoga among others. The winner of the feature race had shipped across the state from Gulfstream and was running for trainer Chuck Simon, a Saratoga regular. And of course the weekend stakes have typically offer some very nice quality competitors, many shipping over from the high-profile barns at Gulfstream.
There was a nice mix of sprints and two-turn events as well of a couple of turf races run on a very nice grass course.
The minimum field size -- prior to scratches -- was seven. The vast majority of races had nine or more entrants and provided good wagering opportunities.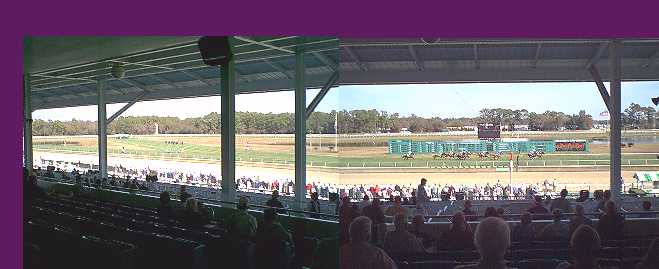 VENUE VALUE: B+ ... Can't complain. Friday -- the day we visited -- was "Dollar Day". Grandstand admission was a buck, as was the cost of a program (every other day admission and program would be $2 each). Parking is always free. Unfortunately, like many other venues, Daily Racing Form, with a cover price of $5.00 -- which is already too hefty -- was inexplicably juiced up another $.25 at the track newsstand.
Upon arrival we made our way up into the grandstand and easily found a couple of nice, free seats right on the finish line.
There are a number of concession stands located throughout and we bought a couple of burgers for lunch. Typical stuff in price and presentation -- although upon ordering we were informed that the patties were frozen, which meant a 25 minute wait for our food. That procedure needs some modification.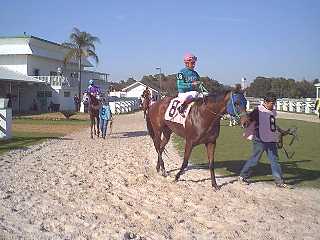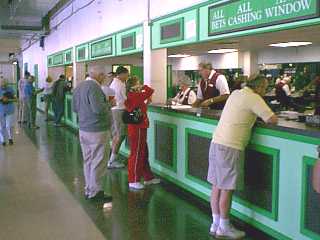 VENUE AMBIANCE A- ... Florida tracks kind of automatically start with an advantage: Here it was January and we were sitting comfortably in the open-air grandstand in shirt sleeves on a sunny, 60+ degree afternoon. But even beyond that Tampa Bay is appealing to the eye.
Located about a mile or so from the main thoroughfare, up a two-lane road, the track is situated in a fairly rural setting. The grounds around the facility are well-groomed, and right next-door to the track itself -- on racetrack property -- is a small pitch-and-putt golf facility. When we were there it's grand opening was still pending but the well-kept green space added to the aesthetics.
The well-maintained look continued right on into the facility. The building and grounds were clean and comfortable. As mentioned earlier, the grandstand seating was plentiful and offered great views. There is a small paddock area at the far end of the grandstand structure that allows fans easy access to pre-race viewing of the runners.
Simulcast players have a nice area dedicated specifically to them -- or you can simply roam around the track and find plenty of simulcast action on monitors throughout.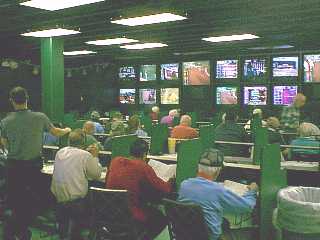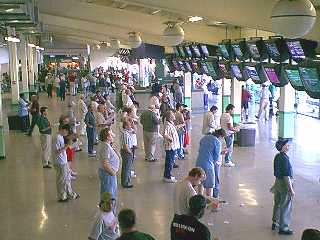 Reviews are based on a single visit and therefore your personal experience might vary...

---
equidaily.com
| | |
| --- | --- |
| | Note: Pages on this site are labeled with the equidaily.com logo. Some links are for information only and lead to pages at other sites. equidaily.com is responsible only for the pages on this site. equidaily.com assumes no responsibility for errors or omissions. Always check with official sources to verify info. |
E-mail any questions, comments, or suggestions:

Copyright 2003 Twosprings Productions
---