Daily racing news and headlines
---
Equidaily goes to the fair!
There's nothing like a beautiful afternoon of fair racing in New England
Cumberland County Fair, Cumberland, ME
Wed-Fri, 9/27-29/2006
by Seth Merrow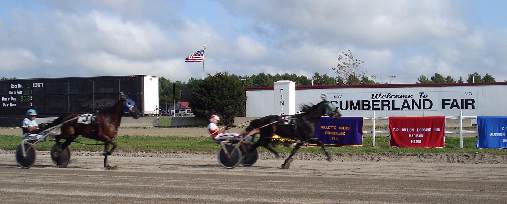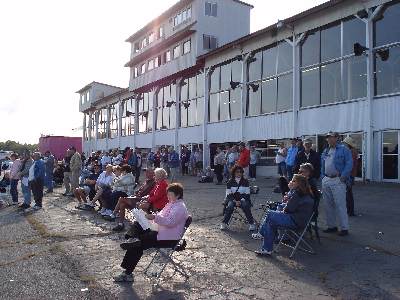 Cumberland, ME is maybe a half-hour north of Portland. Once you hit town, turn left down a two-lane county highway, go past the apple cider stand and under an awning of autumn-hued trees and within a couple of miles the fairgrounds sprout out of the countryside. Hard to imagine a better way to spend a late September afternoon.

The Maine sulky industry has an active fair circuit that really kicks into high gear during the late-summer/early-fall season. The state's two tracks (Scarborough Downs and Bangor Raceway) are closed during that mid-September to mid-October period and the horses and horsemen becomes fair nomads -- traveling to the various week-long fair venues that fill that calendar period.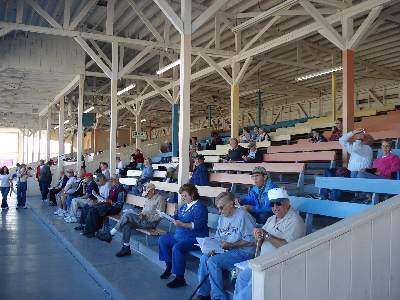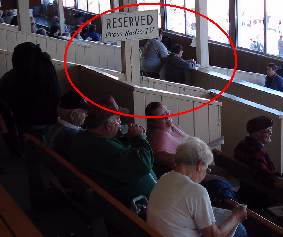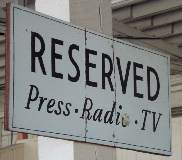 Only a few short weeks after standing in the hallowed paddock at Saratoga, the Cumberland County Fair offers quite a contrast. Your $20 wager is likely to put a dent in the odds. And the crowd tops out somewhere in the hundreds -- at best.

Gotta love that "Press Box" [big enough for two people]. And the clubhouse featured a snazzy gameroom-decor with woodpaneling, card tables and folding chairs -- but hey, there was no extra charge to enter!
---
REVIEW
---
QUALITY OF RACING: Maybe a little surprisingly, no complaints in this department. Over the course of three weekday afternoons of racing the quality ranged from a low of NW1L running for $1200, and Maine-bred $2000 claimers running for a purse of $1380, up to an Open trot for a $5000 purse and some Maine Breeders Stakes races for purses of $9000+ (those horses were also qualifying for rich stakes to be run later on in the season at Scarborough Downs).

Thursday's $9743 co-feature was a Maine Standardbred Breeders Stake for 3YO fillies. Landmark Precious was coming off an extended win-streak and was barred from wagering. She went on to win the race, running her 2006 record to 19-12-2-0 while banking well over $50K for the year. Not bad for a 3YO filly regardless of the venue!

A look through the PPs showed that horses running at the Cumberland County Fair had previously raced at many other racetracks, including Saratoga. Monticello, Rockingham, and, of course, the other various Maine fairs.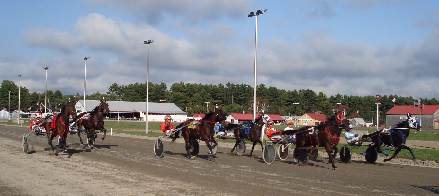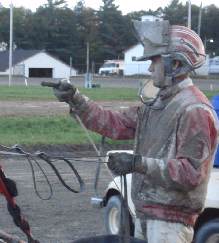 The wagering was fun and -- not to be condescending -- could give an experienced horse-player the feeling of Fast Eddie vs country bumpkins. Why? Well, it became obvious pretty quickly that the handicapping angles were to bet the early speed and two or three live drivers. One of those angles or the other -- or better yet, a combo of both -- scored in race after race, and yet often the odds were quite juicy.
For instance, meet leading driver Jason Bartlett [above right, mud-covered after winning R9 on Friday], sporting a gaudy UDR of .499, was a replacement driver on Chance It in the finale on Friday. That alone was cause to use the horse as Bartlett was simply eating up the joint. As such the 5-2 price seemed generous and the $234 trifecta [below] allowed us to walk out with a tidy profit after three enjoyable afternoons of racing.

Overall then racing quality was what it was -- not to be confused with the Meadowlands, but there was some decent racing mixed in with the lower levels and it offered fun for the bettor.
VENUE VALUE: Fair parking was $2 -- and since the fairgrounds were in a rural area there was no other parking option. Fair admission was $6, and it kicked up to $8 Fri-Sun. A program cost $2. So a single fan would have spent $10-$12 before making a bet. That seems perhaps a touch steep for fair racing -- particularly if someone wanted to attend more than one afternoon.
I would recommend a separate racetrack entrance with a lower admission cost, and then perhaps a hand-stamp system for people to come and go to the fair except the apron crowd each afternoon had a nice mix of racetrack "regulars" as well as families who had obviously wandered in from the fair. It wasn't uncommon to see the kids rooting for the horse that Mom and/or Dad had placed a small bet on -- and hey, that kind of exposure can't be bad for racing.
So we'll consider the $10-$12 well spent. And since the single admission price included both fair and racetrack admission it was fun to wander around and experience the fair after the last race concluded on our first afternoon there.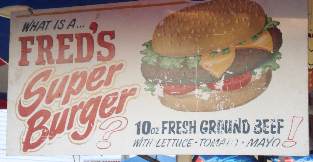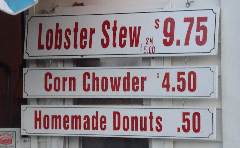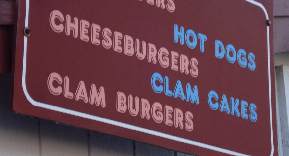 Access to the fair also allowed us access to the fair food vendors. Hunger on Day One of my adventure was quenched with a burger from a fair vendor. I skipped the "Super Burger", which was the size of a small ham, and just went with the "regular" cheeseburger. Tasty, and at $3.50, reasonable.
Day Two I ventured deeper into fair territory -- which I had explored the day before -- and tried some clam chowder. Wow! Super chowder. It was the traditional New England recipe [not that red stuff they serve at Saratoga, sorry Chowder Man] with a thin broth and plenty of potatoes and clams. In fact this particular serving probably had more clams than I've ever found in a bowl of chowder. Good stuff and, again, reasonably priced.
On Day Three I tried the clam chowder served in the racetrack "clubhouse". It wasn't bad -- but it was disappointing when compared to the chowder I'd eaten the day before.
Overall Maine fair food is pretty good -- with a mixture of typical fair fare (burgers, fries, pizza, candied apples and cotton candy) and some fun stuff you will only find "Down East" (clam chowder, lobster stew, clam cakes).
So, the value -- after accepting the parking, program and admission -- had to be rated reasonable.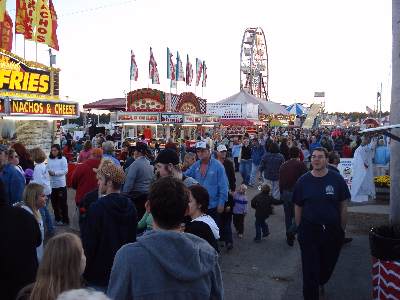 VENUE AMBIANCE: Hey, it's the fair! From the parking lot to the track you have to pass some rides and fair booths. The midway is right alongside the racetrack. So, the fun doesn't stop with the races!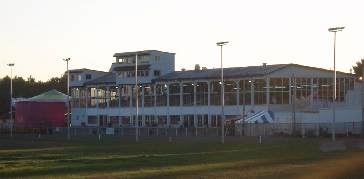 It's kind of funny to take a drive into the country and stumble upon a full-blown racetrack out in the middle of some farm country. However, because the facility is essentially only used for one week per year you can't really expect all of the amenities you would find at a "full-time" racetrack. But the facility is clean and well-kept and you can easily find a seat. It should be noted that there was no simulcast product offered -- in other words, the only betting was on the live races being run, no signals were imported into the track to be shown on monitors. But that wasn't a problem because, as noted above, the races were fun and bettable and the racing moved right along with first post at 3pm and the finale going off by 5:30pm or so.
The bonus, of course, is the chance to spend some time at the fair! It's a typical New England harvest fair with prize-winning baked goods, giant produce [check the 1000+ pumpkins above!], and livestock on display.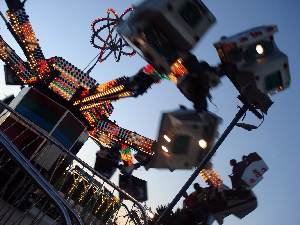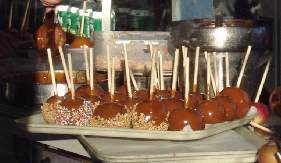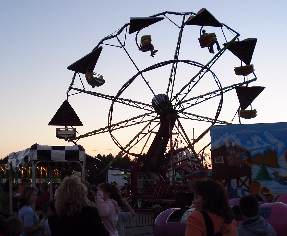 Rides. Candied apples. More rides. And...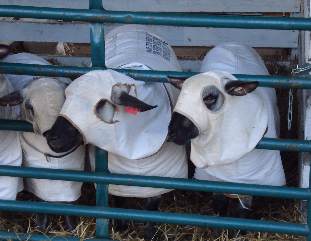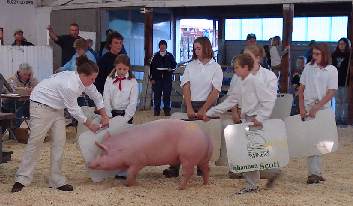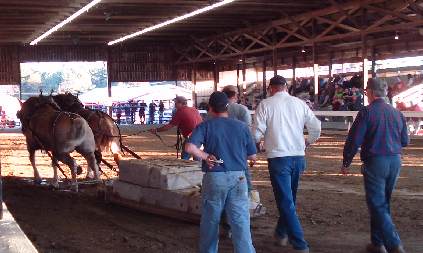 The animals. I wanted to title that upper left picture "Ku Klux Lambs". Presumably a 12YO 4-H'er would know the purpose of those outfits the lambs are wearing -- but for a "city slicker" it was just a funny sight. Speaking of 4-H'ers and funny, it was comical to watch them chase their prize pigs around the Show Arena. Further along the fairgrounds we stumbled into the Pulling Arena where draft horses pulled weighted sleds in an attempt to cover the most ground in a timed competition.
OVERALL: How could you not have fun? Some nice racing in a unique setting -- and plenty of fair-action to keep you smiling after the horses leave the track.
If you have a New England leaf-peeping trip scheduled for late September it's worth checking the Maine fair racing schedule and add a visit to the Cumberland County Fair to your vacation agenda.

---
equidaily.com
---
| | |
| --- | --- |
| | Note: Pages on this site are labeled with the equidaily.com logo. Some links are for information only and lead to pages at other sites. equidaily.com is responsible only for the pages on this site. equidaily.com assumes no responsibility for errors or omissions. Always check with official sources to verify info. |
E-mail any questions, comments, or suggestions:

Copyright 2006 Equidaily.com
---