Daily racing news and headlines
---
100 and counting...
Zippy Chippy passes the century mark... And we were there!
Three County Fair, Northampton, MA
Friday, 9/10/2004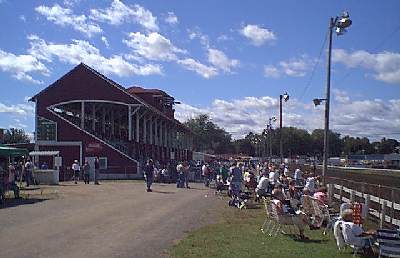 It was a gorgeous late summer afternoon in western Massachusetts for the Three County Fair at Northampton.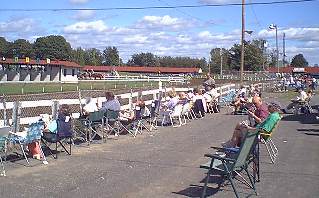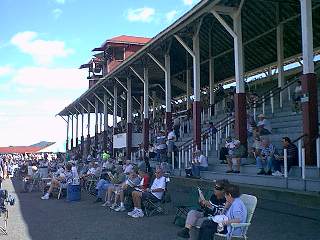 A good crowd filled the grandstand, planted their chairs trackside, and mingled in the infield.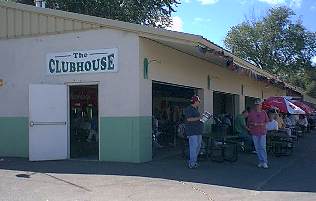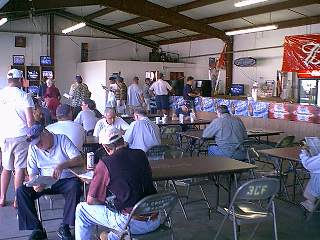 Towards the top of the stretch some fans relaxed in The Clubhouse -- which was essentially a multi-bay garage with tables and chairs.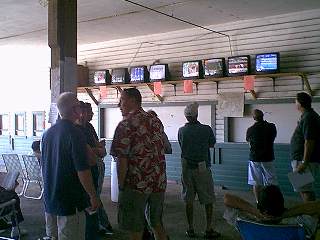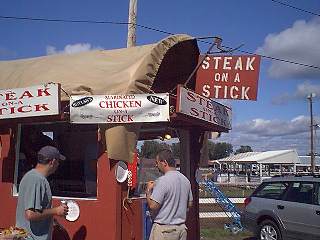 Meanwhile, the luxurious simulcast area was attracting some fans' attention to tracks around the country. While others chose to satisfy themselves with some of the gourmet fair offerings such as the popular Steak On A Stick.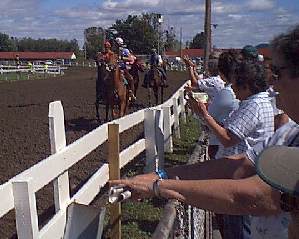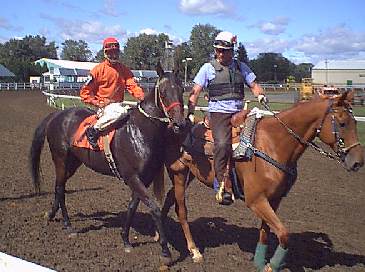 But at approximately 2pm ET all eyes turned towards the post parade for Race 2. Zippy Chippy was going to post! Surprisingly the crowd was abuzz with talk of Zippy. The majority of patrons at this small, fair track seemed to be well aware of the story unfolding before them. Zippy received a warm round of applause as the post parade passed in front of the grandstand (almost close enough to touch!). As Zippy (in the orange silks of the #7 horse) approached the starting gate folks were clicking away with their cameras and jockey Willie Belmonte winked and said, "He's pretty photogenic, huh?" Then he laughed and suggested it would be better if the horse could get his picture taken at the other end of the race.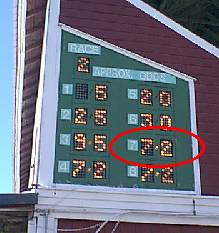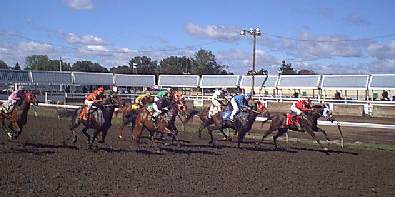 A few minutes prior to post time Zippy was the 2-1 favorite, but by the time the gates opened he was the 7-2 second choice. On the bullring Northampton track the 'about five furlong' distance is a two turn event starting at the top of the stretch. The first time past the finish line Zippy (second from left) was right with the pack.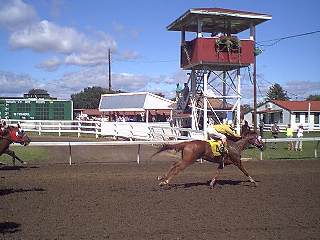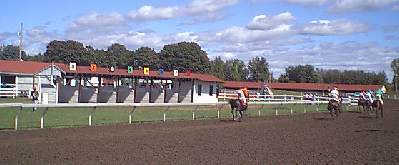 But hope began to fade fast and by the backstretch Zippy was losing ground. Into the lane the winner, #4 Biggs surged to the lead and won by about two lengths. The Zipster lagged home in last.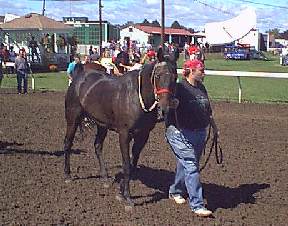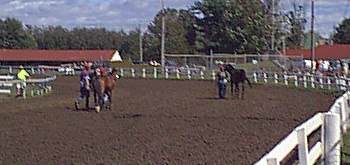 And so within minutes loss number 100 was in the record books and Zippy was unsaddled and heading back to the barn...
Zippy Chippy
B.g. 13 Compliance - Listen Lady by Buckfinder - Bred in NY by Capritaur Farm (Apr 20, 1991)
2004: 2-0-0-0 $300
2003: 2-0-1-0 $582
Lifetime: 100-0-8-12 $30,834
---
equidaily.com
---

Note: Pages on this site are labeled with the equidaily.com logo. Some links are for information only and lead to pages at other sites. equidaily.com is responsible only for the pages on this site. equidaily.com assumes no responsibility for errors or omissions. Always check with official sources to verify info.
E-mail any questions, comments, or suggestions:

Copyright 2004 Twosprings Productions
---