Blog review: "I've been trying to figure out what exactly wasn't quite right about the racing scenes... it has something to do with the sense of smallness that pervaded the movie."

>>> PaceAdvatnage forum:
"There is the usual artistic license in these movies but it was a good movie overall IMO."
"No, not all the facts are 100% correct. I found myself not caring so much because I was so entertained during the movie."
"If ever there was a story that should have been told with real accuracy it was this one. Still, a great movie experience." "Saw it last night with free tickets, and got my money's worth...I thought I was watching a TV sitcom..."

>>> Bloodhorse readers:
"I enjoyed the entire movie myself, my friend and her daughters (13 & 17) LOVED it!"
"I've never been to a movie where people cheered and clapped so much!"
"Very good movie but not enough about Secretariat."

LA Times: In the wacky world of horse films, Secretariat runs (relatively) close to the truth

Diane Lane's performance in Secretariat on list of "Five inspirational film females"

Turcotte: "I think they glorified me a little bit."

Behind the scenes: Crowd in race scenes was actually rooting for a a yard stick with pink tape on the end bring carried by a prod asst

Daley: "Let's hope this delightful Disney movie creates many new fans for The Sport of Kings, as well as bringing back those whose interest has lapsed these past few years."

Vanity Fair: We answer every question that you could possibly have about Secretariat... Q: If Secretariat does well at the box office, how do you expect other studios will respond? A: Coming in 2011... Seattle Slew!

Sigh, what some folks think of horse racing... From a review of Secretariat: "The world of horse racing is a sport that's almost exclusively the domain of rich white men and their rich white wives who like to wear big hats to the Kentucky Derby while they sip mint juleps..."

Voice an opinion: Scribe asks, in relation to Secretariat - "When you see such a movie, does it bother you - as much as it bothers me - when filmmakers change the facts?"

---
As of 2pm ET Friday [10/08/10] afternoon Secretariat is ranking significantly higher among "Top Critics" [74% favorable] as opposed to "All Critics" [64%]. Also, the movie is sitting at 73% approval among "AUDIENCE" voters.

It's a horse race! Secretariat hovers on the "fresh"/"rotten" borderline on movie review compilation site
Ranking dips from Wednesday to Thursday. According to the Rotten Tomatoes website: "In order for a movie to receive an overall rating of FRESH, the reading on the Tomatometer for that movie must be at least 60%."

With Friday's opening around the corner the reviews are piling in and Secretariat has maintained a "fresh" ranking after dipping into "rotten" territory briefly on Thursday afternoon.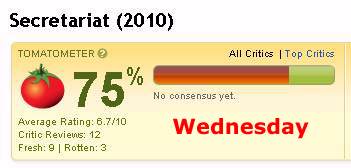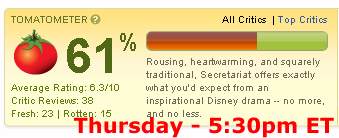 ---