---
Coast-to-coast
www.equidaily.com
---
SPECIAL PORTLAND MEADOWS P4 EDITION
Monday, October 4, 2010
RECAP/RESULTS
by Seth Merrow
---
We took a shot at the new 14% takout P4 at Portland Meadows on their opening day.

Went 2-for-4 in the sequence - which is recapped below.

Winners in the R6-R9 sequence on Monday paid: $3.40, $43.80, $4.00, and $9.00.

The P4 paid: $705.60/$2

---
PORTLAND MEADOWS
RACE 6
RESULTS: We ran WON-4-6.
Decatur Island was the winner and that 9/23 bullet work of 34.2 for the Hollendorfer runner actually tempted me to single this one - but if I had I probably would have also taken a stand with Wasserman in the 8th. So I would have been allowed to go deeper in the two legs I lost, and might have gotten lucky there - but Wasserman would have knocked us out anyway.
Selections:
Smart As Jim...Stakes-placed -- albeit a minor stakes -- and ran well at this level earlier this year. The question mark is fitness off of the layoff.
Decatur Island...Hollendorfer trainee might be bringing a class-edge in from NoCal - and if that 9/23 bullet is to be believed this race might be over soon after the gate opens.
Cougar Guy...Another that might have a class-edge on these -- although only slightly.
RACE 7
RESULTS: We ran 3-5-6.
Kind of disappointing that Kindactachy, who we tabbed as "could be the one to catch", broke super-sharp but didn't maintain that position for long, allowing 20-1 Castle Pines the early lead. That longshot then proceeded to take them all the way around. Would have liked to have seen 7-1 Kindofcatchy try that - particularly after that nice break [pictured below - red circle].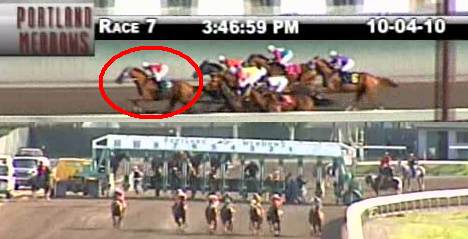 The winner would have been tough to come up with - even, as suggested above, if I had singled elsewhere and been allowed to go deeper in this race. Off since last April Castle Pines had been beaten by 38+++ lengths in his five previous starts - the "+++' signifying that one of those races ended in a DNF. Castle Pines started the 2009 season off of a similar layoff and was a fading fifth that day as the 5-2 choice in a $4K claimer [Kindacatchy, also coming off a 2009 layoff similar to the benchtime he had coming into Monday's race - ran second in that '09 event, after setting the early pace. Ugh.].
I guess folks might have hung their hat on Castle Pines' 2009 follow-up. In his second start back last year he dropped in for a $2.5K tag and won easily at 4-5. But the layoff, his history off of a similar layoff, and the dismal end to his late '09 - early '10 season made him an unlikely candidate for our ticket in any form.
Selections:
Afleet Pete...Has been competitive this year against better.
Kindacatchy...In the exacta 50% of the time on this track. Could be the one to catch.
Brite Bobby...Class-dropper with a top jock in the saddle.
RACE 8 Inaugural Hcp $20K
RESULTS: We ran WON-2-3.
It looked like Wasserman's class-edge would prevail as he took the lead in the stretch and looked pretty good late. But the betting public had it right and even-money choice Carry On John wore Wasserman down and was a determined three-quarter length winner.
Selections:
Carry On John...In good form and picks up Frazier to ride.
Wasserman...Graded-stakes winner might have lost a step as an 8YO - and was probably over-matched in the G3 Longacres Mile two back, but ran a good second last time and should find this bunch to his liking. A potential single for those who want to whittle down the ticket - or look to go deeper elsewhere.
Overtime Victory...Second in a stakes race here last spring. Has been going well in Canada since (other than the latest which looks like an aberration).
RACE 9
RESULTS: We ran 3-8- (5).
For one of ours - 16-1 firster Say Felina - it was "They're off! You're done!" She stumbled out of the gate and was never a contender. The winner, 7-2 Jenjor had been soundly beaten in her two career starts at Emerald Downs. But she took a little action in both starts and toted a bullet work into this. She didn't thrill me - but she was playable.
Selections:
Say Felina...Sire's offspring have been first or second 21% of the time in debut efforts over the past year.
Fast As Jeru...Hmm, clearly talented enough to take this if able to duplicate first two -- but was distanced and fell last time, which was in December.
(Moonshine Mayhem)...Breeding shows a little bit of promise - although the works and the connections don't jump off of the page.

Our $1 PORTLAND MEADOWS P4 wager:
Race 6: 1 - 7 - 8

Race 7: 1 - 5 - 8

Race 8: 4 - 5 - 6

Race 9: (4) - 5 - 6

Use #4 Moonshine Mayhem in R9 as a substitute if there's a scratch in the sequence.

3x3x3x2 = 54 x $1 = $54

Good luck.


Coast-to-coast Archives...Picks, plays and results from previous weeks
---
equidaily.com
| | |
| --- | --- |
| | Note: Pages on this site are labelled with the equidaily.com logo. Some links are for information only and lead to pages at other sites. equidaily.com is responsible only for the pages on this site. equidaily.com assumes no responsibility for errors or omissions. Always check with official sources to verify info. |
E-mail any questions, comments, or suggestions:

Copyright 2010 equidaily.com
---