Racing news from across the USA and around the globe
---
equidaily.com: Co-HOTY option a missed opportunity
www.equidaily.com
---
Eclipse administrators dropped the ball on this one
by Seth Merrow
January 13, 2010... Next week the Eclipse Awards for 2009 will be presented -- and I feel an opportunity will have been missed.
Four days after Zenyatta won the 2009 BC Classic I said on the Sirius satellite radio program At the Races with Steve Byk that I was all for a co-HOTY coronation. At that time I had little hope that that possibility would even be examined, so I'll at least give credit to the Eclipse Awards Steering Committee for considering it. But, as we now know, the idea was rejected by two of the three Eclipse voting blocs [NTWA and NTRA, DRF voted in favor of the option] and was therefore not offered to voters.
Here's what I believe should have happened: Like the connections of Rachel Alexandra and Zenyatta in 2009, the Eclipse administrators should have thought a little bit outside of the box.
This is what the 2009 HOTY Eclipse ballot should have looked like.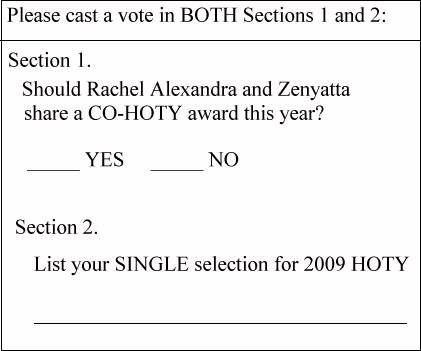 If a super-majority of 60% or more of the Eclipse voters chose "YES" in Section 1, then there would have been a co-HOTY, and Section 2 votes would have been discarded. If "YES" received less than 60%, then Section 2 votes would have been counted to determine HOTY.
This would have accomplished a few things. First, it would have put the co-HOTY option before the entire Eclipse voting electorate, something which wasn't done when the idea was being debated last November. And second, it would satisfy the large number of racing fans who championed this option because at least there would have been a legitimate thumbs-up or thumbs-down on the concept. And, by requiring a super-majority, if "YES" won the day it would be hard to argue that it wasn't a popular choice among the Eclipse voters.
This format would also preclude what NTRA prez Alex Waldrop implied in his blog, that a co-HOTY option, if offered alongside single-horse votes, might "skew the voting in unpredictable ways". In other words, if Horse X won HOTY, then people might wonder how many voters that would have voted for Horse Y instead chose the co-HOTY option. But, the ballot above makes the co-HOTY choice separate from single-horse voting, and thus doesn't take any votes away from the single-horse options.
WHY?
Now the question is: Why offer this option?
My answer: These were two campaigns that we should be celebrating. They both had flaws -- the divisions both Zenyatta and Rachel Alexandra toiled in, and later ventured into, were not especially strong this year; and we would have liked to have seen Zenyatta get out of the gate earlier in the year, and Rachel continue on longer. That said however, both of these spectacular horses stepped outside the box and came through when it counted -- in exhilarating ways.
There are no set criteria for Horse of the Year. And many who have picked sides in this debate in the past couple of months seem to ignore the "intangibles". This year however, those "intangibles" were actually quite tangible.
How often at the racetrack is the grandstand population at almost 100% unanimity in rooting home a horse? Safe to say, it happens infrequently -- if at all. But this year we saw it twice -- both in front of packed houses -- at the Woodward and the BC Classic. Heck, how often do opposing connections cheer for the competition the way Bob Baffert explained he did after the Classic ["But I changed sides at the eighth-pole and started rooting for Zenyatta."] or Terry Finley after the Woodward [Terry Finley, whose West Point Thoroughbreds owns runner-up Macho Again, stood in the winner's circle and applauded along with everyone else as the rafters shook at the grand old racetrack...]?
These two horses elevated the sport in ways that haven't been seen in quite a while and at a time when racing could most use a good shot in the arm.
By not honoring both of them as HOTY the industry really dropped the ball.
Arguments against co-HOTY seem weak
The arguments put forth over the past couple of months against co-HOTY seem weak and silly -- and maybe even a little bit small-minded.
NTRA prez: "...but it is nonetheless a bad step for us to take if we are serious about sustaining the integrity of the Eclipse Awards."

NTWA: "Multiple winners not only cheapens the award and essentially puts an invisible asterisk next to the winners, it also opens racing to more criticism because its award system couldn't even do what it was designed to do: determine the champion."
Let's ramp up an analogy to examine the question of integrity: Imagine two forwards in the NBA vying for the MVP award. They stand head-and-shoulders above all others. They have identical stats in all pertinent categories. Their teams end the season with identical records and both get knocked out of the playoffs in the semi-finals.

Which takes more integrity: For the MVP voters to say, "Sure these guys have identical records and both deserve the award -- but let's give it to one of them and not mess with the status quo." Or, "These guys clearly both deserve the award, let's figure out if we can make that happen."

I contend the latter response shows more integrity -- and would not cheapen the result at all.
NTRA blog: "This is not a tyke's t-ball game. It's OK in that sport to let the kids smack the ball around and run the bases all day and then call it a tie so no one goes home sad."
Equating this situation to a kids rec league or an elementary school art class where everyone gets a blue ribbon is disingenuous. Those programs are rewarding mere participation with no pretense of recognizing talent. That simply isn't anywhere in the ballpark of being the same as honoring two extremely talented racehorses -- who were among thousands that raced last year.
NTWA: "Horse of the Year means one horse, not horses."
Jess Jackson: "You wouldn't have two Heisman Award winners, would you? You wouldn't have co-winners of the Most Valuable Player Award in baseball. It would be silly, and wouldn't prove anything, if these two horses shared the title."
First, even under the rules as they stand, a tie among the voters would result in co-HOTY. So the notion that no co-HOTY ballot option precludes the chance of a co-HOTY result is simply wrong.

Second, there was in fact a tie for MVP in baseball in 1979. And there have been ties in other high-profile year-end awards over the years. The NFL's MVP award has seen a number of ties over the years - most recently in 1997's award from AP. And the Academy Awards have had five ties including in the prestigious Actor and Actress categories.

Do these ties diminish the recipients, the awards, or the organizations that hand out those awards?
NTRA blog: "How many more times would there be an outcry to honor two similar candidates and what impact would that ultimately have on the integrity of the awards?"
NTWA: "Although the credentials of the top two contenders this year easily outweigh any others, this is not entirely rare and there have been several years where there were more than legitimate contender that did not face each other (board members cited Smarty Jones-Ghostzapper in 2004; Conquistador Cielo and Perrault in 1982; and Slew o' Gold and John Henry in 1984 being three)."
Does anyone truly remember similar outcries for a co-HOTY option like this? Has there really ever been any situation that compares? Does anyone remember seeing fans as engaged in the HOTY discussion as they have been since November?

Here are comments written by just a few prominent racing pundits -- some of them even after having stated a preference between the two HOTY candidates.

Steve Haskin: "...as one of those who would like to see both names permitted on the ballot, just to give voters as torn as I am that option..."
Steve Crist: "I'm on record as supporting a dual-winners option..."
Bill Finley: "If I were given that option, I would gladly vote for co-Horses of the Year."
Steve Davidowitz: "In any event, the only thing I can state with certainty is that the horse that does not win this year's H of the Y, will forever be remembered anyway as one of the best Thoroughbreds of all time."
Gary West: "The award won't matter. They're horses of all-time regardless which is the Horse of the Year."

I would characterize 2009 then as a unique situation -- and not precedent-setting. But heck, if another year like this comes along -- great!

In the meantime the industry has really missed an opportunity to properly celebrate and reward two superior racehorses after they gave the game a much needed boost.

---
equidaily.com
| | |
| --- | --- |
| | Note: Pages on this site are labeled with the equidaily.com logo. Some links are for information only and lead to pages at other sites. equidaily.com is responsible only for the pages on this site. equidaily.com assumes no responsibility for errors or omissions. Always check with official sources to verify info. |
E-mail any questions, comments, or suggestions:

Copyright 2010 Equidaily.com
---