---
equidaily.com: News Update
www.equidaily.com
---
1/10/04... Sackatoga managing partner Jack Knowlton appeared on Down The Stretch with hosts Mark Cusano and Michael Veitch Saturday morning on the Capital OTB TV Network. During the live interview Knowlton laid out some tentative plans for 2003 Kentucky Derby winner Funny Cide.
---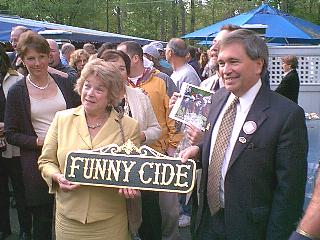 Mr & Mrs Jack Knowlton
When asked what might be on the schedule this spring Knowlton replied, "The Donn is the target coming up which is the 7th of February. A possibility is the New Orleans Handicap which is the 29th of February -- if he comes out of the Donn and Barclay feels that he'd want to run him back in three weeks.
...Looking at the Oaklawn Handicap which is the 3rd of April. Then the Pimlico Special -- if that goes, and there's been a lot of discussion they may want to do what they did a couple of years ago and drop that because the purse account I guess, in Maryland, is in trouble.
And then the Stephen Foster in the latter part of June down at Churchill."
Knowlton was also asked if a trip to Dubai might be on Funny Cide's future dance card. He answered, "With all of the issues we've had with him and his respiratory problems that have been well-documented we feel that that isn't something we want to do. We want to go around and hit what we think are these nice races in this country for this year. And I wouldn't expect it's something he'd do -- but you never say never and hopefully we'll get through this year and go to these races and he'll have success and we'll start thinking about next year."
And finally the Sackatoga partner was asked if Funny Cide might try the turf at some point. Knowlton said, "Barclay definitely has that on his radar screen. And he feels if he does like the turf that could be one of the things that could extend his career."

---
equidaily.com
| | |
| --- | --- |
| | Note: Pages on this site are labeled with the equidaily.com logo. Some links are for information only and lead to pages at other sites. equidaily.com is responsible only for the pages on this site. equidaily.com assumes no responsibility for errors or omissions. Always check with official sources to verify info. |
E-mail any questions, comments, or suggestions:

Copyright 2004 Twosprings Productions
---